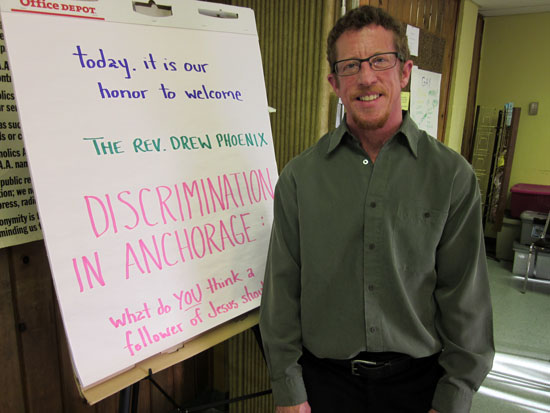 The Alaska Legislature approved 101 of Gov. Bill Walker's appointments Tuesday – and voted down one. The only rejection was of Fairbanks resident Drew Phoenix. He has served as a member of the Alaska State Commission for Human Rights since February. He's also a transgender man.
His appointment was defeated, 35 to 24. Phoenix said the vote is disheartening.
"Sadly, I think today it's obvious that I was discriminated against because I'm a transgender man — based on that and not on my qualifications," he said.
Phoenix thanked Walker for having faith in his qualifications, and said the vote doesn't reflect on most Alaskans.
North Pole Republican Sen. John Coghill voted against Phoenix. He cited Phoenix's history as an advocate. Phoenix has worked for the ACLU of Alaska Foundation and LGBT advocacy organization Identity Alaska.
"When you're an advocate, you're pushing for a policy call," Coghill said. "When you're within that commission, you're looking out for people more evenhandedly. And I couldn't get the comfort level that that would be the case in the Human Rights Commission with Drew."
Anchorage Democratic Rep. Ivy Spohnholz supported Phoenix.
"To see people vote down a very strong candidate for such thinly veiled reasons today was nothing short of, just, discrimination," she said.
Conservatives expressed concern about the commission in November, when it raised the possibility of interpreting the state ban on sex discrimination to include gender identity and sexual orientation.
Phoenix said the vote shows there's much work left to do. He said people change their ideas about transgender people when they get to know him.
"Transgender ceases to be a word and becomes an individual, who has values like they have," he said. "I'm a religious person, I'm Christian, they're Christian. You know, I love my family, I believe in working hard and contributing to the community. And we all share the same values, and that's how we learn to connect and learn to relate."
All but two Republicans voted against Phoenix. The exceptions were Kodiak Sen. Gary Stevens and Homer Rep. Paul Seaton. Democratic lawmakers voted for Phoenix, with three exceptions: Golovin Sen. Donny Olson, Bethel Sen. Lyman Hoffman, and Kotzebue Rep. Dean Westlake. House independents Jason Grenn of Anchorage and Daniel Ortiz of Ketchikan voted for Phoenix.