The Juneau School Board took a moment on Tuesday night to honor teachers and staff members who are retiring and moving on to new endeavors.
The board called each retiree to the front of the Thunder Mountain High School library to get a pat on the back, or a tight hug, a lifetime pass to all future Juneau School District events and a cutting board made by Thunder Mountain High School students.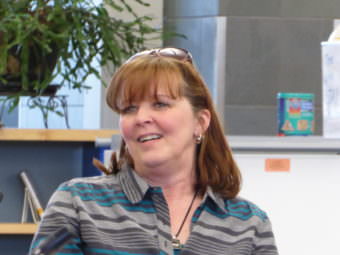 Lori Hoover, the outgoing principal of Auke Bay Elementary School, says she is finishing a 33-year run with the district.
"Well it's kind of … you know it's bittersweet. I enjoy going to work every day," Hoover said. "I enjoy the kids. But sometimes it's just the right time to look for new adventures and see what else is around the corner and let new people come in and lead the way."
Hoover also was recognized at the board meeting for being awarded the title: 2017 Champion of the Arts by the Alaska Arts Education Consortium. She says she doesn't have any big plans for retirement yet.
"I'm just going to wait and see what happens and enjoy every day," she said.
Like Hoover, Annie Janes, an English teacher with Thunder Mountain, doesn't have any solid plans.
"We're 14 days away from summer. I'm going to rest first. That's the first thing teachers do," Janes said.
After that, she says she'll do anything she wants.
Valorie Ringle won't be able to relax quite as soon.
"I'm teaching summer school so I don't start resting until August," Ringle said.
Ringle is also an English teacher. She will be leaving Yaakoosge Daakahidi High School. She and Janes have a little advice for future teachers.
Janes says they need to know one thing more than anything else.
"To go into this business, you better make sure you really enjoy being with kids. That's the first thing. Really take a look at that I think," Janes said.
Ringle added, "you have to not just really care about kids. You have to be willing to put aside your own experience and get in the trenches with where they are. I'm older now and I didn't experience half the things these kids … the kids that I teach have experienced."
Ringle says when teachers can't recognize those differences anymore, value them and learn from them, they should probably stop teaching.
Janes, Ringle and Hoover all say they aren't going anywhere anytime soon and they still plan to contribute to education — just in new ways.