A group of business leaders has recommended that the City and Borough of Juneau streamline its mining regulations — and in doing so, it's rekindled debate over reopening Juneau's long shuttered gold mine.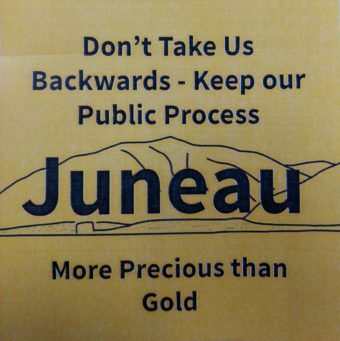 The prospect of reopening a gold mine that's been shuttered for 73 years brought throngs of people wearing yellow anti-mining stickers that read "Juneau — more precious than gold."
The catalyst for all this is an initiative brought by five prominent gentlemen: Frank Bergstrom, Bill Corbus, Neil MacKinnon, Sam Smith and Jim Clark. The quintet argue that Juneau's mining rules needlessly duplicate the state and federal permitting process.
None of the five attended the meeting. But Assemblywoman Beth Weldon made their argument for them.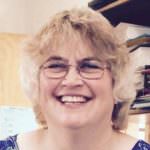 "So I am interested in economic development within the city," Weldon said. "We are losing government jobs and population and we need to diversify the economy. This is both parts of the economic development plan made by the city, about looking to diversify the economy, and one of the ways is by opening AJ, and it's also one of the priorities of this Assembly."
There were few empty seats in the Assembly Chambers. The crowd watched impassively. There was no opportunity for them to speak.
A proposal in the late 1990s to reopen the AJ Mine culminated in years of debate. A city advisory committee studied its feasibility and issued a report in 2011. The city co-owns the mine with AJT Mining Properties, the sister company of Alaska Electric Light and Power Co.
Mining critics like Guy Archibald of the Southeast Alaska Conservation Council said it appears history is repeating.
"This came from the same proponents of the AJ Mine that came out in the advisory committee days when they came up with what they called a 'Small Mining Plan,'" Archibald said.
He said Juneau's mining ordinance is important because, unlike the state and feds, it requires community impacts to be analyzed in depth.
"I would think that CBJ would want to know what the social and economic benefits and impacts on reopening an AJ Mine would be," he said.
The Assembly took no action other than to ask the mayor and manager to bring recommendations back at a committee meeting this month or the next.