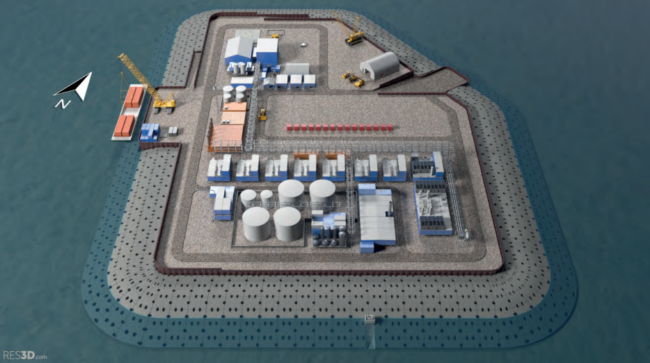 Last week, Hilcorp was finally able to fix a fuel line in Cook Inlet that regulators say started leaking gas in December. But the oil and gas company and its allies are still struggling to contain another issue: environmental groups, which argue that Hilcorp's problems in Cook Inlet disqualify the company from drilling for oil in the Arctic Ocean.
Earlier this month, Lois Epstein of the Wilderness Society in Anchorage wrote an op-ed in the Alaska Dispatch News. Epstein's headline read: "Hilcorp's Cook Inlet leaks underscore Arctic risks."
"I certainly have, and I know others have, enormous concerns about Hilcorp being the operator of this new operation in the Arctic," Epstein said in an interview. "Because it's a company that doesn't appear to have a strong handle on its operations."
Epstein noted that Hilcorp's gas leak in Cook Inlet took months to fix, as dangerous ice conditions prevented divers from getting to the pipeline. The company also had to shut down two other pipelines in the Inlet this spring due to suspected leaks. Epstein said the incidents raise questions about a project the company is pursuing hundreds of miles to the north.
Hilcorp is moving ahead with the only offshore drilling project currently planned in federal Arctic waters. It's called Liberty. Hilcorp wants to build a gravel island in shallow waters about six miles from the Beaufort Sea coast. According to plans submitted to the Bureau of Ocean Energy Management, the oil would flow to shore via a buried subsea pipeline.
Epstein said that Hilcorp's gas leak in Cook Inlet was hard to fix — and repairing a pipe or cleaning up an oil spill in Arctic waters would be a lot harder.
"You do have lots of other challenges in the Arctic," said Epstein. "You have storms, you have certainly cold, you have remoteness, you have the inability to respond very quickly because you don't have the people power and the infrastructure."
A growing number of national environmental groups agree with Epstein — including the Center for Biological Diversity and Greenpeace. They're calling for the federal government to scrutinize Hilcorp's safety record before approving the Liberty Project. And as President Donald Trump weighs an executive order to step back the Obama administration's five-year moratorium on Arctic drilling, some groups argue the gas leak shows oil development in the Arctic shouldn't happen at all.
But the pushback from the oil industry has come hard and fast.
"It's nonsensical; it makes no sense to say, 'because we had a leak over here means they will never be able to respond to a leak in the Arctic.' It's just a fabrication," said Kara Moriarty, who leads the Alaska Oil and Gas Association.
Moriarty wrote her own op-ed in the Alaska Dispatch News. It was just one of a wave of opinion pieces condemning environmental groups' arguments, which appeared in both local and national media.
Moriarty argued recent incidents involving Hilcorp don't mean the company can't operate safely in the Arctic.
"When something happens, the company responds, they change their behavior, they pay their fine, and they change their process — that's why you have regulatory oversight," said Moriarty. "It's not to say, 'oh, a company did something and we fined them, and and now they shouldn't do anything else in Alaska again.'"
Hilcorp didn't agree to an interview for this story, but in an emailed statement, Hilcorp's Alaska Senior Vice President David Wilkins said the Liberty project is "vastly different" from its operations in Cook Inlet. However, Wilkins noted Liberty is similar to two other projects Hilcorp is already operating in state waters in the Arctic, called the Endicott project and the Northstar project.
"We are dedicated to safe and responsible operations with every project, every day," Wilkins wrote in the email.
The federal Bureau of Ocean Energy Management is currently working through the environmental review process for the Liberty project. The agency expects to begin a 60-day public comment period this summer.
And despite the oil industry's objections, environmental groups are sure to bring up the Cook Inlet gas leak when arguing Hilcorp shouldn't be allowed to drill in the Arctic.