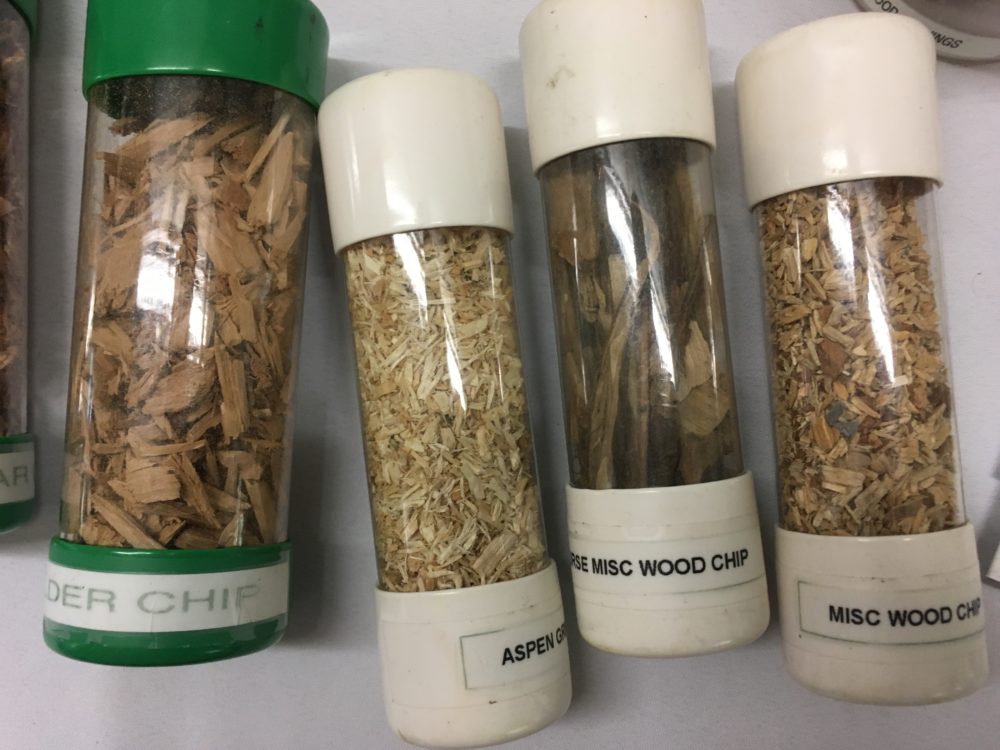 Ketchikan hosted the annual Alaska Wood Energy Conference last week, where participants heard about how biomass works in different places, and how to make the technology more known, and eventually less expensive to install and operate.
Biomass is ancient.
Humans have been burning wood to produce heat and light for thousands of years; but new technology has turned that ancient energy source into low-emission fuel that fits nicely on the menu of renewable energy options.
Unlike wind and solar, for example, biomass doesn't get a lot of policy perks, which has slowed its growth.
That was a recurring theme of the 2017 wood energy conference – building policy.
In his presentation, Chris Rose of the Renewable Energy Alaska Project spent some time making the case for biomass: energy demand is on the rise, fossil fuels will run out, and renewable energy is a fast-growing industry that the United States – and Alaska — shouldn't miss out on.
One big reason is the potential cost savings.
"Alaskans are estimated to be using about $5 billion worth of energy every year," he said. "So, if you collectively put together all the money that you and I put into transportation, heat and electricity: 730,000 people, we're spending $5 billion. Let's just say we can save 20 percent of that $5 billion. That's a billion dollars we're literally burning up every year."
In Alaska, though, Rose said state funding for biomass has dried up.
Traditional banks don't like to invest in biomass, because they consider the technology too new, and therefore risky.
Rose suggests that the state establish a "Green Bank," an independent state agency, kind of like the Alaska Industrial Development and Export Authority, that attracts private investors for biomass projects by providing some guarantees for the loans.
"It's all about not spending state money," he said. "It's all about leveraging state money and getting as much private money out of the markets as possible."
The model already exists, and Rose pointed to the Connecticut Green Bank as a success story.
Canada already has taken a lead on encouraging biomass through policy. Several presenters from Canada talked about how that works for Alaska's closest neighbor.
Fernando Preto, a biomass researcher based out of British Columbia, said the Canadian federal government has specific policies in its proposed budget to support renewable and sustainable energy projects, including biomass, for the northern territories.
The total for those projects is about $300 million Canadian.
That huge swath of land is sparsely populated, even by Alaska standards, with small, isolated communities. And a large portion of the territories is treeless, too.
So, like Alaska, there's no one solution that will fit all the needs. They have to get creative, Preto said, and policies have to be flexible. It's worth the investment, though, because of the potential long-term economic benefits.
"If you have wood resources, you have local employment, you have local development, but much more important than that is the capacity," he said. "In some communities, especially in northern Ontario, they are at the capacity (or) near the capacity of their diesel generators. When they reach 75 percent of capacity, they go into a load restriction status. Any local industry is told you have to cut back on your power consumption."
That's not an attractive situation for industries exploring new locations.
Blair Hogan of the Teslin Tlingit Council in the Yukon also spoke. While they have hydro for their electric needs, they were on diesel for heat. He said their new biomass heat system uses chipped waste wood harvested locally.
How did policy help them? Hogan said government grants were a major contributor. And with the new system, the community now has a source of local jobs and a way to reduce the area's wildfire risk.
Ryan Hennessy, senior energy planner with the provincial government of Yukon, said the government has a "basket of policies" to increase the viability of biomass.
One example is a policy to use biomass in public facilities and government buildings, which provides a large, steady customer for wood chips or pellets, thus supporting the industry.
"What went along with the biomass energy strategy was public consultation," he said. "This proved very important to us. We heard a lot of things both for and against biomass. People were broadly in favor of biomass energy."
But, he said, people also had concerns about the potential for overharvesting, and environmental problems related to emissions.
So, Hennessey said, they worked to calm concerns about timber supply and emissions – the newest technology provides a pretty clean burn — and they helped fund training within communities such as Teslin, teaching locals the various aspects of supplying and running a chip boiler.
Washington and Oregon also have some established policies to encourage biomass.
Dylan Kruse of Portland-based Sustainable Northwest said one of the challenges for biomass is, right now, it's more expensive than natural gas. But, he said, policies can narrow that price gap through tax credits, like those that drive solar and wind-energy projects.
That would require people in the biomass industry to toot their own horns.
"We don't do it as well; we're not as proud of it. But we should be. It's renewable; it's base-load power, that's very valuable to utilities," he said. "It's got diverse outputs and distribution, whether it's electricity or heat or even transportation fuels. We can save money and reduce our dependence on fossil fuels, and it has a lot of other great ancillary benefits, like supporting forest stewardship and controlled waste disposal."
There are some federal programs in place that help, such as the U.S. Forest Service's wood energy grants.
But, Kruse predicts there will be less help on the federal side in coming years, so the focus should be on increasing and improving policies within individual states.
Kruse said the best way to encourage state policy is to talk with lawmakers and their staff, and to work with individual communities that are interested in biomass, so they, too, can lobby for state incentive policies.