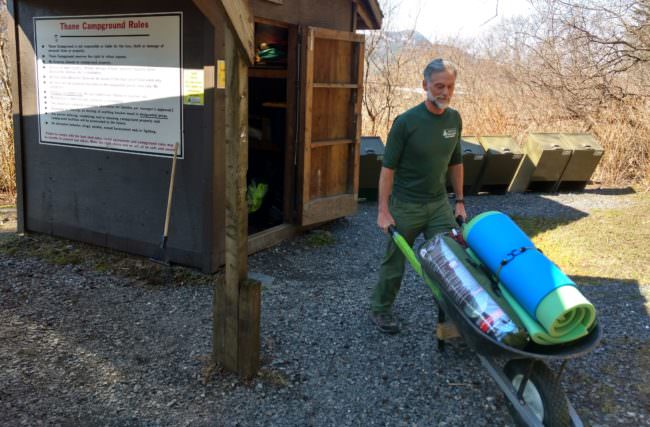 Juneau's controversial ordinance prohibiting sleeping on private property downtown goes into effect April 15. The anti-camping initiative coincides with the reopening of the seasonal Thane Campground.
Spring has sprung at the Thane Campground and rangers from the City and Borough of Juneau are unloading donated camping gear.
"People have been extremely generous and they've donated lots of camping gear," CBJ Park Ranger Dale Gosnell said.
This campground had traditionally been used by seasonal workers looking for low-cost housing.
With a new anti-camping ordinance coming into effect downtown, a number of homeless people are expected.
Juneau Assembly passed an ordinance that prohibits people from sleeping on private property in the downtown core.
The vote was in response to complaints about homeless people sheltering in business alcoves and creating a nuisance.
Juneau police officers have been reminding downtown homeless people about the social services that are available.
When the ordinance takes effect, Lt. David Campbell said, education will turn to enforcement.
"If an officer discovers someone in violation of the camping ordinance or if somebody calls in, we will respond like any other violation," Campbell said. "We'll give someone an opportunity to leave but if we need to cite them, then we will basically treat it like any other violation."
The anti-camping ordinance passed in February was designed to correspond with the reopening of the city-run Thane Campground.
Mariya Lovishchuk, director the downtown shelter The Glory Hole, argues that the campground isn't an option for many of the people she sees every day.
"People who are really self-sufficient do great at the Thane Campground. It's really impressive, the campground that they set up," Lovishchuk said.  She notes that many homeless people aren't physically able to safely walk 2 miles down an unlit road — and there's no bus service. "It's wonderful, it really provides people a way to independently live in the great outdoors, but it's certainly not for old people and it's certainly not for vulnerable people."
Those struggling with addiction and mental illness probably won't make it far from the few streets affected by the ordinance, said Mandy Cole, co-chair of the Juneau Coalition on Housing and Homelessness.
"There's a lot of talk of just moving to places where they're not going to get confronted by the police," Cole said. "They all heard, we all heard during the ordinance hearings that CBJ isn't going to be enforcing it necessarily on their properties so it may be CBJ doorways — I'm not sure."
The reason people might move onto city property is the camping ordinance was narrowly crafted to only apply to private property.
"We cannot move people off of public property," said Mila Cosgrove, deputy city manager. The city, she said, is doing its best to confront a complex problem. "On the whole we're a compassionate community, we want to care for our friends and neighbors — all of them," she said. "I think everybody's looking for the way to do that the most effectively."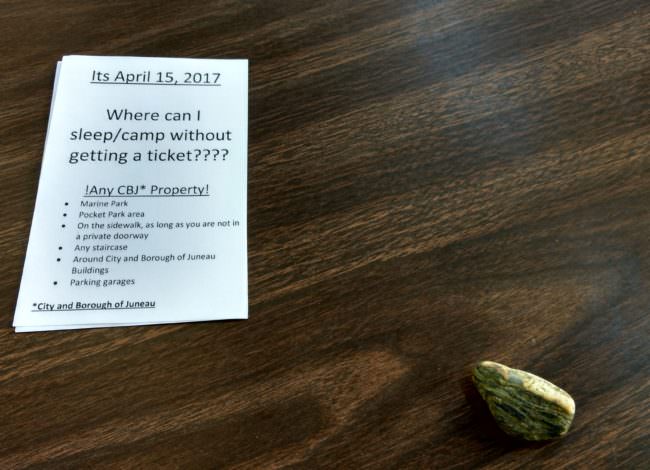 The ordinance is written in a way that the city isn't able to push homeless people out of the downtown core completely.
But what about city parks?
'They can sleep in parks that are open … some parks close and we prohibit any activity in those parks," Cosgrove said. "There are plenty of other areas in the downtown core that are city property and if they choose to move from a private property to another area, say by the parking garage as an example, then that would be considered public property."
Then there are property owners who opt out of the ordinance altogether.
The Glory Hole downtown shelter doesn't allow people with alcohol on their breath to sleep overnight. But the shelter has decided it will allow people with nowhere else to go to sleep on the sidewalk outside.
"The Glory Hole is not going to participate in the camping ordinance out of respect of our patrons," Lovishchuk said. "We will not condone the Juneau Police Department asking people to move and we have notified the police department of that."
No one is sure what will happen until the city tries to enforce the ordinance.
There's hope that able-bodied people will take advantage of the Thane Campground.
"We're ready to go — we've cleaned up the campground," Gosnell said as CBJ rangers put the finishing touches on the campground.
The city is also helping finance a 32-bed complex called Housing First that will house homeless people and allow drinking on site. But its opening has been pushed from mid-May to late July.