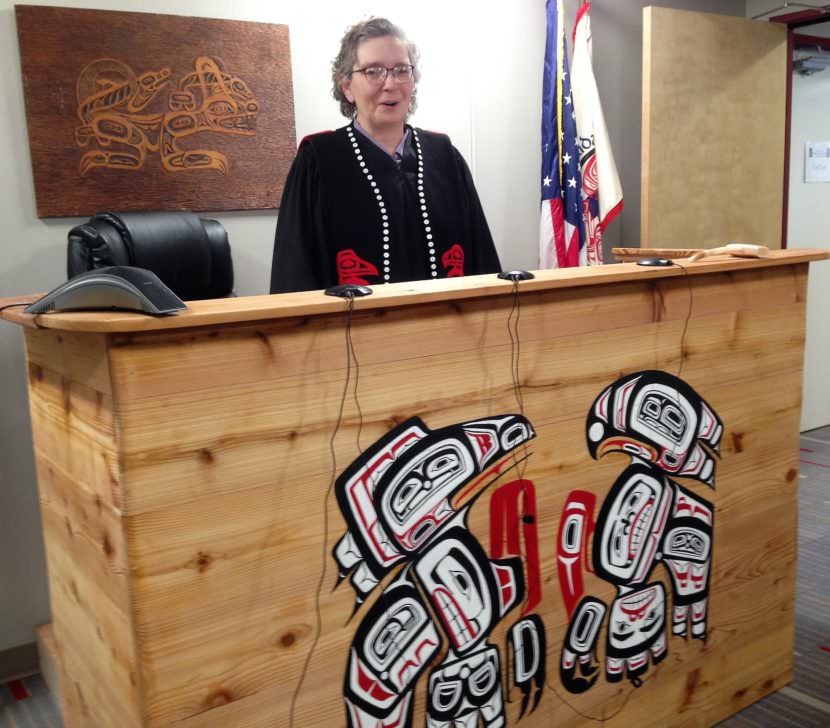 Southeast Alaska's largest tribal court operation just celebrated its 10th anniversary.
It started with child support and paternity cases and branched out to include domestic violence protection orders, custody disputes and adoptions. Now, it's planning to further expand the kind of cases it handles.
Presiding Judge Debra O'Gara opens a hearing in the Central Council of Tlingit and Haida Indian Tribes of Alaska's courtroom.
It follows a set procedure, but is less formal than state or federal courts. O'Gara sits at the bench and wears a black robe. But both are decorated with the council's Eagle-Raven formline design logo.
She said the Juneau-based court has between 900 and 1,000 open cases. They involve some of the council's approximately 30,000 members in Southeast, the rest of Alaska, the Pacific Northwest and elsewhere.
"We firmly believe that tribal members are more likely to come into court when the court is their own tribal court. And it's their own tribal laws that are being implemented," she said.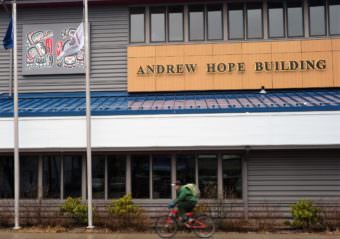 The Central Council's Tribal Assembly authorized the court in 1989, but it took a while before operations began.
It started out handling a short list of cases and related services. But that's expanded, with grants, interagency agreements and new ideas.
One major focus is developing systems for young offenders, as well as those at risk of getting into trouble. That includes an early diversion program, which offers counseling and tutoring while encouraging involvement with extended family and cultural activities.
"If we don't intervene early, the youth are more likely to end up committing crimes or getting into trouble and getting into the justice system," she said.
About a year ago, the Central Council signed an agreement with the state giving it authority over some foster care and other services for Native children facing abuse or neglect.
Council Director of Family and Youth Services Francine Eddy Jones said only a few cases have been transferred so far. But they have potential.
"They're coming into tribal court, but they're also seeing familiar faces in terms of tribal caseworkers working with them to identify what they need to be working on," she said.
"Our goal is always to support the families and see if we can move toward reunification," Eddy Jones added.
The National Council of Juvenile and Family Court Judges is supporting the tribal justice program.
It recently chose Tlingit-Haida's court as one of six nationwide to be studied and given expert advice. O'Gara said the scrutiny will help.
"It's not any funding. But what we get is we get them to come out. They're going to look at our system, they're going to look at our codes, they're going to meet our staff, they're going to look at our procedures," she said.
A team visited in February and its report is expected soon.
About 85 percent of the tribal court's cases involve child support. But it has plans for further expansion. If funding becomes available, O'Gara said it will begin taking some criminal cases.
Central Council President Richard Peterson said those found at fault will be held accountable.
"We're not trying to get some free pass for people. But we're trying to make it so they are dealt with compassionately enough that they're given a chance to right their wrongs," he said.
O'Gara said there's already an agreement with the state court system to make sentencing recommendations in some cases involving tribal members.
She said she hopes to begin what's called "circle sentencing" soon. But cultural programs and other support services need to be put in place first.
The Central Council's tribal court is one of several in Southeast Alaska. Others operate throughout the state.
Editor's note: Debra O'Gara is a member of KTOO's board of directors.