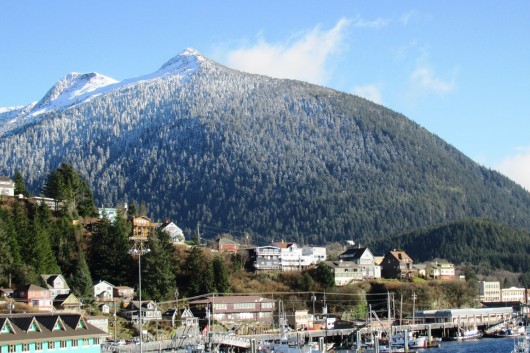 Last summer, the Alaska Mental Health Trust announced its intent to log Deer Mountain — a popular scenic spot in Ketchikan. The trust uses its lands to make money for state programs, like mental health services, housing and addiction treatment. Now with a federal land swap in the works, the trust says they'll pass on Deer Mountain.
From Alaska's Energy Desk, Elizabeth Jenkins spoke with Leila Kheiry from KRBD in Ketchikan, who's been reporting the story:
Looking outside your radio station, can you see Deer Mountain?
Not really today because it's covered in clouds. Normally, though, yes. We would have a great view of Deer Mountain from here at the station. And really, there aren't that many places in the core part of Ketchikan were you can't see it. It's definitely the backdrop for the community. There's a popular hiking trail that people use in the summer and winter. And it's probably featured in vacation photos for hundreds of thousands of cruise ship visitors who come here in the summertime.
So, for someone who's new to this story can you explain why Deer Mountain is valuable and who owns it?

Valuable in terms of money? Because of the timber on it, the trees. It has stands of old growth that could be cut down, milled and sold. Timber is a big deal in this area. And that's why they want to be able to log it. And be they, I mean Alaska Mental Health Trust and they're the one's who own at least part of Deer Mountain.
Last summer, the Alaska Mental Health Trust said they would move forward with plans to cut down trees on Deer Mountain. But there was an "if." That is, if they didn't get approval from Congress to do a land exchange. What is a land exchange?
Well, in this case, the land exchange would be a federal land trade. So, the federal government owns some land on Prince of Wales Island and in the Shelter Cove area, which is on this island, and they would trade that federally owned land and take control of the controversial parcels on Deer Mountain and in Petersburg. And those parcels would then be under U.S. Forest Service control.
The trust gave a January deadline for a decision to be made. Were people in Ketchikan and Petersburg surprised? 
It was a complete surprise. The fact that they were going to make this decision was not well advertised ahead of time. Mental health officials have even admitted as much. And so, local residents in both communities were very unhappy. Groups formed in Ketchikan and Petersburg to oppose the decision. Local government officials spoke strongly against it — state representatives, there was as online petition.
And keep in mind, people in Ketchikan especially tend to be very pro-logging. Except for a couple of folks, even the most vocal timber supporters said, "not Deer Mountain." And the concern wasn't just about how it would look. There was concern in both communities about landslides because the parcels in question are right above residential neighborhoods.
Did the trust give any indication about why they wanted to log Deer Mountain or do the land swap now?
Yeah, Trust officials said the timber industry in Southeast Alaska is dying. And if they didn't log the land they have now, if they waited even a year, there wouldn't be anyone left in Southeast who could cut down the trees. And timber is the only way they see to make money off of the land.
Getting back to the Alaska Mental Health Trust's January deadline, is Congress going to be able to approve the land exchange for Deer Mountain in time?
Well, partly because of the community backlash, the Mental Health Trust board in November reconsidered that January deadline. So, at this point, we do not have that hanging over our heads. If the deadline had been in place, we would have missed it, though, because Congress was not able to approve the land trade in time.
With a new Congress, the bill has to start fresh and so about a week ago, Senators Lisa Murkowski and Dan Sullivan and Rep. Don Young introduced companion bills to accelerate the exchange.
These bills have been filed to accelerate a land exchange for Deer Mountain. Do people in Ketchikan seem optimistic that it will actually happen?
Yes, especially with the new Trump administration and a Republican Congress. Those bills do still have to go through committees before they get to the floor for adoption. But Paul Slenkamp, he's the senior resource manager for Mental Health Trust land office, he told the Ketchikan Gateway Borough Assembly, just a few days ago, that he's extremely optimistic that the exchange will pass very quickly.
And they're so confident that in the mental health board packet for its regular meeting coming up is an update: the trust land office will not be pursuing timber sales on its lands in Ketchikan and Petersburg.
The Alaska Mental Health Trust will meet this week in Anchorage to discuss the issue on Thursday, Jan. 25.
Disclaimer: KTOO's building sits on land leased from the Alaska Mental Health Trust Authority. KTOO has also applied for and received occasional grants for special reporting projects from the authority.