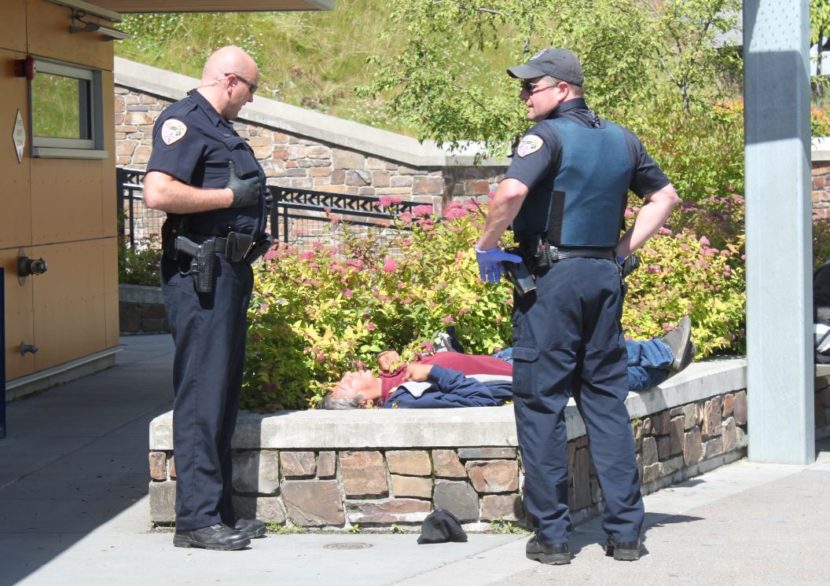 The American Civil Liberties Union of Alaska has warned that Juneau's proposed anti-camping ordinance, drafted to deal with homeless people sleeping downtown, could violate a person's constitutional rights.
The ordinance would empower police to cite homeless people sleeping in the downtown core in the early morning hours. Failure to obey orders to move would allow police to press criminal charges.
But the ACLU of Alaska says the ordinance may not survive a legal challenge.
"Los Angeles tried to do something similar and when the U.S. Court of Appeals for the Ninth Circuit struck it down, the court said that if a city doesn't have enough shelter space for everyone and there's nowhere for our homeless neighbors to go, it violates the Eighth Amendment to punish them for sleeping outside," Tara Rich said in a statement. She's the ACLU of Alaska's legal director.
The Juneau Assembly is expected to vote on the measure following a public hearing at its 7 p.m. Monday meeting. Business groups including Juneau's Downtown Business Association support the ordinance.
The ACLU of Alaska also penned a letter to Juneau Mayor Ken Koelsch that urged the Assembly to reconsider its position.
"What today's proposed ordinance would do would be essentially criminalize the fact of sleeping, which is a fundamental, biological need for people that literally have nowhere else to go," ACLU of Alaska Executive Director Joshua Decker said in an interview Monday. "It's our hope that the Juneau Assembly will heed our constitutional concerns and rather than passing an unconstitutional law that does nothing to solve the problem of homelessness, it will instead refocus its efforts in making sure that everyone who needs shelter has it."
The mayor introduced the ordinance after hearing complaints from merchants that the numbers sleeping in front of doorways was hurting commerce in Juneau's historic downtown.
Opposition to the proposed ordinance comes from four regional Alaska Native groups as well as social work agencies that provide emergency shelter and services to the homeless.