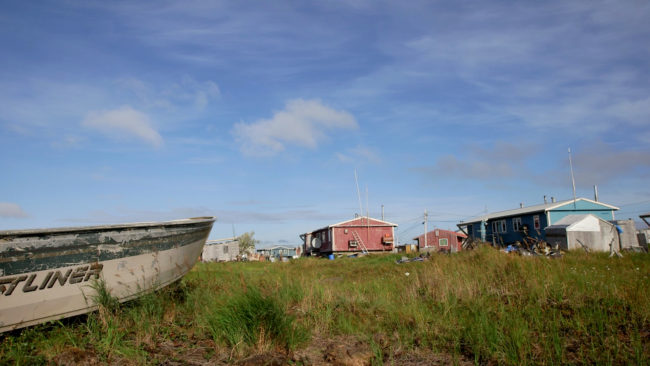 Alaska villages facing rapid erosion have been trying to move for decades. But they've always run up against one major problem: money.
Then this year, for the first time, the federal government made tens of millions of dollars available to relocate a small Native village threatened by climate change.
The problem? That village is in Louisiana, not Alaska.
One day this past January, Washington D.C. reporter Christopher Flavelle got an email. It announced the results of a federal competition awarding nearly $1 billion to communities from New York to California to improve their "resilience" in the face of disasters and climate change. One project was for the relocation of a small tribe in Louisiana: 60 people for $48 million. Flavelle was intrigued.
"I've spent the past year looking at that corner of climate policy," he said.
That corner is what happens when people have to move because of climate change.
Flavelle writes for Bloomberg View. He wrote about the Louisiana town, Isle de Jean Charles. Then he had a thought. He called up the Department of Housing and Urban Development, the agency that awarded the money.
He said to HUD, "Hey, I don't think this is the only town in this situation. In fact I've heard of coastal towns in Alaska. And I wonder, why is it that this place in Louisiana got money, but these other towns in Alaska did not? How did you decide?"
HUD clammed up.
"They were surprisingly reluctant to talk about it." Flavelle said. "In fact, entirely reluctant."
Meanwhile, in Alaska, officials were asking the same questions.
Sally Russell Cox is a planner with the state who helped prepare Alaska's request asking for more than $280 million for four villages, including Newtok, in western Alaska. Newtok has lost its landfill, sewage lagoon, and barge landing. Erosion threatens the school, airport and drinking water. It's estimated it will cost $80 million to $130 million to move the whole village of about 350 people to a new site upriver.
Cox says the team was "blown away" when Alaska got nothing. After all, President Barack Obama had just visited the state, and talked about exactly this issue.
She says the state still isn't sure why it lost out, but apparently one reason is Alaska didn't put up enough state money to match the federal funds.
"We didn't have it," said Cox. "Because, I mean, why are we asking for this money if we already have money committed to it?"
But Christopher Flavelle says that's not the whole story. For instance, Louisiana didn't commit any money specifically for the Isle de Jean Charles relocation. In the end, he says, HUD had a check list, and Alaska just didn't score well.
Alaska officials voiced their bafflement. In a letter to HUD officials, Gov. Bill Walker said the decision "simply astonishes me," while Sen. Lisa Murkowski called it "unacceptable."
HUD spokesman Lee Jones says the agency always has three, four or five times as many applicants as it can fund.
"Their proposals might be able to demonstrate as much need, as much innovation, as much integrity as the winners," he said. "It's just, at some point, the dollars only go so far. And a billion dollars is lot of money, no question about it, but it's not a lot of money when you're trying to address issues of infrastructure resiliency, which is a fairly costly exercise in most communities."
For Cox, the lesson is there needs to be more funding and a better way to decide who gets it.
"You don't do it in a competition," she said with a laugh. "I mean, that's crazy! Because you're rewarding those that have the best marketing or the best grant writing skills."
Instead, she says, we need a system to decide which communities are most in need, and make sure they get funding first.
Bloomberg's Christopher Flavelle agrees. He says it needs to be clear why one community gets money and another doesn't.
"Just as important as finding the right way to move a town is, I think, finding the right way to decide which towns to move. And there has to be some sort of standard that is transparent and credible and defensible."
Right now this is a pretty rare issue. There are not a ton of communities talking about relocation due to climate change. But Flavelle says, that's going to change.
"This isn't just Alaska. And it's not going to just be little towns along the coast that you've never heard of. This is going to be more and more of the United States," he said. "And either we figure it out how to deal with it now, when it's a small problem and the costs aren't huge, or we wait, and we try to develop some sort of a response, some sort of a policy, when we're pressed … when something really bad has happened."