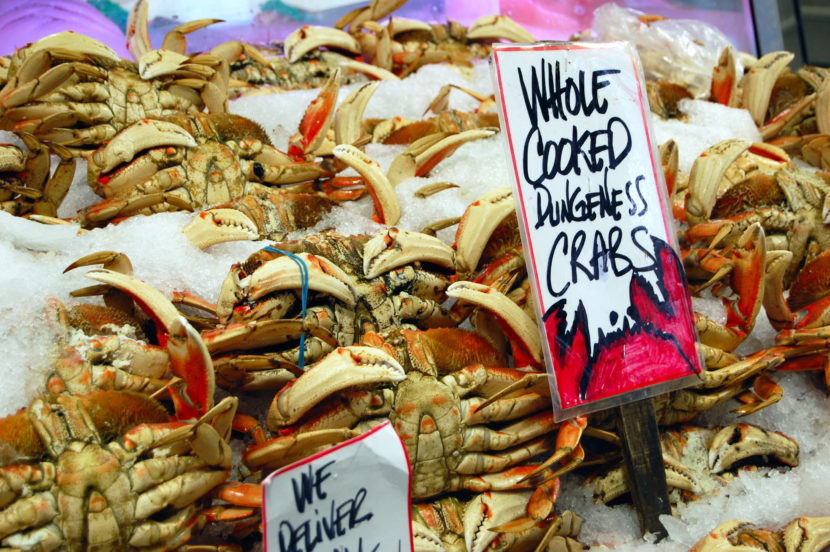 Commercial Dungeness crab fishing in Southeast Alaska this fall turned out to be below average in both harvest and participation and below what managers expected for the season.
Fishing closed in most areas of Southeast on November 30.
The fall harvest was approximately 403,000 pounds. That's about 150,000 pounds less than last year.
Kellii Wood is a Crab Biologist with the Alaska Department of Fish and Game. She says they've seen harvests like this before but it's been a while.
"It's definitely down from previous years," Wood says. "We have been lower but I believe it was in the 90s."
Wood says the harvest is far below the five-year fall average of 732,000 pounds.
About one-fifth of the year's harvest comes in the fall. This year was just a little below that.
Wood says the recent average is a bit skewed when you consider 2014. It was an unusually good year seeing the third highest fall harvest on record since the 1960s. That fall fishermen harvested about a million pounds.
"It was a big, big year so anything in comparison is going to seem really small," she says.
This fall, prices were similar to the last few years, averaging $3.07 per pound. The value of the fall fishery is about $1.3 million dollars which is below the five year average of nearly $2 million.
The combined summer and fall season catch is worth over $7 million at the docks this year. That's also below the recent average.
As far as crab numbers, Wood says managers expected a lower year.
"We're definitely on a downward trend for the cycle," she says. "Hopefully it will pick up here pretty soon. But it was expected that it would be lower considering that two years ago it was the highest so we're on that downward swing for sure."
Even though managers expected a lower year, they still predicted a much stronger harvest for the combined summer and fall fisheries. They estimated a harvest of 3.01 million pounds but are ending up with about 2.28 million pounds. Wood says that's pretty normal.
"We typically overshoot on average," says Wood. "Every once in a while our estimate will be under what was actually harvested."
"But nothing of concern, no concern of over harvesting or anything," I ask her.
"No, we don't have any concerns," she says. "It seems to be following that cyclical pattern."
To get a better estimate, managers would need more information. While there were Dungeness stock assessment surveys done in the early 2000s, there are none now. Wood says there's just not enough staff or money for it. So scientists are left with harvest data to monitor the population. They know that the crab are on a four to five-year life cycle and the commercial fishery sees the population fluctuate.
"It seems like every ten years maybe we have a big pop," Wood says. "For whatever reason, it's hard to say. Every five years we have a little rise and it goes up and down and then every ten years it seems to go up and then come down. And so it's…we just don't have a lot of information other than following the harvest looks like from year to year."
On top of the downward cycle, the crab's yearly timing might be a bit off this year because of the water temperature. Wood says this was the warmest water year in the last decade. They monitor temperatures through gauges on some pots in the red King crab survey.
"So the molt timing for crab could be off as well," Wood says. "So, that might be why things have been not as abundant as they normally are. The cycle could be off a little bit. They could have molted earlier or later. We just don't know."
Participation in the fall fishery was also down. 115 permit holders reported landings this fall. That's three less than last year and over 20 less than the year before.
District 8 which includes the Stikine Flats near Wrangell saw the largest harvest of the fall fishery. Fishermen brought in about 46,000 pounds. Just behind that was District 6, which includes Duncan Canal and the Wrangell Narrows near Petersburg.
A few areas near Ketchikan and Sitka remain open to Dungeness crab fishing until the end of February. Then the commercial fishery will remain closed until the summer season starting June 15.