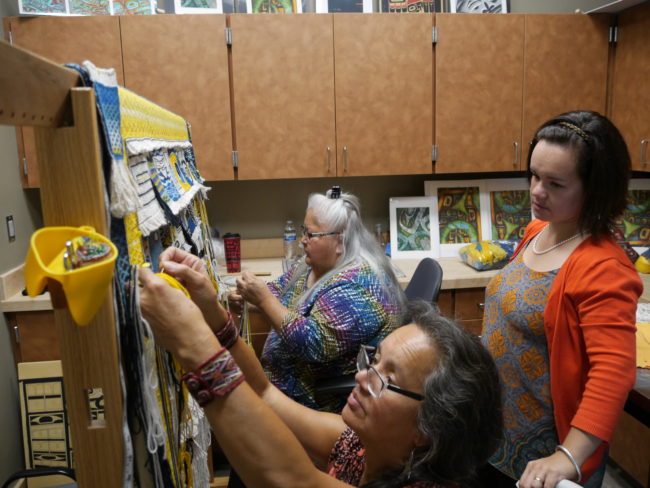 "The world has lost another luminary."
That's how the Sealaska Heritage Institute began a message announcing the death of Clarissa Rizal at age 60, a renowned Chilkat and Ravenstail weaver. She was a Raven of the T'akdeintaan Clan, also known as the black-legged Kittywake Clan.
The institute's announcement says Native people owe her a debt for teaching and reviving the sacred art.

Rizal was diagnosed with terminal liver and colon cancer in October and passed in the early hours this morning. Her sudden death comes as a shock to many.
In addition to weaving, Rizal was a multimedia artist who worked with paint, music, spoken word, printmaking and sculpture. Among her works in recent years was a collaboration with the Seattle-based band Khu.éex'. You can hear Rizal perform in "To Her Grandmother" by clicking below.
Among other awards, Rizal was a 2016 National Endowment for the Arts fellow. You can watch her presentation at the Fellowships Concert below.
She leaves behind children Kahlil and his wife Mikiko along with their daughter Violet; Lily Hope and husband Ishmael, and their children Elizabeth, Louis, Mary and Ella; Ursala Hudson and husband Chris Haas and their daughters Amelie and Simone. She is also survived by her siblings Richard, Tim, Irene and Deanna.
A celebration of life in Juneau will take place in the summer of 2017.