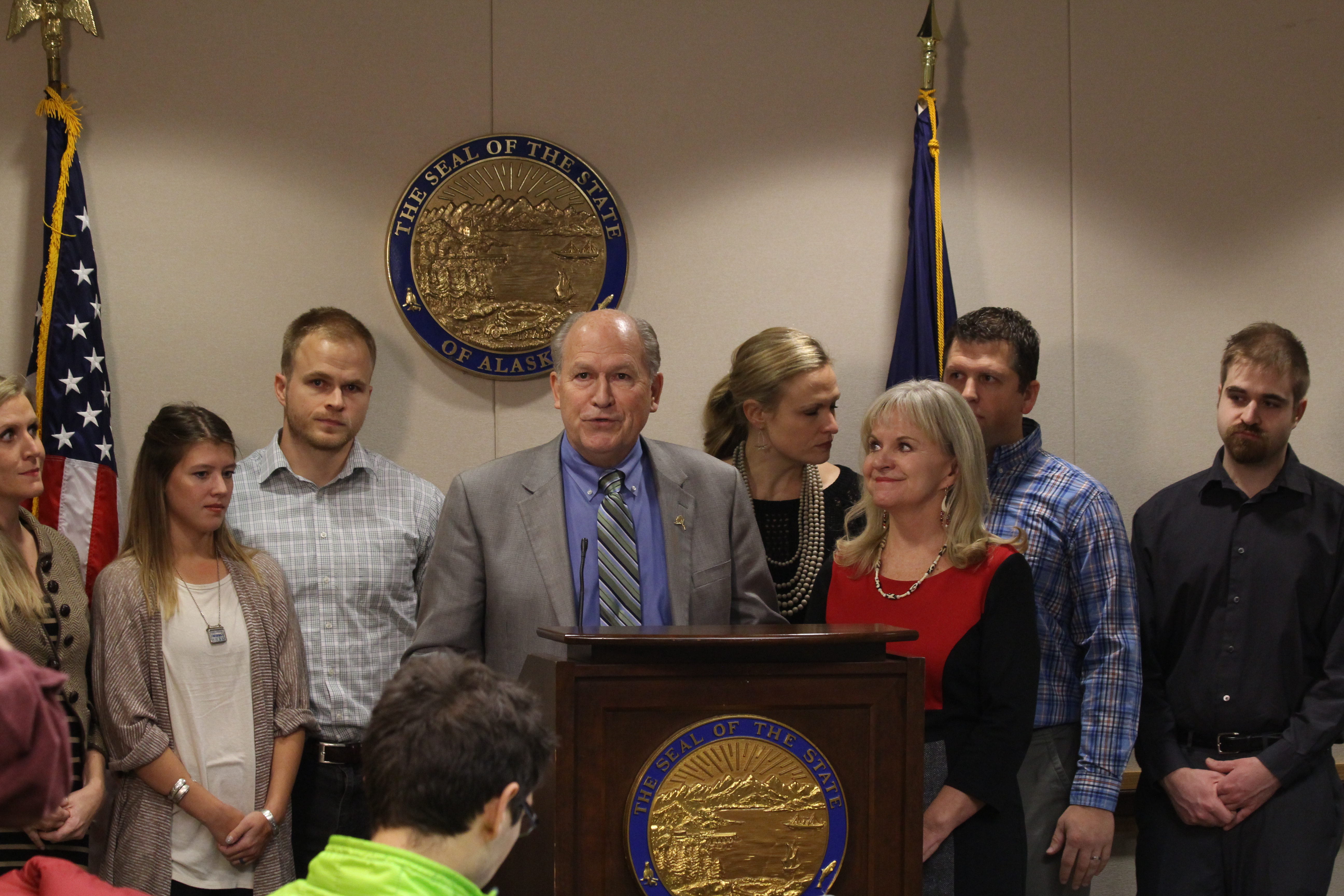 Gov. Bill Walker announced Friday that he's been diagnosed with prostate cancer. Following his doctor's advice, he will have surgery in December to remove it.
Walker said the cancer is "certainly treatable. It was found not as a result of any particular symptoms, just regular testing, which I certainly encourage others to do."
Walker said the diagnosis has not and will not impair his ability to perform his duties.
The cancer was detected on Oct. 21.
Walker made the announcement at his Anchorage office, surrounded by his wife Donna, other family members, and Lt. Gov. Byron Mallott.
While Walker said the cancer was a private matter, he said he made it public after discussing it with his family, as well as Pennsylvania Gov. Tom Wolf, who also has had prostate cancer, and Maryland Gov. Larry Hogan, who has had lymphoma.
"There's really no reason not to be public about it," Walker said. "In fact, the good part about being public about it is I want to Alaskans to be tested regularly."
Walker will have the procedure done by a surgeon recommended by his doctor. The surgery is expected to last three hours and will be done outside of Alaska, but Walker didn't say where.
Walker said his recovery is expected to take up to a week before he fully returns to his duties.
"My doctor here in Anchorage provided me the different options and the pros and cons of each of the options," Walker said. "And I've chosen to go with surgery. It's a one-time (event), and I want to be done with this as soon as possible."
Donna Walker said her husband showed no signs of slowing down from the cancer.
"Honestly, the man has had one sick day that I can recall" in his life, she said. "And that's when he broke an arm and a leg jumping on our son's skateboard."
The governor clarified what his wife said, saying he only broke his ankle and wrist and flew to a Valdez City Council meeting the next day.
Walker doesn't expect to take medication over a long term after the surgery, but may use painkillers for a short period.