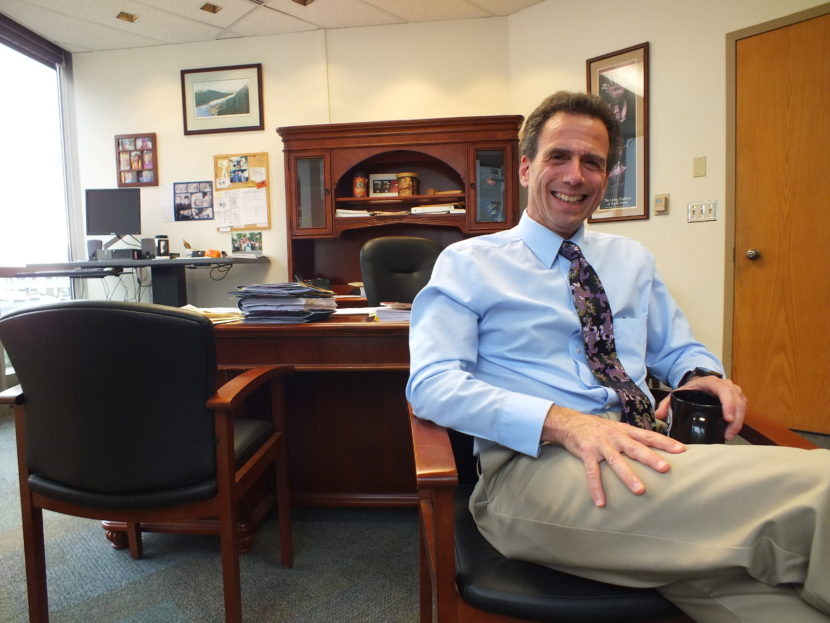 Judge Keith Levy is retiring Oct. 31 after nearly 12 years on the District Court bench in Juneau.
"I think it's a good idea for judges to retire while they are still doing a good job," Levy said. "It takes some energy to treat the job like every case is important, which it is. I think it's good to retire before you lose that."
During a recent interview in his chambers that aired on KTOO's Morning Edition, Levy explained that he may serve as a senior judge who will temporarily fill in when there are vacancies at other courthouses. He will also help with mediating marriage dissolution cases.
Levy said he's primarily looking forward to spending time with his eight grandchildren, and will continue with trail and ridge running in Southeast Alaska while his health is still good.
Here are some highlights from the interview.
Levy was asked about the effectiveness of the therapeutic court and the Coordinated Resources Project which focuses on helping defendants work through their mental health issues.
"It's one of the things that I'm most proud of. I think it's very effective, very important," Levy said. "That kind of problem-solving justice I have learned to incorporate into everyday cases as well, to the extent that I can. I think it's of tremendous benefit to people involved."
Were there any unintended consequences of Senate Bill 91, the criminal justice reform measure that the Alaska Legislature passed and the governor signed into law this year?
"Right now, driving without a license is a misdemeanor punishable by up to 90 days in jail. Driving when your license is suspended or revoked is a violation only punishable by a fine," Levy said. "I think that was just a mistake and I think that will be fixed."
Levy also notes that maximum sentences for some criminal offenses have been reduced, which could be less of an incentive for defendants who are considering diverting into therapeutic courts or other problem-solving courts that may require lengthy treatment programs.
What about the effects of budget cuts on the Alaska Court System?
Levy said the hardest impacts have been on the Clerk's Office which now has fewer people to do the same amount of work. Closing courthouses on Friday afternoons means there is less time to schedule hearings, and the District Attorney's Office has to prioritize cases because of fewer attorneys and staff.
"Many things that previously would have been charged may not be getting charged now," Levy said.
Do you see any bias against Native defendants in Alaska's criminal justice system?
Levy doesn't believe there is any overt or conscious bias. He said judges have been trained to recognize and avoid any implicit bias against individuals within the criminal justice system.
"Judges, lawyers, prosecutors, police officers — everybody involved in the system — if you're aware of that, you can work to have that not determine what you are doing. But I don't think there is overt bias, not in the court system."
Do you have any advice for your successor and all other new appointees to the bench?
(Levy was asked five days before Gov. Bill Walker announced his appointment of Kirsten Swanson to replace him.)
Levy said he was lucky to be working with supportive colleagues, and good and capable lawyers.
"Any number of people could do this job and be really good at it," Levy said. "The advice is don't become complacent about that and don't think you're particularly special because you were lucky enough to get the job."
On gender diversity among Alaska judges:
Levy said the governor should always appoint the most qualified person to the bench.
"If everything else is equal, I think appointing a woman — in this case — is important," Levy said. "Just among judges, there's only been one (woman) on the bench in Southeast Alaska, ever, Judge (Patricia) Collins. A number of times a year, I bring young students into the courtroom and I think it's important for young girls to look up and see 'I could be a judge, too.'"
What was the most interesting or challenging case that you ever considered?
"This job is interesting every day. It really is. It is. You're dealing with people's lives. You're dealing with people at their most vulnerable. A good judge works hard to care about every single case," Levy said. "It would be inappropriate for me to just single out a case and talk about something specific because it's somebody's life, and it's not appropriate for me to talk about that."