Southeast's largest tribal organization will soon be able to offer an alternative to the court system for some criminal cases.
A pending agreement with the state of Alaska will allow the Central Council of Tlingit and Haida Indian Tribes of Alaska to resolve certain criminal cases in tribal court.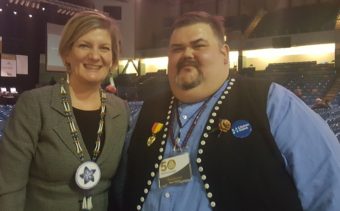 Attorney General Jahna Lindemuth said she has "full faith" the agreement will be solidified soon. Central Council President Chalyee Éesh Richard Peterson said everything else is in place as far as his organization concerned.
"Our tribal court there in Juneau is really ready. We have everything in place, the judge, staff," Peterson said.
Peterson said Central Council is following the lead of the Tanana Chiefs Conference in Fairbanks, another tribal organization that is also close to sealing a similar deal with the state. He said allowing tribes to take responsibility for certain court cases will be more effective than what's currently available.
"We want to do some alternative sentencing, things that will help them rebuild who they are and do it in a culturally sensitive way, but in a way where they're also responsible to the community at large," Peterson said.
Lindemuth said the new partnership between the state and tribal courts is a work in progress.
"Most likely we'll start with misdemeanor-type offenses and the tribes can take jurisdiction over those and deal with those within their tribal court system."
The state signed an agreement on Thursday with the Kenaitze Indian Tribe to establish a therapeutic tribal court that will focus on cases involving alcohol and substance abuse. The Kenaitze agreement is the first of its kind in Alaska. Lindemuth said the state is looking forward to working with more tribes on similar agreements.