Update | Oct. 10, 2016
After the Washington Post's release of a 2005 video Friday in which Donald Trump crudely described kissing, groping and trying to have sex with women, Sen. Lisa Murkowksi condemned the Republican presidential nominee and called on him to step aside.
Original story | Oct. 7, 2016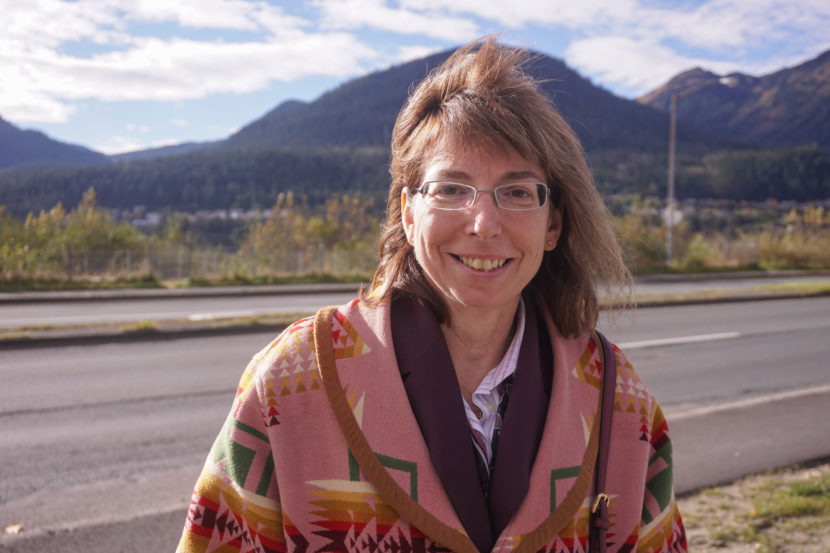 Independent U.S. Senate candidate Margaret Stock was in Juneau recently campaigning ahead of the Nov. 8 election.
Stock stopped by KTOO on Thursday and for an interview. You can listen to the full 13-minute interview here, or read through a version that's been edited for clarity below.

Sen. Lisa Murkowski's campaign declined to comment on Stock's statements.
---
Q: Why don't you just introduce yourself.
My name is Margaret Stock and I'm the independent candidate for the United States Senate here in Alaska.
I'm a 30-year Alaskan. I'm a 28-year veteran of the U.S. Army Reserve Military Police Corps. I was admitted to the Alaska Bar in 1993. I'm an Alaska attorney. I have represented small businesses and families all over Alaska since I was admitted to the bar in 1993. I've been a very successful attorney, and in 2013, I was accorded the honor of being the fourth Alaskan to win the John D. and Catherine T. MacArthur Foundation Fellowship. And the news media, including Alaska Public Media, calls that the Genius Grant. And I was given that award for my work in immigration and national security. I'm running as an independent, and that means I'm all work and no party.
Q: And why did you choose to run as a third-party candidate instead of going with one of the major parties?
Well, it's obvious that Washington is broken. And the reason for Washington being dysfunctional is the partisan warfare going on in Washington. I'm running because I think Alaskans care more about accomplishments than they do about partisan warfare. And they want to vote for somebody who's actually going to get things done instead of just engaging in this endless partisan warfare that goes on in Washington.
Q: And, so aside from just breaking up that gridlock, is there a handful of very specific policy issues you want to accomplish if you get elected?
Absolutely, an important priority is to start filling vacancies in federal courts and in the federal agencies. There's been a huge problem in Washington with that because of the partisan warfare. The Senate's not holding hearings on nominees, we've got a vacancy on the Supreme Court. There's vacancies in lots of federal agencies and this is leading to dysfunction in our federal government.
Q: And so, you know, you have to get along with a lot of different people, and it's hard to get things done because the system is so entrenched. What do you think it is that you can do or that you bring to the table that can shake that up?
Well, I'll be more powerful as an independent because everyone will want my help. And I'll be in a position to talk to both Republicans and Democrats. I won't have to tow party line. Additionally because I'm an independent, I won't have to spend the majority of my time raising money for a national party. And that's one of the big problems in Washington right now, is the influx of dark money, and the fact that people are more interested – if they're members of a national parties, they're more interested in spending all their time raising money rather than working on legislation that will benefit the people of the state who that elected them.
Q: Now, so you brought up the idea that as an independent you won't be beholden to the party as much, and to an extent, Lisa Murkowski had that opportunity a few years back when she won her write-in campaign.
She did, she promised the voters that she wasn't going to be beholden to a national party, she was going to be more of a centrist legislator. And she broke that promise repeatedly.
Q: And so do you see yourself as a direct challenger to her or as an alternative? What do you think your role is in this election?
I'm the best qualified candidate running for the United States Senate. I have the best background and level of experience. I have the exactly the right credentials you'd want in a United State Senator. I've worked extensively on legislation, I've testified in front of Congress, drafted bills. I know how to get things done in Washington. And I have a proven track record unlike the other folks running for Senate.
Q: And so, let's talk about that MacArthur Genius award a bit more. That comes with a substantial cash prize, right?
It does.
Q: How much was it, and what did you do with it?
Well, I won it in October 2013 was the official time when they announced it. They actually called me in September and said that I had been granted the award. They make you keep it secret for awhile, because they do a whole public news release and so forth. So in 2013, I was awarded the fellowship. It's $625,000 and it's no strings attached. They do it based on your creativity in solving a national problem. And in my case, it was creativity in my work on immigration and national security. And it's a 5-year fellowship. You do pay taxes on it. Apparently, I've paid more taxes than Donald Trump, whom Lisa Murkowski is supporting for president.
Editor's note: Murkowski told the Associated Press in August that she had not decided if she will vote for Donald Trump for president. She did say she would not vote for Hillary Clinton. 
And so what I've done with the award, is I've done a lot of pro bono work. Primarily for military personnel, military veterans in particular are a focus of my concern. But I've used it, basically, to free up my time so I don't have to charge them for the legal work that I do for them.
Q: Why is it that you've focused in on immigration law professionally?
Well, I fell into it, I was of course an Alaska lawyer. And in 2001, I had taken a sabbatical to go teach at the United States Military Academy at West Point, New York. And of course, I was also an Army Reserve officer, I retired at the rank of lieutenant colonel. So I was both an Army reserve officer and an attorney. And I went to teach at West Point, to teach national security law, constitutional law, and military law. And I happened to be teaching at West Point on Sept. 11, 2001 when the planes flew into the World Trade Center. And if you know much about geography, you know that the two planes took off from Logan airport, headed west. They navigated to the World Trade Center by heading west, until they hit the Hudson River and then they turned south, and they flew over West Point before hitting the towers. So they were actually flying over West Point while I was teaching class when they hit the towers.
And we found out after the attack, that the U.S. government had intercepted communications between the hijackers prior to the attack, but they hadn't been translated. They didn't have anybody who spoke foreign languages who could translate these intercepts and it might've been possible prevent the attacks if in fact we had had people working for the U.S. government who spoke the languages of the hijackers.
I was an immigration lawyer and I was also a national security expert, so I was very, very distraught to find out that we might have been able to stop these terrible attacks if we'd had enough people working the U.S. government who spoke foreign languages. And at that point, I started working on a policy proposal to try to recruit more legal immigrants who spoke foreign languages to work for the U.S. intelligence community and U.S. government.
And I was successful in doing that, I actually started working officially on the project in January 2008. I was given the go ahead by the Army to start working at the Pentagon on the project. I was able to get the project through the Pentagon in less than a year. And the program became very successful. It recruited thousands of immigrants legally in the U.S. who spoke foreign languages. We also expanded the program to recruit other shortage professionals, such as U.S. licensed doctors. And the program basically allowed people to get American citizenship in exchange for serving 8 years, they'd sign an 8-year contract with the United States military to serve, and they would become U.S. citizens. This allowed them to work for Special Operations Command, and for other Army commands. Thousands of people took advantage of the program, including a lot of folks in Alaska. The University of Alaska had several students who signed up for the Army as a result of the program. The program was deemed highly successful and it didn't cost anything. So the taxpayer saved a lot of money.
Interestingly, the most recent manifestations of the program was an unexpected one. It came in Rio de Janeiro at the U.S. Olympics, the Olympic Games this summer. The U.S. Olympic team is open to anyone who's a U.S. citizen. You can compete and try out for the Olympic team. And several of these Army recruits who joined for their foreign language skills turned out to be world-class athletes. And they competed and successfully won places on the U.S. Olympic team. And one of them, Paul Chelimo, got a silver medal for the United States in the 5,000 meter race down in Rio. It was the first time the U.S. has gotten a medal in that event in decades, and he was an Army soldier, he's still in the Army, but he was recruited for his Swahili language skills. Turned out also to be a world class runner.
Q: So you said it's 8 years in the service, starting in 2008, so this is sort of the first class of people getting citizenship now?
Well, no, they get their citizenship right away, but they have to sign a contract for 8 years. And they can lose their citizenship if they don't serve honorably for at least 5 years.
Q: And this is the program the MacArthur Foundation recognized you for?
It's one of the programs. They said I had done four different things that were important to U.S. national security. One of the things they said I did was testify in front of Congress, write a lot of papers, and talk about how immigrants who were properly vetted were not a threat to national security. And how, if we wanted to protect our national security, we needed to concentrate on letting the right people into the U.S., rather than on just blindly excluding all foreigners, or all people of a certain country or so forth. And I basically had argued, that just telling people – keeping people out of the United States was not helping our security. What we needed to concentrate on was letting people the right people in, the people who would enhance our national security.
So they said I had testified in front of Congress, written legislation, written papers and so forth. And I had done a lot of work on that. And then they said that recruiting program was a sign of great creativity, and they pointed out that nobody else had been able to get immigration reform through in Washington, and that I had successfully done it with my program. And that I'd also set up a program to help military personnel with immigration problems on a pro bono or free basis, national program that's still in effect today.
And then, I'd also worked on something called basic training naturalization. Which is a program to allow immigrants who join the military to get citizenship at basic training. And of course, if they don't serve, they can lose it. But they get it up front at basic training. And that allows them to go into things like, Special Operations Command and you know, actually work for the U.S. government in more responsible positions.
Q: A lot of the things you're talking wanting to do, it seems like either side of congress, Senate or House, could effect some of these changes. They're both up this year. Why did you choose the Senate instead of the House? Is it something about the specific incumbents, or the nature of the positions?
Well, I chose the Senate because I'm most qualified to serve in the Senate. But I also learned that there was quit e a strong challenger to Don Young running, and it didn't make any sense for me to run against that challenger. And also, Lisa Murkowski didn't have any serious opposition. And I felt she had let down Alaskans. I've been very disappointed with Sen. Murkowski's performance. She made a lot of promises six years ago, when she ran as the write-in candidate. She said she'd move toward the center, that she would do certain things for the Alaskans. And then she disappointed us. I think she decided to follow the lead of her national party and the corporations that are funding her campaign, so she's done for corporations and the national party than she's done for Alaskans.
Q: We don't have many polls in Alaska. But, you know, it's a pretty crowded field now, with a lot of different candidates running against Murkowski. So your chances as an observer, look not great. How do you address that, what do you say about that?
Well, I think my chances are pretty good if you look at the recent polls. The last one I heard of, they left me out intentionally. So people were called on the phone and they were not given Margaret Stock as an option in the poll. And they showed that Sen — They only gave 'em three choices, which were Sen. Murkowski, Joe Miller and Ray Metcalfe. And it showed a very high percentage of the voters were undecided. Those are folks who presumably would think I was a strong candidate. Lisa Murkowski's support was slipping. She was only at 38 percent. Joe Miller was at 31 percent and Ray Metcalfe was at 11 percent. And this was a poll of people who didn't, weren't given me as an option in the poll. So I think my chances are quite good right now that I'll win a United States Senate seat.
Q: What's your campaign strategy going into these last few weeks?
Well, we're reaching out to the voters. We're traveling all around the state, I've got four debates set up. I'm going to be going up to Barrow, Kodiak. Of course, I'm down in Juneau this week, talking to folks at Grand Camp. We're reaching out to a lot of the more remote communities. I have a lot of support in rural Alaska. And of course Anchorage is pretty important. And I live in Anchorage, so I've been going around Anchorage and talking to a lot of people.
We have a terrific campaign ad which I'd encourage people to check out. It involves the red team and the blue team, and they're having a tug of war, and they're not getting anything done, and I show up with a chainsaw, and I cut the partisan gridlock with my chainsaw. And in fact, that is my chainsaw. My husband gave it to me for my birthday by accident. I like to tell people that story.
Q: What does that mean? How do you accidentally give someone a chainsaw?
Well, he forgot it was my birthday one year. And he came home with a chainsaw that he had just purchased. He said, "Look honey, look what I got!" And I kind of looked at him, and I gave him, kind of glared at him. And he's very, very smart. So, immediately, he picked up on the fact that his wife's made at him, he did something wrong, and then he immediately realized he'd forgotten my birthday, so without missing a beat he said, "–For you!"
And he handed me the chainsaw. And this led to much merriment in the family and it's kind of a running joke.
And I do, we do use the chainsaw. We've got a cabin out in McCarthy, and 41 acres of land, and we've had to clear the land to build the cabin, and I have used the chainsaw. So it's me in the video, with the chainsaw. That really is me cutting that rope with the chainsaw.
Q: Any last thoughts before we wrap up?
No, thank you so much for interviewing me. And I look forward to getting your vote and the votes of all the listeners on Nov. 8.