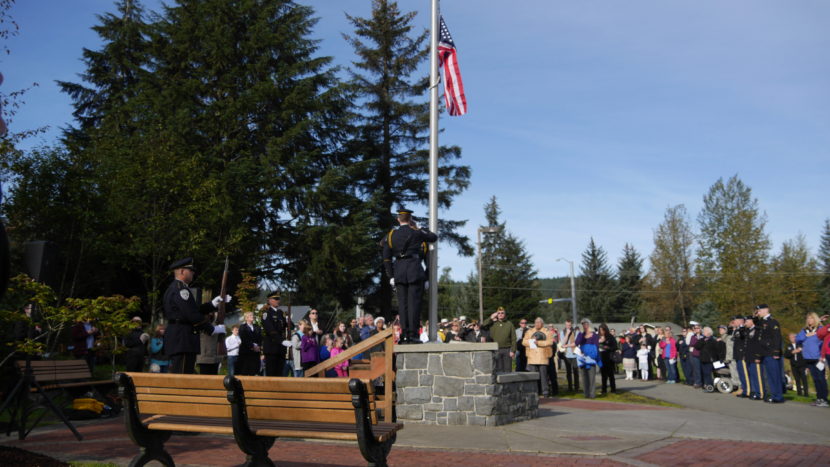 Hands covered hearts and veterans saluted as a Juneau Police Department Honor Guard raised the flag to half-staff in concert with a rendition of the Star Spangled Banner.
The Juneau Glacier Valley Rotary Club's annual service, held at the Sept. 11 Memorial in Riverside Rotary Park, followed a pattern similar to past services held since 2002.
The highlights included Capital City Fire/Rescue firefighter Andrew Bishop's explanation of the significance behind each piece of the memorial.
Juneau Mayor Ken Koelsch laid a ceremonial wreath at the memorial's base while bagpipes played somberly in the background.
Lieutenant Kris Sell with Juneau Police Department shared her initial thoughts on the repercussions of 9/11 and the lessons learned from the aftermath.
"We came together as a nation 15 years ago and it was beautiful. It's time to do it again and for the long haul," Sell said.
She encouraged the crowd to support first responders and U.S. soldiers as "the ultimate way" to honor the lives lost 15 years ago.
Lisa Golisek was at an airport in route to Indiana on 9/11. She says it is especially important to her to pay respects to first responders who lost their lives serving others.
"Also the ones that are living. I am married to a first responder so it's very important to me," Golisek said.
She said her husband is a former Juneau police officer.
The entire ceremony took less than an hour. Golisek thought it was "appropriate."