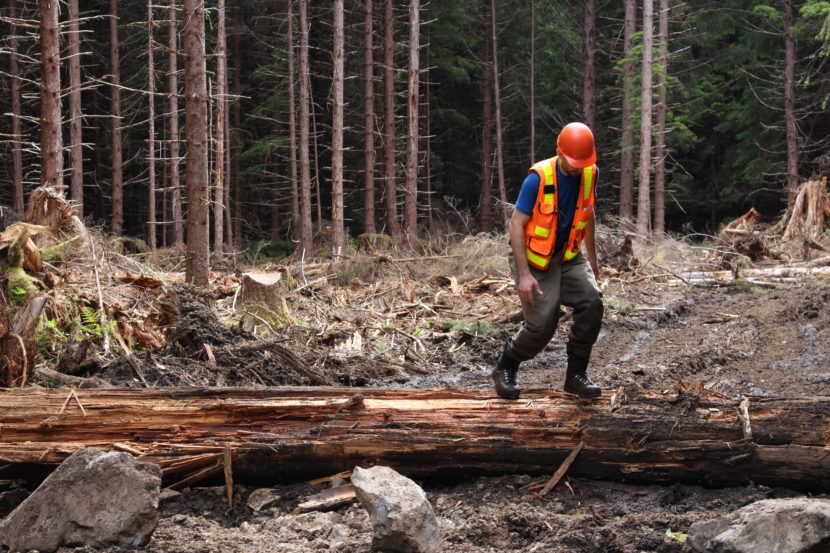 An old growth timber sale recently announced in a Ketchikan newspaper has one conservation group scratching its head.
That's because this type of harvest — near valuable salmon streams — won't be allowed in the future.
The U.S. forest service is working on a new timber plan in the Tongass National Forest, which is expected to be finalized by winter.  
In the meantime, forest managers are moving ahead with timber sales under the old rules.
Recently, in the Ketchikan Daily News an ad appeared along with advertisements of cars for sale and apartments for rent. The forest service was looking for a buyer for 866 acres of old growth trees on north Kuiu Island.
"You know, no one would know about it unless you're reading the back pages of the Ketchikan paper," Austin Williams said.
He learned about it from a Trout Unlimited member in Ketchikan. Williams is the director of law and policy for the organization.
What troubles Williams about the timber sale is where it's slated to happen.
"Right in the middle of some of the most valuable and important fish and wildlife habitat in the region," he said.
It's one of a group of watersheds, known as the Tongass 77, that environmental groups want protected.
Logging can cause erosion,  creating problems for spawning salmon, Williams said.
Just a few years ago, the Forest Service repaired streams on Kuiu damaged by timber harvests from the 1970s, back when there were no regulated buffers along salmon streams.
That's changed and this particular sale went through an environmental assessment and a public comment period before becoming final eight years ago.
"There's been no opportunity for public involvement since the decision came out in 2008," Williams said. "And you know, a lot has changed since then."
One major change: soon sales like this won't be possible.
The Forest Service is about to come out with an amended timber plan for the Tongass. Old growth logging in these watershed areas won't be allowed.
Jason Anderson, a deputy forest supervisor, said sales that have already been approved — like the one on Kuiu — can move forward.
"We would not have necessarily crafted this sale under the new plan," Anderson said. "But we're also operating in that change-over period."
Anderson said the Kuiu sale is happening now because the "market conditions" are right.
He's not sure how many outstanding timber sales exist like this.
He thinks — compared with the overall size of the Kuiu sale —  the trees in the watershed area represent a relatively "small percentage."
"While I can recognize the concerns that are out there. I think on the whole, the transition spells out how a lot of this will occur in terms of bringing forward more young growth over time," Anderson said. "Being very deliberate about what old growth is offered. And again, considering and protecting those watersheds that have the highest fisheries value in the region."
The Forest Service approved the Kuiu timber for export, which means the trees aren't likely to go to local mills.
That's OK with Owen Graham, the executive director of the Alaska Forest Association, a timber industry group.
The Kuiu sale is made up of a lot hemlock, a low value timber, he said.
"Those chips used to go to the pulp mills and now they have to be barged 800 miles south," Graham said. "The economics of trying to harvest timber and manufacture on a remote island like Kuiu is pretty difficult."
There are no pulp mills left in Southeast Alaska. The Forest Service's red tape doesn't make it any more cost effective for domestic buyers, Graham said.
Still, he thinks the Kuiu Island timber sale is significant for the logging jobs it does keep in the region.
The public should have another say before old growth trees are cut down in a watershed, Williams said.
"You know, one of the things about Southeast Alaska is that largely our fisheries are intact and our watersheds and streams are healthy," Williams said. "But if we don't take care of it, we risk losing those."
The objection period on the amended Tongass plan ends this week.
The Forest Service is accepting bids for the Kuiu island timber sale until September 13.  
Editor's Note: We've updated the story to clarify the definition of the Tongass 77.