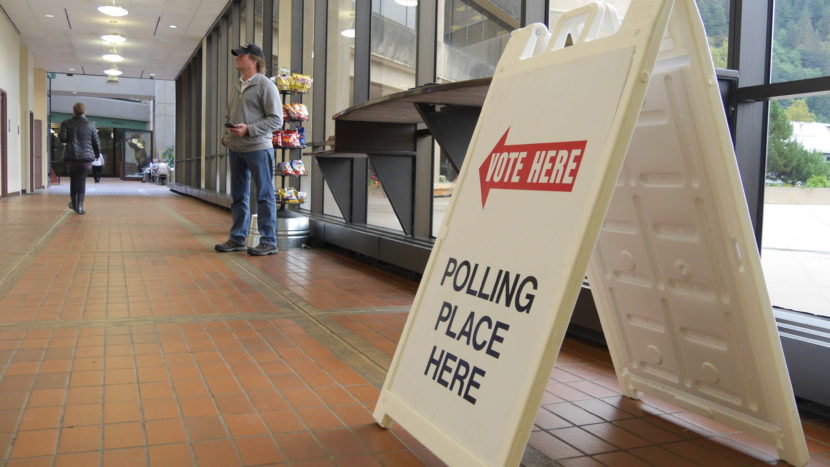 11:50 p.m.
Wasilla Republican state Rep. Lynn Gattis has lost her bid for a Senate seat, and Rep. Bob Lynn of Anchorage has lost his re-election bid.
Gattis lost the GOP primary Tuesday to Wasilla City Council member David Wilson.
Wilson is poised to take over the Senate seat currently held by Republican Charlie Huggins, who did not seek re-election. There is still the possibility that a candidate could run as a write-in for the general election, however.
Meanwhile, Lynn lost his Republican primary to Chris Birch.
___
11:40 p.m.
Anchorage state Rep. Craig Johnson has lost his bid to seek a seat in the Alaska Senate.
Natasha von Imhof defeated Johnson in a three-person GOP primary for the Senate seat held by retiring Sen. Lesil McGuire. Jeff Landfield, known for his colorful social media presence, was also running.
Forrest McDonald won the Democratic nomination in that race.
Meanwhile, Rep. Shelley Hughes of Palmer won her party primary for a Senate seat. Hughes is seeking to succeed Sen. Bill Stoltze, who did not seek re-election.
And Tom Begich, a brother of former U.S. Sen. Mark Begich, has won his party's nomination to succeed longtime Anchorage Sen. Johnny Ellis, who is retiring. No Republican ran in that race. It's possible a candidate could run as a write-in for the general election.
___
11:15 p.m.
The stage is already being set for how the U.S. House race will be waged this fall.
Congressman Don Young is the longest serving Republican in the House. He wants a 23rd term, and easily won the Republican primary Tuesday.
Former media executive Steve Lindbeck won the Democratic race. He tells The Associated Press that it's a broadly held view that Congress is broken, and that Young has been there a long time. Lindbeck says, "Perhaps too long."
Lindbeck also says that a lot of Alaskans feel that Young has left them behind and he's instead working for special interests and contributors.
Young issued a statement from his home in Fort Yukon.
He says the choice is clear. People can choose him and his proven record of protecting Alaska's interests, or vote for "someone who will support the very people working to lock away Alaska's lands and critical recourses."
___
11:05 p.m.
A Republican state legislator targeted by his party has lost his re-election bid.
Palmer Rep. Jim Colver lost to GOP rival George Rauscher in Tuesday's primary.
The state Republican party took the unusual step of supporting Rauscher over Colver, a member of the loose affiliation of majority moderates known as the Musk Ox Coalition.
State GOP chair Tuckerman Babcock called Colver a Democrat who would organize with Democrats as part of a new leadership structure in a heartbeat. Colver dismissed Babcock's claims as politics and said the party's tactics send a message that if you do what's best for your constituents, you could see yourself on the outs with your party.
___
10:33 p.m.
Ray Metcalfe has won the Democratic nomination in Alaska's U.S. Senate race.
Metcalfe beat University of Alaska Anchorage professor Edgar Blatchford to take on Republican incumbent Sen. Lisa Murkowski.
Metcalfe is a former state legislator who has crusaded against corruption in politics. He also has butted heads with leaders of his party. Asked if he would consider leaving the party, Metcalfe said he has problems with the party's leadership but not its issues.
Metcalfe supported Bernie Sanders in Sanders' unsuccessful bid for the Democratic presidential nomination.
Metcalfe says he regretted not jumping into the 2010 Senate race, in which Murkowski lost her party primary and wound up running as a write-in candidate to keep her job.
__
10:08 p.m.
Steve Lindbeck has won the Democratic nomination in Alaska's U.S. House race.
Lindbeck will take on the incumbent, Republican Rep. Don Young, who is seeking his 23rd term.
Lindbeck is a former newspaper editor and former CEO of Alaska Public Media.
He says Young's service should be respected but said he doesn't think Young wields the influence he should as the senior Republican. Lindbeck says there's a need for new leadership.
The Democrat had a strong initial fundraising quarter, bringing in more money than Young.
Lindbeck faced competition in his primary from little-known candidates William "Bill" Hibler and Lynette "Moreno" Hinz.
___
9:40 p.m.
Republican U.S. Rep. Don Young has won his party primary in Alaska.
Young is the longest-serving Republican in the U.S. House and is seeking a 23rd term this year. He began his career in Congress in 1973.
Young says Alaskans have long trusted him to do the job because he's been able to accomplish a lot for the state. And the 83-year-old congressman believes he can still do the job and do it well.
Young faced three little-known Republican challengers in the primary: Gerald Heikes, Jesse "Messy" Tingley and Stephen Wright.
__
9:35 p.m.
Republican U.S. Sen. Lisa Murkowski has won her party primary.
The race was low-key compared to six years ago, when tea party challenger Joe Miller upset Murkowski in the primary. Murkowski went on to keep her seat by mounting a write-in campaign.
She faced no major threat this year, with only little-known candidates vying for Republican votes. Former Anchorage Mayor Dan Sullivan dropped his bid to take on Murkowski shortly after entering the race.
Murkowski is Alaska's senior senator. She took over as chair of the Senate energy committee after Republicans gained control of the Senate in 2014.
___
2:30 p.m.
Alaskans at a southwest Anchorage polling place are splitting votes between incumbent U.S. Rep. Don Young, a Republican, and Democratic challenger Steve Lindbeck.
Voting at Kincaid Elementary school in Sand Lake, Gabriele Peterson says she's backing Young because power in the U.S. House comes with experience, and no one has more experience than Young.
Likewise, retiree Nancy Shefelbine says she voted for both Young and incumbent U.S. Sen. Lisa Murkowski because they're "known quantities."
Patricia Wolf cast her ballot for Lindbeck. She says she knows him well and that he's intelligent and thoughtful.
Dr. Thomas Wood says he's known of Lindbeck for 30 years from his work at Alaska Public Radio and Television. Wood says it's time for a change in Alaska's sole representative in the U.S. House.
___
12:40 p.m.
Alaskans are at the polls to decide whether to re-elect two congressional incumbents — the state's senior U.S. senator and its sole member in the U.S. House.
Phil Cannon is registered as an Independent and voted Tuesday to re-elect Republican Lisa Murkowski. The 40-year-old Anchorage resident says Murkowski has done good things for Alaska Natives, which is important to him because there are Alaska Natives in his family.
Cannon voted against the congressional incumbent, Republican U.S. Rep. Don Young, saying it's time for the 83-year-old congressman to go.
Republican Ken Owens voted for Libertarian Cean Stevens. The 70-year-old Anchorage resident said he can't go along with Murkowski, who he says is too closely aligned with Obama and Democrats.
"She's just a bold-faced RINO as far as I'm concerned, a Republican in name only," Owens said.
He also voted against Young. "He should have retired 20 years ago gracefully," he said. "It's ridiculous."
___
10:40 a.m.
Alaskans are headed to the polls to settle the general election fields for U.S. Senate and House, and in some cases, they'll likely elect state legislators.
In the lead-up to Tuesday's primary, Republican U.S. Sen. Lisa Murkowski was visiting Alaska communities by RV. Republican U.S. Rep. Don Young was headed to his hometown of Fort Yukon, where his spokesman says Young traditionally spends his primary nights.
Murkowski and Young face contested primaries, but none of their opponents have mounted high-profile challenges. Both camps have been encouraging Alaskans to get out and vote.
Sixteen legislative races could be decided Tuesday, barring any write-in bids for the November general election.
Alaska's primary voter turnout has varied in previous years. The state's Division of Elections says turnout has ranged from 17 percent in 2000 to nearly 41 percent in 2008.