Local artist, Christy NaMee Eriksen, and her friend Melissa Garcia Johnson sent out an invitation to share art and discuss racial justice and violence at the University of Alaska Southeast Student Recreation Center in Juneau Sunday. Dozens of people attended.
The event had three parts: A visual art exhibition, live performances and multiple conversations about race relations in the U.S.
"We're welcoming, what we're calling, a creative conversation around racial justice and anti-violence for our community. We're calling it a creative conversation because we think there are a lot of ways that people can talk about race, talk about racism and racial justice, and talk with each other and we're choosing to do ours today through art," said Eriksen.
Attendees examined art pieces, listened to a play, two poems and had the opportunity to voice their own frustrations and ideas.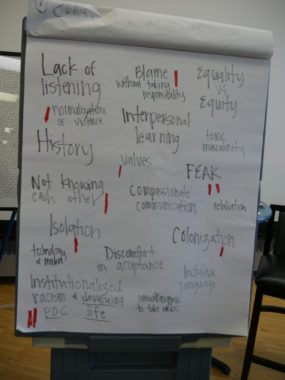 Juneau Police Department Lt. Kris Sell said having the conversation was a good idea.
"There have been incidents across the country that have concerned people about police use of force. I think that if people have concerns, we need to drag that out and talk about that because we only function if we respect each other," Sell said.
She said she felt a little uncomfortable when some of the artists criticized police in their performances.
"There was this desire deep down that maybe I want to withdraw, maybe I feel like people are looking at me as the enemy. Like they're seeing me as the police, not Kris that shares a community with them," said Sell.
She thinks that same defensiveness is felt by a lot of people during hard conversations and that it's important not to give into it.
Organizations that helped organize Sunday's event:
Black Awareness Association of Juneau
Sealaska Heritage Institute
University of Alaska Southeast
Juneau Arts & Humanities Council
Perseverance Theatre
UAS Native and Rural Student Center
Northern Light United Church
Juneau Police Department
Juneau Interfaith Coalition
Juneau People for Peace and Justice
AWARE
Juneau Violence Prevention Coalition
Alaska Native Sisterhood Camp 3