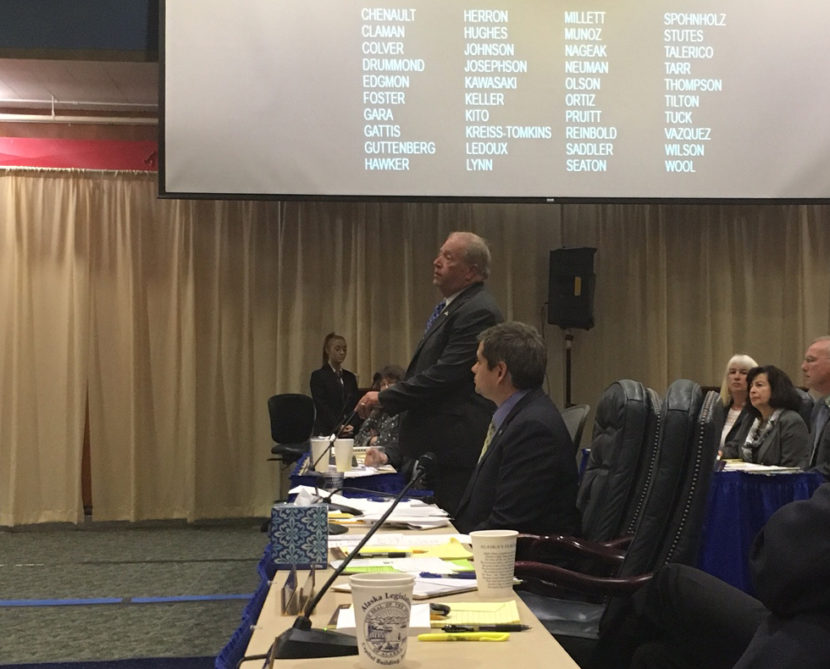 The House ended its special session Friday, having taken no actions in the five days since it began.
House Speaker Mike Chenault, R-Nikiski, said the legislature already considered the Permanent Fund restructuring and tax increases that Gov. Bill Walker asked them to pass.
"Staying here for another 30 days is not going to resolve the revenue issues before us," Chenault said. "We have discussed ad nauseam all the different proposals and I cannot see any significant changes within the time allotted for this special session."
The Senate declined an invitation from the House to meet to consider overriding Gov. Bill Walker's budget vetoes.
Senate President Kevin Meyer, R-Anchorage, said there wasn't enough support to reach the 45 votes needed to override the vetoes. They include a reduction in Permanent Fund dividend funding that's expected to cut dividends in half this fall, to $1,000 per person.
"When we looked at all of the variables, all of the pros and cons, we just felt it was best to not accept the invitation to meet for the purpose of overriding the vetoes," he said.
The last House floor session was filled with speeches on the state's fiscal crisis. The debate could foreshadow the position candidates take in the Aug. 16 primaries and Nov. 8 general election.
Anchorage Republican Rep. Craig Johnson attacked Walker's PFD funding veto.
"This time, Walker's reached into the pocketbooks of every man, woman and child in Alaska and – in my opinion – stolen $1,000 from each of them," said Johnson, who's running for a seat in the Senate.
Anchorage Democratic Rep. Les Gara expressed concern that Walker administration projections of budget cuts could play into the hands of opponents of a fiscal plan.
"I think what he did was he told people who want major cuts, 'Take no action and you get the cuts that you want,' " Gara said.
Juneau Republican Rep. Cathy Munoz said Walker did the right thing by issuing the vetoes, even if she didn't agree with all of them.
"I think the governor demonstrated a great deal of courage in his actions," she said.
Eagle River Republican Sen. Anna MacKinnon said she's interested in working with Walker's administration and all four legislative caucuses on a task force that would consider a couple of the major issues that have stalled in the legislature.
Chenault also expressed interest in the idea.
The Senate could vote to adjourn when it meets on Monday.