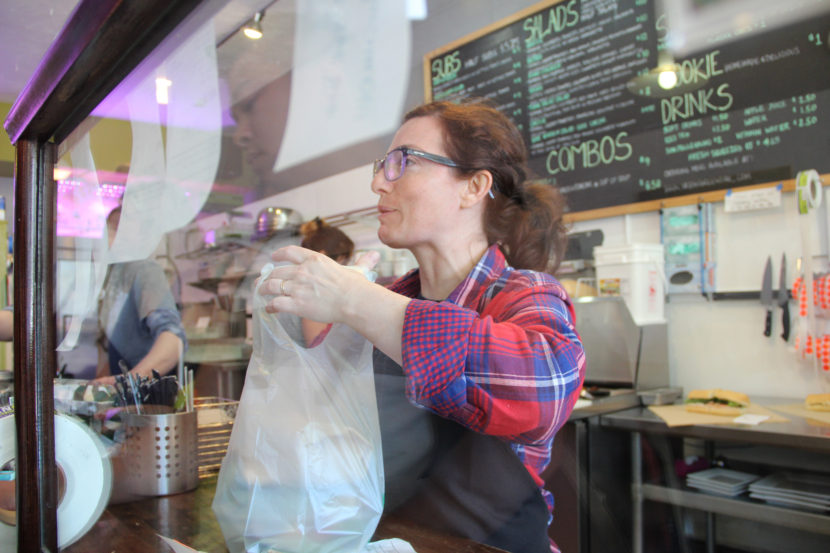 For the first time in nearly 30 years, Alaska is in a recession.
With oil prices at half their recent peak, the state has shed more than 2,000 jobs from the energy industry since this time last year.
That means many Alaskans are adjusting to a new reality: lost paychecks, career changes — and the possibility they might have to leave the state entirely.
On a sunny afternoon in downtown Anchorage, there's a late lunchtime rush at Urban Greens, a sandwich shop on the corner of Third & G.
Behind the counter is a young woman in red flannel and big glasses who seems to know the name of every other person walking through the door and their usual lunch order.
When I visited, Rachel Mills was the manager at Urban Greens. But go back several months, and she had a very different role — as a botanist for ASRC Energy Services, an oil and gas contractor.
When Shell announced it was pulling out of the Arctic last fall, it hit her company hard. A few months later, right around the time oil plunged to a 12-year low, Mills was told she no longer had a job.
"It was a January sunny day, and I'm just sitting in the kitchen, and I'm thinking, wow, so this is what it's like to fail," Mills said.
That same month, the state — one of the few other employers for a botanist — announced a hiring freeze, as low oil revenue prompted budget cuts.
"I have all this education," Mills said. "I did everything by the book. I worked really hard. I got the job. Everyone likes me … and it doesn't matter."
Mills isn't alone. She's part of a wave of Alaskans who have lost work in the last year, as the state has seen its first real dip in jobs in nearly three decades.
According to Department of Labor economist Neal Fried (who is also a board member at Alaska Public Media), with the exception of a brief slowdown in 2009 when the Great Recession hit tourism, Alaska has seen economic growth every year since 1988. Until now.
"This is an interruption of that," Fried said. "I think we will define this, possibly, as a new period."
In some ways, the downturn came late to Alaska. The price of oil started dropping in the summer of 2014 and the bust hit states like North Dakota soon after.
But in Alaska, employment held steady. The state actually gained oil and gas jobs through the beginning of 2015.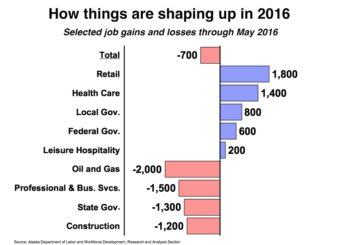 Fried said those gains built on a remarkable period for the state, as oil prices drove industry job numbers to record highs.
"2014, which was not very long ago, was the largest oil industry workforce we have ever had in our history," he said.
In fact, Alaska still has historically high numbers of people working in oil and gas, more than 12,000. And Fried worries those record highs might mean record losses.
Since last May, the state is down about 2,100 jobs in the industry. Those numbers don't include people in related fields like engineering and construction; they likely don't even include people like Mills, who worked for a contractor.
Alaska has gained jobs in other areas, like health care and retail, but Fried said it's not the same.
"Those are hard jobs to replace," he said. "It's not like closing down Sports Authority."
That's in part because of the pay difference. Fried estimates oil and gas jobs pay over two and a half times the average in other industries.
Brad Campbell is facing that reality. He worked as a financial analyst at BP for more than 15 years, until he was laid off in June.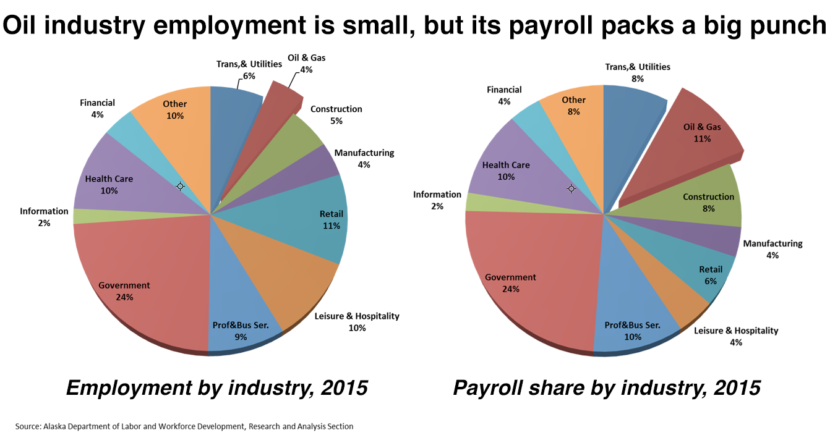 "Two years in a row I went through uncertainty. Am I going to have a job or not?" he said. "I'm kind of relieved I don't, now. At least I know."
Campbell would like to remain in oil and gas. "I like being able to put energy on the market — my little bit of role putting energy on the market," he said.
And he's doing everything possible to hang onto his home.
"I'm a little worried about getting a job that pays well," he said. "But I'm just going to have faith that it's going to work out."
Above all, he said, he wants to stay in Alaska, where he's lived since 1983.
As for Rachel Mills, she left her job at Urban Greens. She's now working in the back office at another local restaurant — and sending out job applications in her field.
The current gig, like her last one, came with a major pay cut and no benefits.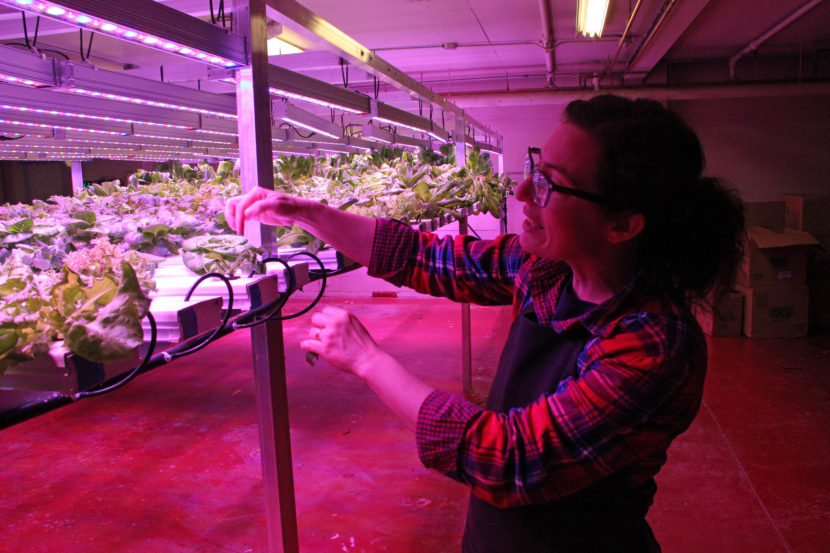 But, she says, she feels lucky to have a salary —  and it's better than when she was waiting to be laid off from her job in oil and gas.
"It was agony," she said. "You're just standing around, knowing there's nothing to work on."
That's the uncertainty facing many people around the state, as they wonder how long this new period will last, and whether the end is in sight — or if this is just the beginning.