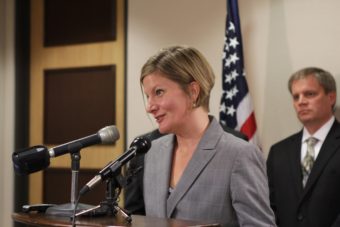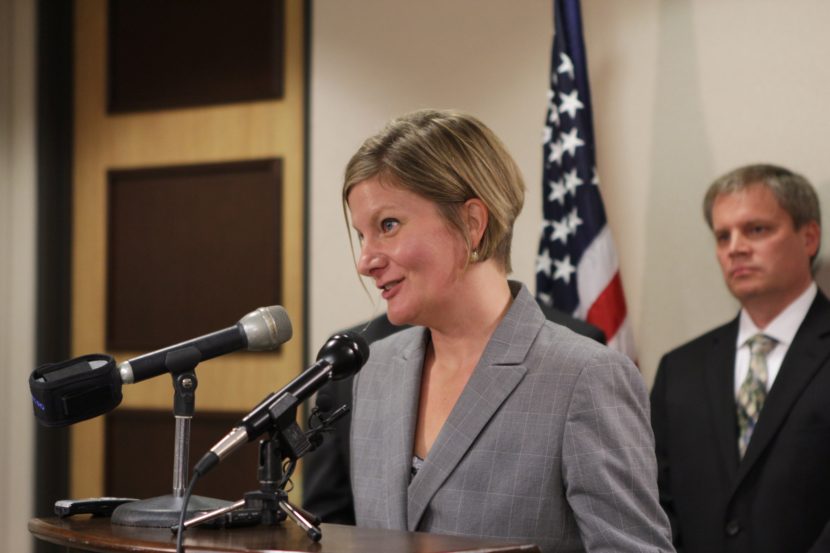 Gov. Bill Walker announced Tuesday that Jahna Lindemuth will be Alaska's next attorney general.
She replaces Craig Richards, who resigned abruptly last week.
Walker has announced four new cabinet members since mid-April. The vacancies began in February, when the education and natural resources commissioners resigned.
Walker praised Lindemuth's professional success. He also pointed to her commitment to the state as a lifelong Alaskan, and as someone who's done pro-bono work with the law firm Dorsey & Whitney on cases like the Fairbanks Four. That was the case of three Alaska Native men and a fourth Native American man who were convicted in a 1997 murder and were released last year after a judge vacated their convictions.
"Her passion for Alaska is really what I was struck by," Walker said.
Lindemuth, an Anchorage resident, said her work on the Fairbanks Four case is among the most meaningful she's done in her life. She also says she's committed to justice for all Alaskans and it's important to keep in mind that there are real people affected by every legal decision.
"I really am truly honored to be a part of that case," she said. "I truly believe in the innocence of those four men and I'm really happy that they're out of prison now and enjoying life like the rest of us."
Walker considered Lindemuth for the Supreme Court seat that he named Susan Carney to in May. Lindemuth has represented Cook Inlet Region Inc., Arctic Slope Regional Corp. and ConocoPhillips Alaska.
Lindemuth stayed away from saying what her priorities would be as attorney general. She said it's too soon – Walker only contacted her about the job late last week, after Richards resigned.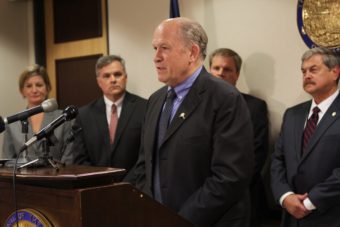 Walker also introduced three other cabinet members who he'd previously announced: Natural Resources Commissioner Andy Mack, Public Safety Commissioner Walt Monegan, and Education Commissioner Michael Johnson.
Mack comes from private equity fund PT Capital. Monegan is a former public safety commissioner and was most recently the acting corrections commissioner.  And Johnson served as Copper River School District superintendent in Glennallen.
Mack said the state should be playing offense in making plans for projects like the proposed natural gas line.
Alaska Public Media's Graelyn Brashear contributed to this report.