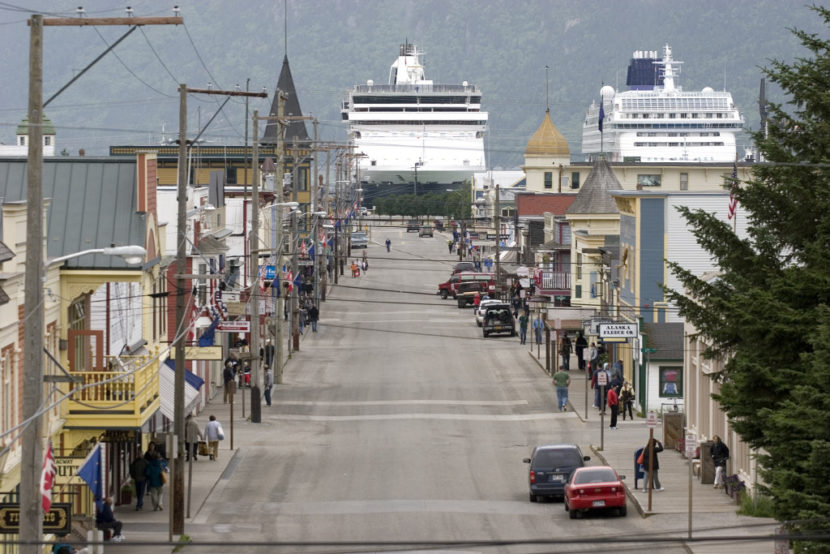 Skagway business owners are more optimistic about the economy than their peers in Southeast Alaska. But they're less enthusiastic about the benefits of living in their community and housing costs are a more severe obstacle. Those are findings from a recent business climate survey.
Jan Tronrud came to Skagway for a summer job 27 years ago. Then, "much like a lot of folks, I fell in love with the place and never left," she says.
Tronrud and her husband started The White House Bed and Breakfast together. It's been open 20 years now.
A new report from Juneau-based Rain Coast Data surveyed nearly 40 people like Tronrud – Skagway-based business owners or top managers. The report was commissioned by the Skagway Development Corporation. It's a breakdown of the local results from a region-wide business climate survey.
"One thing that you really saw in Skagway was that the business owners and operators there were more optimistic about how the business climate is right now and the direction it's going," said Rain Coast Data director Meilani Schijvens.
Eighty-nine percent of the Skagway respondents said the business climate was good or very good. That's 20 percent higher than the feelings of business leaders in Southeast as a whole. The reason why? Tourism.
"When you look at the Southeast Alaska economy overall, the visitor industry is really the one bright spot right now," Schijvens said.
B&B owner Tronrud didn't participate in the survey herself. But she says the optimism makes sense. Her positivity comes from the quality of life, not necessarily the visitor industry.
"There's something special about Skagway," Tronrud said. "It's the National Park Service history, and the Chilkoot Trail, and it's the railroad, and it's this amazing place that all these people come here to work seasonally. I mean we've really got a diversity of draws to this area. So yeah, I've always been optimistic about it."
But not everyone feels that way. The survey actually found that while a good number of business leaders said the quality of life and recreational opportunities were benefits to having a business in Skagway, they were less enthusiastic about those perks than the rest of the region.
Skagway residents might be able to guess a major challenge that business leaders overwhelmingly agree on.
"You end up with really intense housing shortages and you really see that in the results of the survey," Schijvens said.
About 75 percent of business leaders say housing costs were a hurdle to business success. Most of them rated it a 'significant' barrier. That's the highest rating of any community in Southeast.
"Which was a surprise to me because I do hear so much about housing costs in Juneau and Sitka," Schijvens said. "And those communities were next in line, but Skagway business leaders were the most concerned about how the costs of housing affect their businesses."
Tronrud says if she didn't provide employee housing, her business would be in 'dire straits.' She could also relate to another of the major obstacles the survey found – freight costs. Schijvens says the 86 percent of Skagway respondents who rated freight costs a top barrier was right in line with the rest of the region.
"That's just an issue that really unites all of Southeast Alaska."
There's one more unique thing about the Skagway respondents. They're younger. The Skagway participants were more likely to be Gen Xers, born between 1965 and '80 than the rest of the region, which is dominated by Baby Boomer business leaders, born between 1946 and '64.
Schijvens says that fact could contribute to the high optimism in Skagway – Gen Xers tended to feel more positively about the future than Baby Boomers.
As the tourism season gets underway, Tronrud says business has been a little light. But she says the optimism she feels about living and working in Skagway carries her through the slow times.