Alaska's capital is one of the most expensive places to live in the nation. With no roads in or out, the city has been dealing with a "stuck" housing market. A report commissioned by the City and Borough of Juneau says 1,000 affordable rental units are needed to keep up with the demand. Juneau's housing market is especially tough for people living on low incomes.
But one Juneau family is taking matters into their own hands and challenging the convention of what makes a house a home.
Carrie Joy doesn't have a typical street address. But she has really helpful neighbors. When we can't find her boat, a stranger springs into action — knocking on doors.
Yachts, sailboats and fishing vessels bob on the water at Aurora Harbor. And nearby, there's a row of small houseboats. What they lack in space, some make up for in character. They're fiberglass or made of wood, painted the colors of the rainbow.
Walking down the dock, we see it: the little gray boat with yellow trim. Carrie's 9-year-old son William invites us through the small door.
We step down into the living room. It's actually more of a multipurpose space.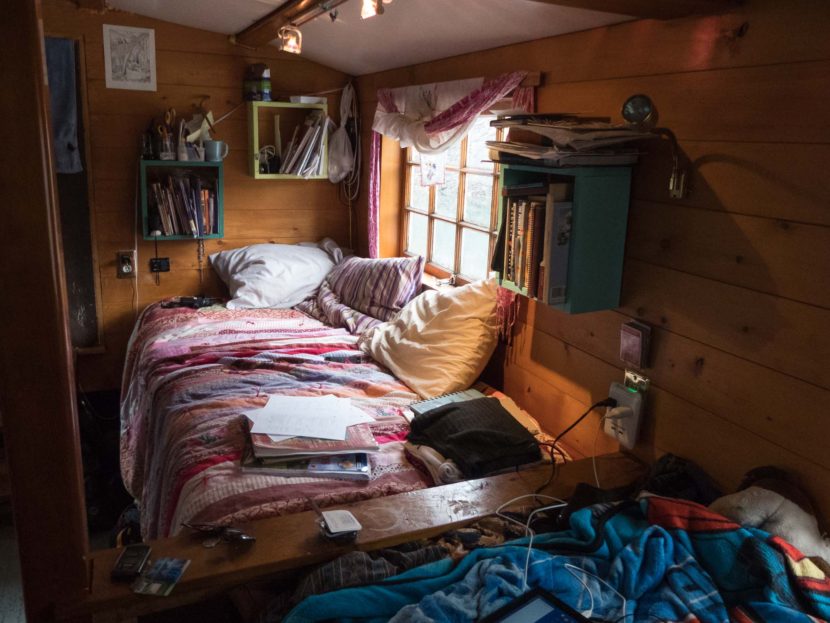 "This is my bed, my desk, my dining table. This is where William and I do school. This is where I write when I write," Joy said.
Carrie home schools both children, so it's also a floating classroom. And it's the space where William sleeps. His bed touches the foot of Carrie's. Her 14-year-old son sleeps in the back — with a little more separation — but there's no bedroom door.
The entire home is just 200 square feet.
"Privacy is a huge sacrifice. We have to be very intentional about giving each other privacy. I mean, you can look around and see there's nowhere to hide here," Joy said.
Without walls, personal boundaries replace physical ones. She says everything from getting dressed in the morning to taking a shower can be an obstacle — especially with her youngest, who loves to give running commentary.
"Our life is a musical and typically he sings it," she says with a laugh, as her son sings a tune.
As a single mom, she decided to buy the houseboat three years ago.
"When I came to look at it, I knew it would be hard," Joy said. "But it has a shower, it has a flush toilet, and there's room to put bunks in. And I just loved it. It was so sweet."
The cost: around $28,000. Carrie used to be a teacher. She was also a state employee. But now she makes money freelance writing and cleaning houses.
"I make ends meet because first of all, I don't have any debt. And second of all, I keep my expenses extremely low."
That means making the most of about $1,600 a month. To put that in perspective, that's less than a third of Juneau's average yearly income.
She receives food stamps. She's also eligible for federal cash assistance, but she hasn't taken it yet. That would mean having to first cash out her retirement with the state, which she wasn't ready to do until recently. So at the end of the month, is this enough?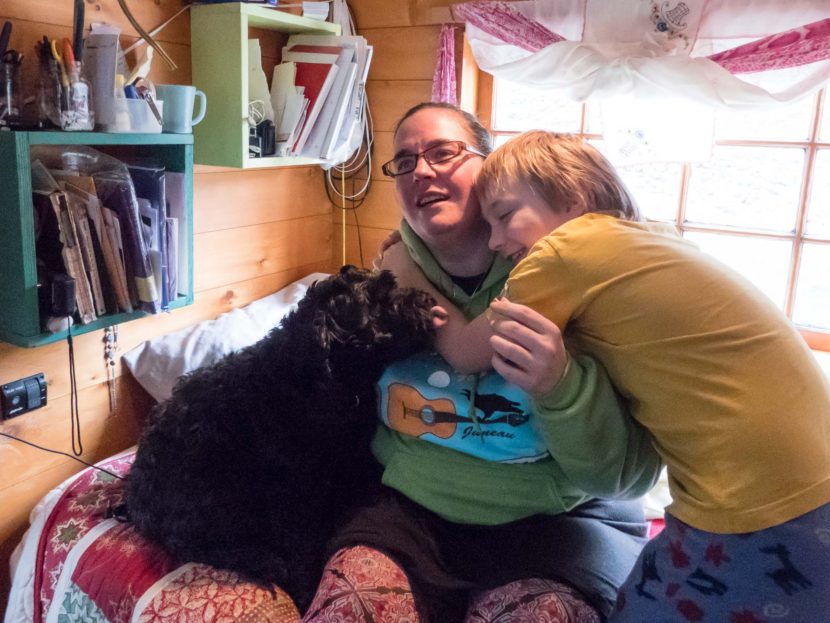 "Well, I'm still breathing and my children are still breathing and their bellies aren't hungry. I guess it depends on what you consider a need?" Joy said. "Could we use some different things? Absolutely. Would it be nice to have a door that shuts that doesn't go to the outside? Yes, that would super rock. But is it necessary? Not at this point."
Carrie says what is necessary for her family is time. Teaching in the public school system left her feeling burned out. As a parent, she didn't think one-size-fits-all learning was beneficial for her children, which was why she decided to homeschool.
"Honestly, for me, it was probably a pretty selfish decision because I like reading cool books, I like doing art projects, I liked doing music. … And I couldn't keep up in school, and teaching my own kids, we can discover those things together," she said.
Carrie's family has lived on the water longer than she thought they would. The plan was to save up for a regular house. And she thinks that could still happen, but probably not until after her sons are grown.
Right now, they're in the process of renovating the boat. And Carrie will eventually have her own room again. She says from the outside, she might look poor.
"But I'm so time-rich and most of the folks who are struggling to make their ends meet are time poor and money poor," Joy said. "Had I not chosen to live on a boat here in Juneau … There's no way I could do it and be sane and happy, and anybody who knows me might wonder about the sane part, but nobody will tell you we're not happy."
And she's dating somebody who she says can relate. He lives on a boat, too.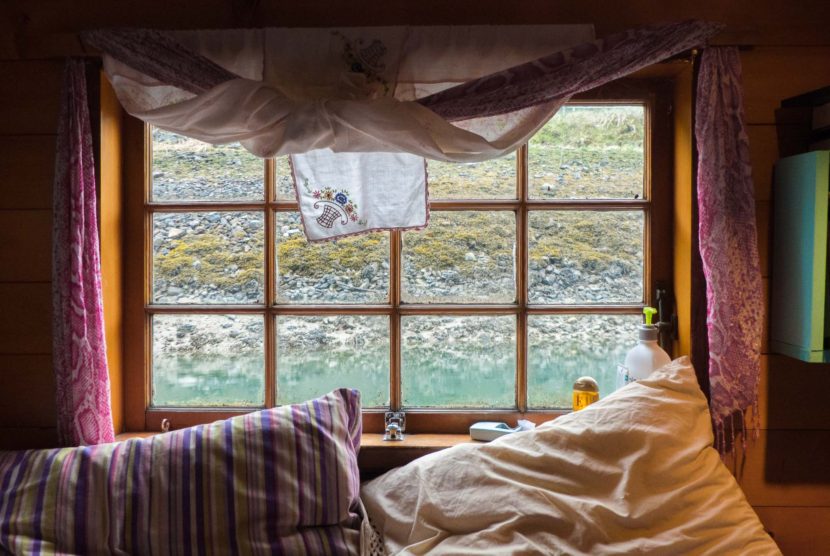 Funding for Chasing the Dream is provided by the JPB Foundation and the Ford Foundation. It's part of an ongoing series about poverty and opportunity in America.