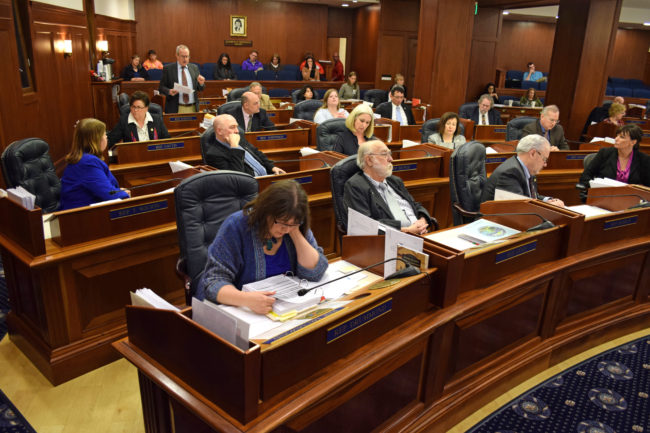 Sunday was the 90th day of the Alaska Legislature's regular session and, as far as legislation actually passing, the peak of activity. In the flurry of lawmaking, some strange things happen.
I asked several people who make their living in the Capitol, what's it like at 2 a.m. on day 90-plus?
Rep. Harriet Drummond, D-Anchorage, said she was trying to stay awake and stick out a nasty cold.
You can really feel the energy and enthusiasm in the building today…especially in the House. #akleg pic.twitter.com/l7Xq1mI6d5

— Austin Baird (@AustinBaird) April 18, 2016
House Majority Press Secretary Will Vandergriff said he has to get quotes approved from lawmakers before sending out press releases on their legislation.
"So I'm usually in my office, running back and forth. I wish I had a Fitbit, because there's nothing like working 14 hours a day, and then going up and down the stairs a hundred times at 2 a.m," he said.
It's old hat to House Speaker Mike Chenault, R-Nikiski.
"I've been here before, done it before. Used to do it a lot more, even back there in the 120-day sessions," he said. "So while it was long and tedious, it's nothing unusual."
Fairbanks Daily News-Miner reporter Matt Buxton said it's like this gif:
Tuck: I had chest pain in the chest.
RAUCOUS LAUGHTER. #akleg pic.twitter.com/wjoYOTIBtE

— Matt Buxton (@FDNMPolitics) April 18, 2016
"Bruce Campbell, laughing maniacally, his face covered in blood. Kind of coming unfrayed, I guess," he said. "I don't know if it's fun, but it's something."
In the Senate, usually the more stately chamber, the silliness peaked a little after 1 a.m. Sen. Pete Kelly was in an uncharacteristically giddy mood. The powerful Fairbanks Republican could barely complete a sentence without being interrupted by his own laughter or his colleagues' during this floor speech.
He and the other senators with the giggles were reacting to a bipartisan amendment to turn
a bill about the state's board of barbers and hairdressers
— already adulterated with controversial provisions regarding optometry, mind you – to also include a statewide ban on smoking in workplaces.
"I'm tempted to vote for this just because this, this is a thing of beauty. Hah! I've never seen anything like this, this is great," Kelly said. "Senator, this is beautiful."
"Senator, this is beautiful." — Sen. Pete Kelly on the amendment to put smoke-free workplaces on the Board of Hairdressers bill. #AKleg

— Nat Herz (@Nat_Herz) April 18, 2016
The gag here is that the state constitution and the legislature's own rules normally prohibit off-topic amendments. Democratic Anchorage Sen. Bill Wielechowski spoke to that point, barely suppressing his own laughter.
"These all fit together because it deals with eyes, hair and smoking — the mouth — it's all the head," he said.
The Senate passed the amended head stuff bill 15-5. In the House, the bill's sponsor wasn't amused and withdrew it, effectively killing it.
And here's the vote. Wildest bill of the night passes 15-5 and goes back to the House. #akleg #SB1 pic.twitter.com/NKhZAVYKSE

— AK Senate Democrats (@AKSenateDems) April 18, 2016
Earlier, the House had done its own legislative gymnastics on a Senate bill by Soldotna Republican Sen. Peter Micciche. Senate Bill 165 was originally intended to reform penalties around minors consuming alcohol.
But by about 2:30 a.m., "That was uh, somehow coupled with, um, the membership on the Board of Barbers and Hairdressers," Micchiche said.
"And Mr. President, we had a little fun, we sent a bill over there that actually does work and we hope that they'll pick it up 'cause these are all important issues. … Well, Mr. President, I have a memorandum here from legal, and it says the titles don't match. … And I refuse to reward less than stellar behavior by concurring with this. … The process is the most important thing we do here. Transparency and doing things by the book and correctly is the second most important thing we do here."
Real gif of Micciche and LeDoux. #akleg pic.twitter.com/1db0rpT9qC

— Matt Buxton (@FDNMPolitics) April 18, 2016
The Senate shot it down. Friday, the Senate resurrected it and passed it as is. It's now bound for the governor's desk for his signature.
Perennial license plate debate
The House had its share of late night silliness, too, particularly with the perennial license plate bill. These bills create special license plates for drivers to show off something about themselves. Stuff like veteran status, support for the pro-life or the pro-choice causes, finishing the Iditarod. Bears.
One amendment sought to add a seventh character to personalized license plates. That led Rep. Les Gara, an Anchorage Democrat, to talk about his misadventures in six-letter license plate typography. He said when the Boston Red Sox won the World Series in 2004, he wanted to celebrate his team breaking an 80-plus year curse with a personalized plate.
"I tried to fit it in six letters, 'No Curse.' And how did I do that? And I figured it out, it's N-O-C-U-R-S," Gara said. "And on the way out the door to go to DMV, I showed it to my wife Kelly. And she said, 'I am not driving a car with the license plate that says 'knockers.' Mr. Speaker, seven letters makes sense. Thank you."
The joke may have landed, but the amendment did not.
Rep. Scott Kawasaki, a Fairbanks Democrat, said specialty license plates are all well and good, but he doesn't think the legislature needs to be involved.
"In the last several years, the last five years, we've introduced – we've passed — seven different license plate bills. We passed an omnibus bill that had several of them in it. This bill would be two more specialty license plates," Kawasaki said. "And, Mr. Speaker, quite frankly, this is a waste of our time."
Kawasaki wants to give the Division of Motor Vehicles the authority to handle specialty license plates so the legislature doesn't have to. He offered an amendment to that effect. It failed 10-29.
By the third amendment, Anchorage Republican Rep. Craig Johnson had partially come around to Kawasaki's side.
"The longer this drags on, the more I wish I had voted for the first amendment," he said. A chorus of guffaws followed.
The House eventually passed the unamended license plate bill unanimously, after spending more than 40 minutes on it. This year's license plate bill bound for the governor's desk adds a plate for the Blood Bank of Alaska and one to be designed through competition to celebrate the arts.
Kawasaki has vowed to offer his amendment every time a specialty license plate bill comes up in the future.
No. #akleg

— Did AK Leg Adjourn? (@DidAKLegAdjourn) April 18, 2016