Recently, the Alaska House passed a bill that could make it easier for one hydro project to get off the ground. If the Juneau Hydropower Inc. plant gets built, the company wants to bring sustainable heat to some residents from an abundant source.
It's been done before but the company says not on this scale in North America.
In Drammen Norway, warmth is brought to its nearly 60,000 residents with water. At NOAA's Ted Stevens Marine Research Institute in Juneau, the building is kept a toasty 70 degrees the same way, using a seawater heat pump system.
John Cooper is the facilities manager here, and he's proud that the building has been kept warm this way since 2011. With the price of fuel today, he thinks it would cost around $180,000 a year to heat the building.
"With electricity, we're using about $36,000 to heat this facility," Cooper said.
The seawater used in the building's marine lab — the same water that holds starfish and sea cucumbers — gets cycled to the basement. And that's where the magic happens.
Kind of like your refrigerator at home, the same technology is used here, but in reverse. The back of your fridge feels warm because that's heat that's been transferred away from the inside.
So if you stuck your hand in the Gastineau Channel and, to the touch it feels cold, actually, it's fair to say there's heat circulating in that water.
"There absolutely is heat circulating in that water. I've got two pipes right here. One of those is before the heat is extracted and one of them is after, and you can feel a difference. So we are physically removing heat from cold water," Cooper said.
So imagine taking this idea and, like Norway and Iceland, duplicating it on a larger scale.
"Well the district heating has actually been a Juneau idea for the last 20 years, and we're just taking it to another level," said Duff Mitchell — the managing director of Juneau Hydropower. He claims the advancement of district heating is to heat what LED lights have been to lighting.
His plan is to build a hydro facility at Sweetheart Lake, south of Juneau, that will generate enough electricity for the project. Seawater would be pumped in from Gastineau Channel. It would have to be around 37 degrees to work efficiently. From there, the heat would be extracted and a closed loop water system would circulate the warmth through pipes around the city.
"We're first and foremost looking at the downtown area," Mitchell said.
He says places like the federal building, swimming pool and capital complex could be heated with the technology. High-density areas work best.
"So we would spider web out — downtown first. Then we're looking at the future, if there's another heat availability in the Gastineau Channel to do Douglas," Mitchell said.
Keith Comstock, the company's president, says 78 percent of people in Juneau use oil to heat their homes. Converting to district heating would be relatively simple.
"Because basically, they can leave their existing systems in place and right now, they basically burn oil which heats water, which is then distributed around," Comstock said. "So instead of getting hot water from the boiler, they can get hot water from the district heat system."
To be clear, the water itself won't come from the district heat system; the heat will.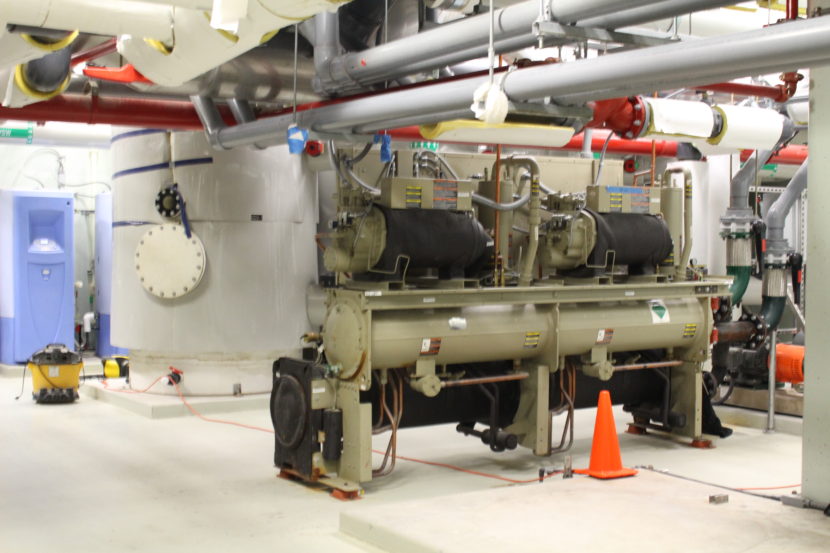 Comstock and Mitchell say their plans are sustainable and minimize the impact to fisheries. But you're probably wondering who's going to pay for it and how much is it going to cost? Comstock says so far private, local funders have invested. It's $125 million for the hydro project, $25 million for the district heating, and that's not all.
"Building a project like this is kind of like buying a house. If you have the ability to pay your mortgage, someone will loan you money, but you're going to have to come up with a down payment," Comstock said.
House Bill 143, which recently passed the House, could help. If the entire legislature passes it, Juneau Hydropower may be eligible for up to $120 million in low-interest loans from a state-backed corporation. And for the remaining expense, Mitchell says they want to negotiate with the U.S. Department of Energy for more loans — not grants.
"It should be the old fashioned American way. You come up with a good product. If you can borrow money and make a business model, you should pay it back," Mitchell said. "And so especially with the times our state has and with others, I think it would be imprudent for anyone to be asking for money that would otherwise go to our schools and to other things."
Back at the Ted Stevens lab, John Cooper is showing me the two boilers that once burned 200 gallons of fuel a day. They're now backups. The room is used mostly for storage, and the space is pretty quiet.
"This is the sound of progress. And I have a 10,000 gallon fuel tank in the parking lot that stays full. It has some stale fuel in it," Cooper said.
Although Cooper gets to enjoy the seawater heat pump system at work, Juneau Hydropower's plans don't extend to his home in valley. The company plans to break ground this summer. They would like to be delivering heat by 2018.