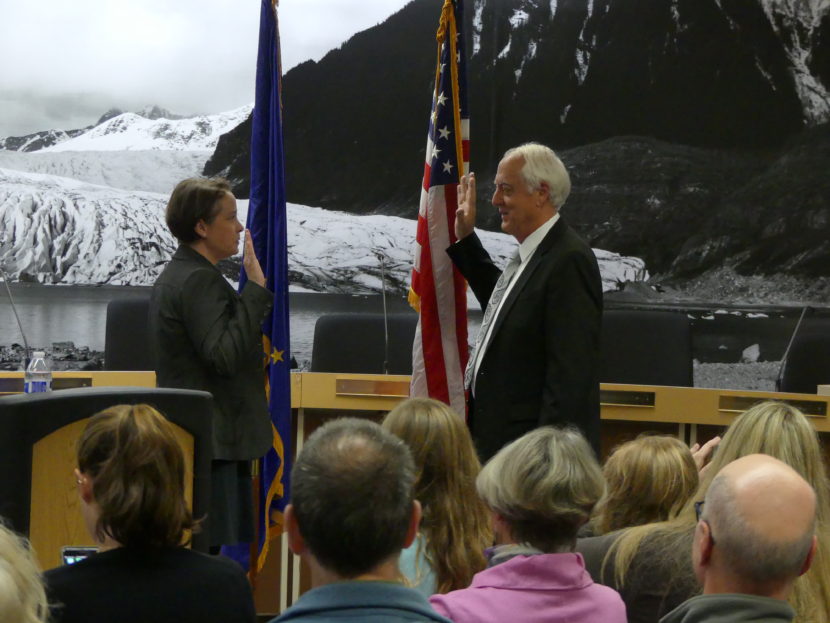 The capital city's new mayor Ken Koelsch was sworn in Monday in front of a packed crowd. Koelsch beat his opponent Karen Crane in a special election by over 1,300 votes, receiving the most support in the Mendenhall Valley precincts.
He will be replacing Mary Becker, who stepped in to fill the seat after Mayor Greg Fisk died of natural causes in November. Koelsch campaigned to "unify" the Juneau Assembly, which had some discord over whether or not to hold a special election — costing the city around $35,000.
For his first act as mayor, Koelsch said he wants to prepare for the fiscal hardships the state and municipalities could soon face.
"Starting to pull the mining community together, the tourism community together, the fishing community, the small business entrepreneurs together and make sure that we have them rock solid," he said.
Koelsch's opponent Karen Crane voted for the special election and left her assembly seat to run for mayor. During her campaign, she was blasted by some assemblymembers for using an old assembly photo on promotional materials. Those three assembly members — and former Mayor Merrill Sanford — showed support for Koelsch. Eventually, the Alaska Public Offices Commission or APOC launched an investigation but found no fault.
Despite the election drama, Koelsch said he felt like he ran a clean campaign.
"I think people have the right to object if they they think something is wrong. APOC ruled on it, and it is acknowledged, and we have moved on," he said.
Koelsch, who previously served on the Juneau Assembly from 1997 until 2003, will head his first meeting as mayor on April 4.