The Department of Revenue released a forecast today showing the state will bring in $800 million dollars less in oil revenue this year and next than the department projected in the fall.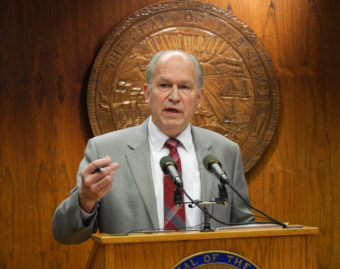 Gov. Bill Walker said the 17-percent drop in the oil revenue forecast reinforces the importance of his fiscal plan. The plan would draw money from Permanent Fund earnings to pay for state government. It also would introduce an income tax and raise other taxes, while cutting state spending.
"It just underscores that the reason to make the shifts we have (in) the plan we've submitted — the New Sustainable Alaska Plan, with the Permanent Fund Protection Act," Walker said, noting his goal of moving from 90 percent of state revenue from oil to 21 percent. "And also underscores the urgency of doing it yet this year."
Walker added that putting a fiscal plan in place this year would reduce the uncertainty that surrounds the state's future – as well as its ability to attract investors.
The governor says he'll call a special session if the Legislature doesn't pass any revenue measures this session.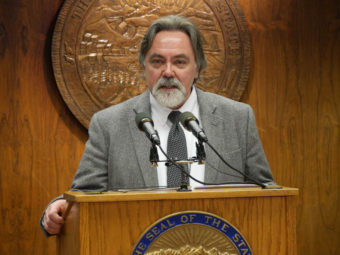 Revenue Commissioner Randall Hoffbeck says the lowered forecast doesn't call into question the basic elements of Walker's fiscal plan.
"The Permanent Fund Protection Act actually models a range of oil prices through a 25-year period," he said. "It assumes years of low oil price and years of high oil price. We had the staff go back to look to make sure this oil price environment was within the parameters of the assumptions. It was. And so this would not affect the draw under the Permanent Fund Protection Act."
Soldotna Republican Sen. Peter Micciche acknowledges that the lower forecast will focus legislators' attention on bills that would raise revenue.
"We have to have those other discussions about revenue," he said. "We've cut deeply… over two years, we've cut about 17 percent in agency operations. This year alone we cut about $335 million."
Oil and gas industry expert Larry Persily doesn't blame the Department of Revenue for the incorrect forecast.
"It's no one's fault. It's not like Alaska got it wrong last fall, with the Revenue Department forecast. Prices dropped further than most analysts expected and stayed lower longer than most analysts expected," Persily said, adding that prices have increased some recently.
Persily said the governor is right to focus on moving state revenue away from volatile oil prices. But he said the state has a larger task as it tries to balance the budget.
"We have to accept we're not the oil and gas state that we once thought we were, and we're never going to be the oil and gas state that we once were," Persily said.
"Because this isn't just prices. This is production. We're down three-quarters from the peak. And no one out there claims to have another Prudhoe Bay in their back pocket. So, it is going to be an adjustment for Alaska."
Since both legislative houses passed their budgets in the past two weeks, they've started to focus on revenue-generating measures.