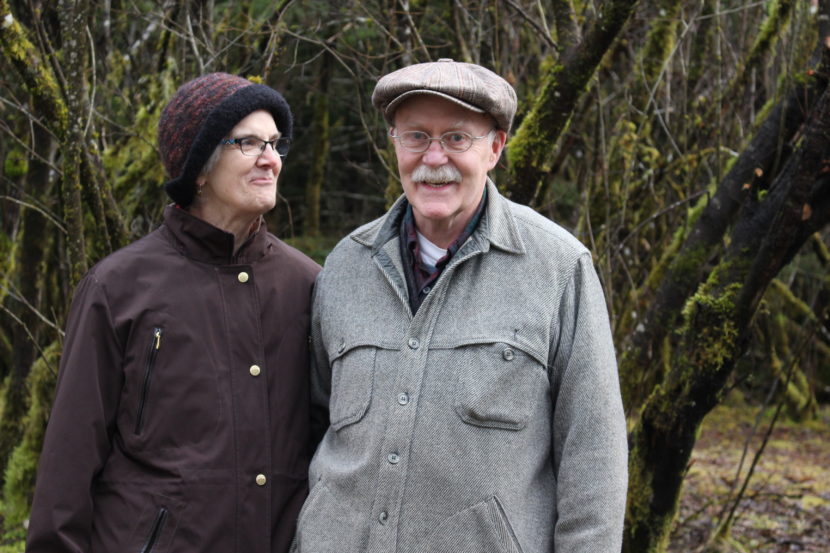 The Juneau Assembly voted back in November to allow limited cultivation on parts of North Douglas and other low-density areas. After one red public notice sign went up at the end of a driveway, it caught some in that neighborhood off guard.
Paul Disdier and wife June Hall have lived at their North Douglas home for over 40 years. Paul's a retired painter and state employee. June was an art teacher at the University of Alaska Southeast. They say they built a good life here, raised kids. In retirement, they were looking forward to starting something new.
"The size of this building? It's just going to be a little bit bigger than a one car garage. And that's about the size of it," Disdier said. "You know, I've said it again, but it's one eighty-seventh of an acre. We have an acre and a half here."
Paul and June are building a commercial marijuana facility on their property. At least, they're trying to. The maximum size allowed in the low-density area is 500 square-feet. They haven't completed the city permitting process yet. They want the Fireweed Factory to be a family business that will eventually supply their off-site retail store.
They say some of their closest neighbors are OK with it. But they realize not all of the neighbors on North Douglas are.
Before we get to that, let's go back to how the couple started growing marijuana. It started in the mid-'70s, after the Alaska Supreme Court ruled in Ravin v. the State. That decision made it legal to grow pot for personal use, which Paul and June did. Now, they say it's helped them with arthritis and the other ailments of aging.
"I just had a knee replaced and wasn't making no progress as long as I was taking Oxycodone," Disdier said. "Got off of that and starting making pills out of marijuana."
So after the Juneau Assembly outlined commercial marijuana zoning, they thought home would be the perfect spot to start the business.
"Since living on North Douglas always seemed to be a place where, you know, you could take advantage of a large residential lot where you had privacy," Hall said. "And I guess we thought maybe neighbors wouldn't be as upset as they seem to be."
Merry Ellefson said she didn't realize marijuana legalization meant "fighting" to keep her neighborhood "free of industrial cultivation."
Ellefson, along with a group of other neighbors, submitted around 137 names to the Juneau Assembly. It's a petition that asks the city to ban commercial marijuana grows in low-density neighborhoods, like theirs. The names were collected from all over Juneau.
Ellefson has lived in North Douglas for 23 years. She said she's not ideologically opposed to someone growing commercial marijuana, but it doesn't mix with residential areas.
"I think it's an issue, like I said, of, we're not growing tomatoes. And I think that a marijuana cultivation is just that. I'm a coach, a coach at the high school. I've coached Nordic skiers. I have a child," Ellefson said. "I don't think that it's conducive to a healthy community where we all pass by on our bikes."
A member of the state marijuana control board thought Juneau may be the only municipality in Alaska to allow commercial marijuana growth in neighborhoods. But in February, the Skagway Assembly also adopted an ordinance allowing it in low-density neighborhoods.
For Ellefson, the decision flies in the face of Juneau's city code to "provide a healthy, safe, and pleasant environment" for residents.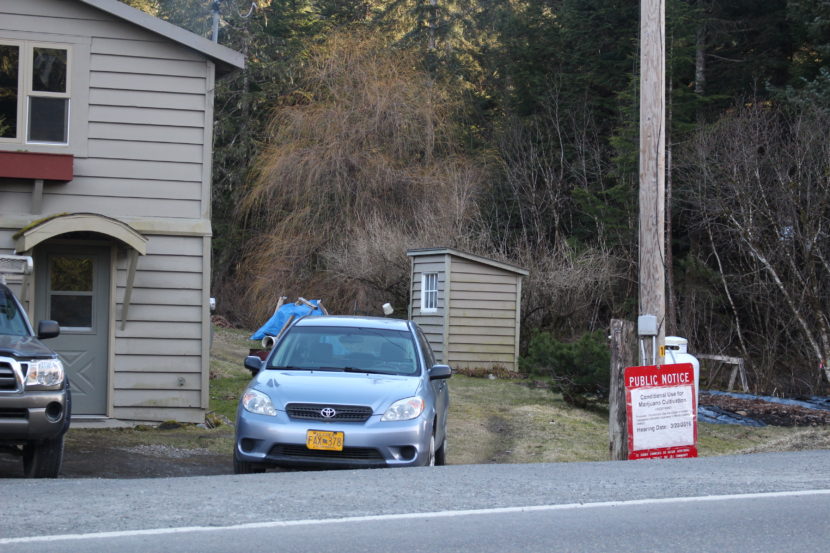 The petitioners are concerned about bright grow lights, the smell and a possible uptick in crime for the all-cash business.
"Personal use: that's people's choices. Industrial and commercial belongs in industrial areas," Ellefson said.
It's unknown how many 500-square-foot grow houses could eventually crop up in North Douglas. And Ellefson said she's worried about the zoning tearing the community apart.
"We're putting in a shop after 23 years of trying to stay out of the rain, and a neighbor came over and wondered if it was going to be a commercial cultivation site," Ellefson said. "And I don't know, it's just that sort of suspicion. What are you doing? Having to be aware of what's going on in your neighborhood. It shifts the energy and it shifts the connectivity."
June Hall and Paul Disdier haven't broken ground yet. They're waiting to see if their permit gets approved. Recently, an online counter petition supporting commercial marijuana business on North Douglas received 118 endorsements.
And the couple said a lot of neighbors have approached them to show solidarity. They've even received cards.
"We've been really encouraged. We couldn't have kept going, honestly," June Hall said.
After a long pause, Paul Disdier added:
"Without our friends. You know, they're helping us out. We know a lot of people in this town. We're honest people, honest business people," he said, his voice cracking.
They said their facility will be self-contained. Smells won't emanate next door. There are no noisy generators. You won't even be able to see the lights.
Quiet retirees may not be what you imagine when you think of pot entrepreneurs.
"But I think we're typical. My husband and I. And I think the people out here on North Douglas are like us. They're not scary, lurking individuals," Hall said.
They hope, when the novelty wears off, the neighbors won't worry as much about what's going on in other people's yards.
In the mean time, the Juneau Assembly has reopened discussion about marijuana zoning in neighborhoods. It plans to meet as a committee of the whole on the topic at 6:30 p.m. Monday. The Juneau Planning Commission will consider the Fireweed Factory's conditional use permit March 22.
Editor's Note: A previous version stated: "A member of the state marijuana control board said Juneau may be the only municipality in Alaska to allow commercial marijuana growth in neighborhoods." In February, the Skagway Assembly also adopted an ordinance allowing it in low-density neighborhoods. The story has been updated to reflect the changes.