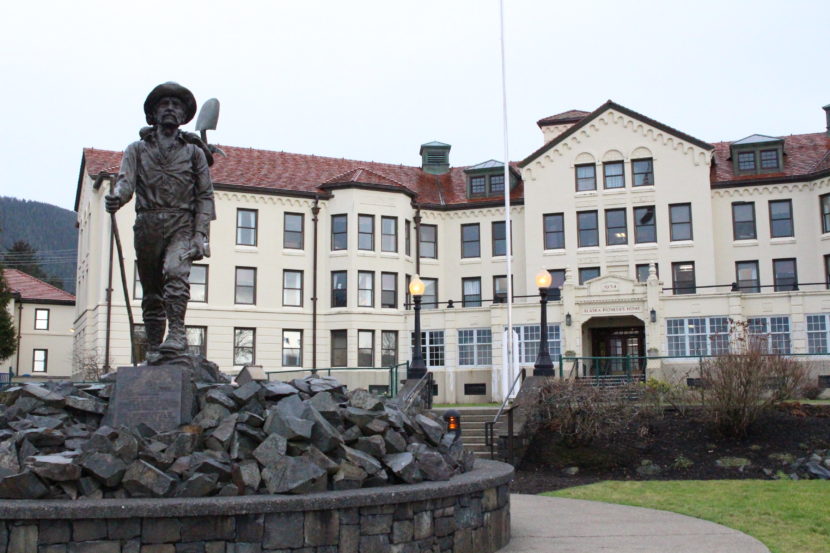 The pioneer homes are a purely Alaskan invention. The assisted-living and nursing-care facilities are state-funded and provide long-term boarding for residents over 65.
And judging by the growing waitlist, the service provided by Alaska's six pioneer homes – three of which are in Southeast – is needed more than ever. As part of CoastAlaska's series, Aging Southeast, we visit the oldest home in the system.
Betty Decicco is in love with a mountain meadow that she's never been to. The 86-year-old first came to the Sitka Pioneer Home as a volunteer in 2001, calling bingo.
"When I would look out the window as I was calling, I would see Verstovia and there's this meadow," Decicco said. "I call it my meadow."
The meadow is a flat place that turns green in the summertime. Going there isn't possible for Decicco, but that doesn't mean she hasn't tried.
"Jokingly I said to one of the [members of the Coast Guard], 'Don, can you do a reverse rescue? Can you put me up there?' He said, 'No.' And of course walking up there is out of the question," she said. "So I stare at the window now."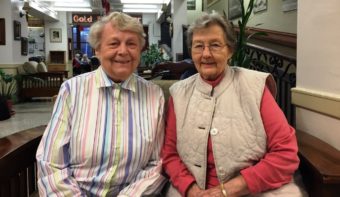 If Decicco sounds uncommonly grateful, it's because she almost lost that view entirely.
In 2014, she moved into an assisted-living facility in Seattle to be near her son and granddaughter. It was privately operated and in her words, "luxurious," but the schedule of activities bored her. She told the coordinators.
"They looked at me like, 'What are you talking about? Look at this and this and this on the schedule.' I said, 'I don't want to be entertained, I want to do something,' and she couldn't comprehend it," Decicco explained.
Decicco moved back to Sitka and has been living at the pioneer home for the past three months. She works in the gift shop, goes to Bible Study, and takes ceramics classes. She's got her meadow back and she wants her ashes scattered there one day. Reflecting on her happiness at the home, Decicco said, "I think as older people we need a purpose in life."
Vickie Wilson, director of the state Division of Alaska Pioneer Homes, said that giving residents ample reason to get up in the morning is what the pioneer homes are all about. "There are three plagues within assisted living and it's the loneliness, helplessness and boredom," she said.
To counter this, all six homes follow the Eden Alternative®, which is a care model that tries to build community among residents. Wilson said that this type of care flips the script of what getting older means.
"You don't line people up in the hall anymore to take them all to dinner. It is a home. It's not home-like. The pioneer homes are homes."
In addition to a packed schedule filled with volunteer opportunities and classes, residents are allowed to keep their pets and plants. The Fairbanks home is filled with art. In the Palmer Veterans & Pioneer Home, there's a wheelchair-accessible garden. In the Sitka home, residents don't just listen to someone play the piano. They sing along.
But there's a serious challenge. The governor's budget proposes a 2 percent cut to the Pioneer Homes. Last year's cut saw the loss of 19 personnel. Fewer staff means a home can't operate as many beds, and fewer beds means longer wait times for the hundreds of Alaskans hoping for immediate placement.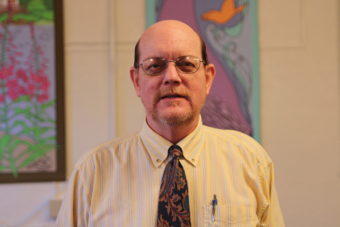 Phil Welsh is the administrator of the Sitka Pioneer Home. "Sitka has the shortest waitlist. We've have 40-50 folks on ours. Some stretch into the hundreds," he said. And as Alaska's senior citizen population grows, particularly in Southeast, the lists are only getting longer.
It works like this: anyone who is 65 or older and has lived in Alaska for one year can apply to be on the inactive waitlist, which has over 4,000 names. And once you're ready to be move into a home, you are transferred to active lists (for whichever homes you prefer) and wait for that phone call saying, 'We have a spot for you.'
Fifteen years ago, getting a call from one of the Southeast homes – in Juneau, Ketchikan or Sitka – took four and a half months at most. Last year, the longest wait time was four and a half years. And average wait time is about a year and two months.
Welsh said it's not only the wait period that's changing.
"I think our average age in the homes is around 84, 85. The population that comes in is older than it was in the past."
The population is also frailer. Sixty percent of residents have been diagnosed with Alzheimer's disease or another form of dementia. And compared to the pioneer homes in Anchorage or Fairbanks, the Southeast homes have a smaller proportion of residents able to manage their own medications, feeding and bathing.
Basically, the pioneer homes have had to adapt, catering to a more fragile clientele as Alaskans enter the homes later in life. And the breaking point usually comes when the caregiver – sons, daughters, spouses- just can't do any more on their own.
Fredi Young has lived in Alaska for 31 years. Of her life story, she said, "There's too much to tell, but I was born in Texas, in West Texas, on a ranch." Fredi's husband, George Young, was a pastor. Fredi was a teacher.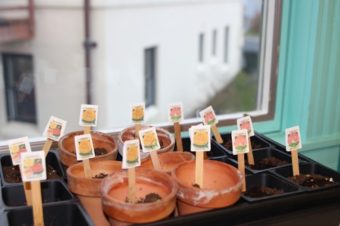 In 2004, George's Parkinson's disease reached a severe stage. Doctors in Hoonah urged him to consider entering a pioneer home. "He was tall and had big bones and he was heavy, you know?" Fredi recalled. At the time, she couldn't lift him up any more. "I think when he realized that," Fredi said, "he was willing to come."
Fredi and George took an open spot in Sitka and moved into a shared apartment. For Fredi, the weight of managing his medical needs was lifted off her shoulders. "Everyone else did the work and that lifted such a load. I could just sit and talk with him and visit him and be his companion rather than his caretaker," she said.
George died in 2013, but she didn't consider leaving.
"We had not ever had a home. We were gypsies, moving from place to place. I stayed because I'd loved it here. It was my home, you know?"
Looking around, she adds, "And it's the nicest home I've ever had."