The House passed a bill Monday that provides civil immunity to those who give an antidote to reverse overdoses from heroin and other opioid drugs.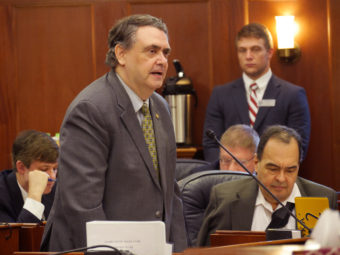 Anchorage Democratic Sen. Johnny Ellis sponsored the bill. This made it unusual, since few bills sponsored by members of the minority party ever come up for votes.
The passage of Senate Bill 23 received unanimous support, with every representative present voting for it.
If the Senate – which already passed an earlier version – approves of the current bill, and Gov. Bill Walker signs it – the bill would join a small group of minority Democratic bills that become law.
Ellis said the urgency to pass the law came in part from the rising number of overdose deaths both in Alaska and nationally. The bill allows doctors and pharmacists to provide naloxone, or Narcan, a drug that reverses the effects of overdoses.
"We have a heroin addiction overdose epidemic in the state of Alaska," Ellis said. "And I knew that we had achieved a breakthrough when I heard Hillary Clinton talk about Narcan, this life-saving miracle drug to reverse opioid overdoses. And heard (New Jersey Gov.) Chris Christie, who was vying for the Republican nomination for president, speak up in favor of the legislation."
The urgency over the issue was cited by Wasilla Republican Representative Lynn Gattis, who worked with Ellis on the bill. Gattis notes that the House has focused on budget bills recently, but leaders allowed the overdose antidote bill to advance.
"I also applaud leadership for recognizing that this is a life and death issue, for making an exception to this incredibly unique and critically important bill," Gattis said.
Since 2013, only nine of 180 bills — or 5 percent — passed by the Legislature had minority-caucus sponsors. That's because the Republican-led majority controls which bills receive votes.
Ellis recalled that a similar pattern held when Democrats have controlled the majority.
He said that over time, the minority bills that did advance had broad support, including backing from important groups. The overdose antidote bill was supported by the Alaska State Medical Association.
"It really did help that the original idea for the bill, the original support was the State Medical Association," he said. "And Republican majority members often listen to medical doctors, and (doctors) wanted a release from civil liability."
While minority-supported bills that become laws have very different subjects, one thing they have in common is support from a broad coalition — one that has the attention of the majority.
For example Rep. Jonathan Kreiss-Tomkins, a Sitka Democrat, was the sponsor of another prominent minority-sponsored bill. It made Alaska Native languages official languages in the state.
He said that it helps when bills can draw on broad coalitions of supporters, rather than narrow support.
"If you focus on ideological legislation that isn't shared by a majority of a body, it's less likely to pass, whether it's extreme to the right or extreme to the left," Kreiss-Tomkins said. "I think if you look at deeply conservative or deeply liberal legislation, the rates of passage for that kind of legislation is pretty low."
House Minority Leader Rep. Chris Tuck, an Anchorage Democrat, said it can be frustrating that relatively few minority bills become law. He says he'd do it differently if he ever has the power to change it. Democrats haven't had a majority in the House in 22 years.
"People ask me, well, Democrats are going to do the same thing when they're in power," Tuck said. "No, not initially. But if they reigned as long as this majority has control of everything, then things start becoming more heavy handed and more heavy handed and more heavy handed. So I think it's a really good idea to have the power flip back and forth."
Ellis noted that Walker has signaled support for the bill, and he's hopeful that it will become law soon.