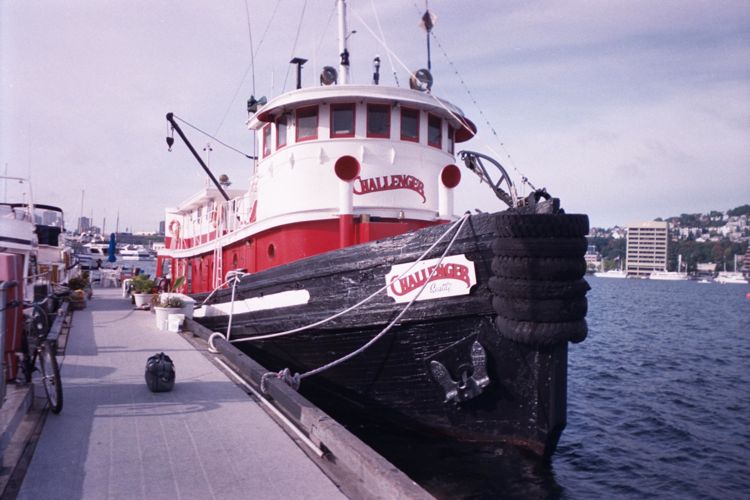 Many families are crushed or distraught when their home is destroyed. One Juneau family recently lost their former home not to fire, flood or mudslide, but it simply disappeared beneath the waves. They had become attached to Challenger, a wood-hulled World War II tugboat that seemed to exhibit its own personality and became a big part of their lives.

---
Some of the earlier pain and regret bubbled back to the surface when the tug's remains were hoisted from the bottom of Gastineau Channel and the vessel was set on a final course for destruction.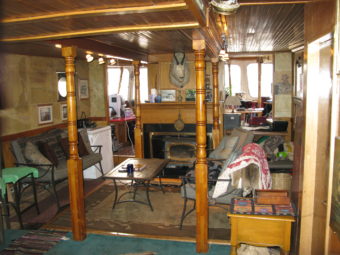 "I loved you," Lisa Miles recently wrote on the TugBoat Challenger Facebook page.  "I don't want them to destroy you! I wish I could help."
Husband and former owner Tim Miles said he feels like he let Challenger down. He and his family sold the tug in August 2014 after living aboard it for four years.
"There was still that connection. There was still that possibility, that desire to have taken her to a level to where people look at her and being real proud of her," Miles said. "In that sense, I feel like I failed her."
After selling, the Challenger ended up anchored almost directly in front of the Miles' new shoreside home on North Douglas.
"I know this sounds silly, but having 37 to 40 children coming on to you every week to play music … I think the boat liked it," Miles said. "And that's why she parked in front of our place. I think she just wanted to be with us. I know that sounds crazy, but that's the feeling anyway."
The Miles family watched as the Challenger suffered from a year of neglect before it sank last September. They were devastated.
After successfully raising the tugboat Tuesday, contractors are now working to remove any hazardous materials and completely dismantle it.
Before the operation, the state's Historical Preservation Office commissioned a report on the history of the Challenger. These kinds of reports are normally confidential, but is being published here with permission.
The report concluded the tug was not significant enough to justify its preservation or designation as a historical object. But the research sketched out a brief history of the tug's life over the last seven decades.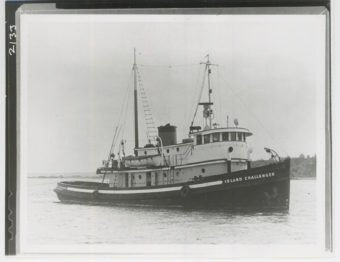 "I thought this was a pretty cool boat," said Lt. Jennifer Ferreira of the U.S. Coast Guard. Ferriera used the report to help put together their own history of the boat.
"It's little sad to see that we've lost her," Ferreira said. "But she had a good 71-year run."
The 96-foot vessel started with the designation of TP 126; TP stood for "tug passenger." A total of 43 such harbor tugs were built for the U.S. Army. TP 126 was built at a shipyard in Wilmington, California, in 1944 and was almost immediately decommissioned at the end of World War II.
"There's a sense of service, of giving and protectiveness. That they're there to help," Miles said.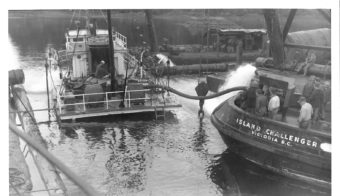 The tug became the Island Challenger when it was sold to Island Tug and Barge Company in Vancouver, British Columbia. It pulled log rafts and barges, assisted ships and helped with salvage from Puget Sound to Southeast Alaska. It was modified with new engines and part of the cabin structure was removed before Island Tug and Barge merged with Vancouver Tug Boat Co. Renamed Seaspan Challenger, the tug operated until it was retired in 1983.
Two years later, it became a bunk-and-breakfast moored on Lake Union in Seattle. The vessel had been modified again with additional cabin space and accommodations on two levels all the way to the stern.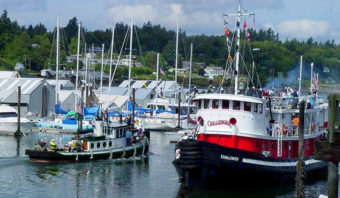 Ferriera said it seemed to be a popular place in Seattle.
"I found that newspapers across the country were reporting on it as a very unique experience and the only place of its kind to stay at," Ferreira said. "It kind of made me feel a little bit of emotional attachment to the boat."
Juneau resident Robert Sewell remembers staying on board the Challenger B&B at least 10 times while stopping in Seattle for business in the late '80s and '90s.
"It had an allure for me," Sewell said. "It was warm, pretty, witty."
Sewell said the proprietor Jerry Brown had outfitted the interior with what he called "brass and glass," polished wood, and nautical charts on the walls. There would be at least eight cabins of various sizes that were reasonably priced, and a light breakfast would occasionally be whipped up for guests.
In some ways, Brown's curmudgeonly personality was part of the appeal.
"He'd march his help around and had various kinds of sharp things to say to customers and staffers alike," Sewell said. "Maybe that was part of the persona. Kind of, 'I run this ship. I'm the head captain, and you're not.'"
Brown later tried to sell the B&B, got into a dispute with the city over moorage on the lake, and then died.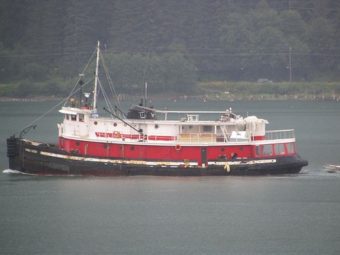 As Tim Miles picks up the story, the Challenger languished at auction before Steve and Cherry Hamilton brought it to Juneau. When the Hamiltons downsized, Miles quit his state job, cashed out his retirement, and bought the vessel himself. Son Cedar thought of it as a grand adventure. But wife Lisa wasn't too thrilled and had second thoughts.
"The idea of moving onto a boat was not in her realm of consciousness, and she thought I had gone off the deep end," Miles said. "But she was a good sport."
Lisa later warmed up to the boat.
For four years, the family lived aboard the tug, moving between the Intermediate Vessel Float next to Taku Fisheries in the winter and Douglas Harbor in the summer.
"That boat had drawn so many people to us and we connected with so many people," Miles said. "It became an inspiration to other people to follow dreams, to take on things that you may not feel like you're qualified or have the ability to do."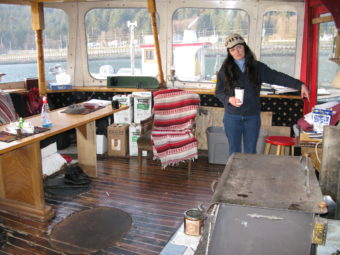 Miles said he can still recall the friendly community atmosphere among Douglas live-aboards and fishermen, the raven fledglings in the mast, eagles in the nearby trees, and harbor seals on the old breakwater made of log rafts.
"Gosh. There'd be 40 or more vying for the perfect spot on these logs, and at two in the morning you'd hear this 'Uhhhhhhh!' then splash," Miles laughs. "Some got knocked over. We loved that!"
Lisa would home-school Cedar between working as a snowboard instructor at Eaglecrest Ski Area and teaching violin in the tug boat's aft salon.
"How many kids go learn violin on a tugboat? I mean, really?" Miles said. "That will stay with them as well as my wife's incredible ability to teach."
---
Tim busied himself with various renovation projects such as redoing the galley and updating the interior, maintaining the engine, adding fiberglass to the outside decking, and stripping the old paint and refinishing the interior decking in the aft salon.
"You could actually see the imprints of the cork boots (with spikes) that the guys use," Miles said. "She used to haul log rafts, too. It was incredible because somebody made that. There was a person who stood here or walked by here who probably isn't alive today."
He also replaced the bulwarks, and constantly tinkered with a temperamental boiler and galley stove that were fueled by used vegetable oil.
"It got to the point where my face could tell the difference of temperature change and would wake me up," Miles remembers. "Then I'd reach over and grab the radiator and I feel it would be stone cold. I'd get up and go down to the engine room to dink with it and try to get it going again."
The family documented their experiences with photos and videos posted to their Facebook page. One tongue-in-cheek video is set to a dramatic soundtrack and resembles a movie trailer, and it shows the family's attempts at coping during the winter of 2013.
(Video courtesy Tim Miles)
Another video showed how the boat's swabbie Cedar would fill up the vessel's water tanks.
(Video courtesy Tim Miles)
---
For the Miles family, it was much more than just living aboard a boat. It was a lifestyle. Everything they did either was tied to or was dependent on the weather and the sea. Tim Miles sometimes still thinks of the boat as a living, breathing entity. And just like a person of advanced age, a boat — particularly a wooden boat framed with massive beams cut from old growth timber — needs more care and attention as it gets older.
"Things that are important to a wood boat: keeping her warm is huge, keeping the engine room (warm). That's the heart of the boat," Miles said. "It starts getting cold and damp, then deterioration really kind of accelerates."
Miles said he found himself learning new things and doing things he had never done before.
"One thing about the Challenger is that she taught," Miles said. "I learned a ton of skills. I learned a lot about myself, some things that I didn't like to see. And she lived up to her name."
Miles considered selling the boat when renovations and maintenance began to surpass his financial resources. The kicker was when he said the harbormaster notified them that they were too big to continue tying up in Douglas. Ferrying violin students by skiff on a regular basis to a permanent anchorage in the middle of Gastineau Channel just wasn't practical. So, Miles sold the boat at a loss to someone he thought would take care of it. He was wrong.
"Selling her to someone who wouldn't stay on her, it was inevitable," Miles said. "That's where the bad rap for wood boats comes from. People with wood boats, you got to take care of them."
Miles only got partial payment for the boat before it sank. The Coast Guard quickly contacted him as the last known owner, but he sent them a copy of the check and the bill of sale. That was enough to satisfy the Coast Guard.
Miles has one small consolation for all the heartache and regret: the vessel's table of offsets, which are detailed plans for building the vessel, that he found stored under the captain's bed.
"Which was really exciting. That's like finding treasure," Miles said. "As far as plans that I know of in the world from my research, this is it. That was one thing I took with me when I left her, when I sold her. And, I'm so glad I did. Because otherwise, it would've been ruined. It would've been down at the bottom of the water there."
Aside from all the photos and memories, it may be the only tangible evidence of the long life of Challenger and the Miles family's own life on board.