A Juneau man arrested following an arson at a Mendenhall Valley ballfield was sentenced to serve additional time in prison for repeated probation violations and a weapon charge.
Ryan Martin, 27, was sentenced to another six months in prison for being a felon in possession of a firearm and violating conditions of release. Superior Court Judge Philip Pallenberg had the option of imposing a conviction of record and ordering additional prison time for the ballfield fire. But he decided against that option.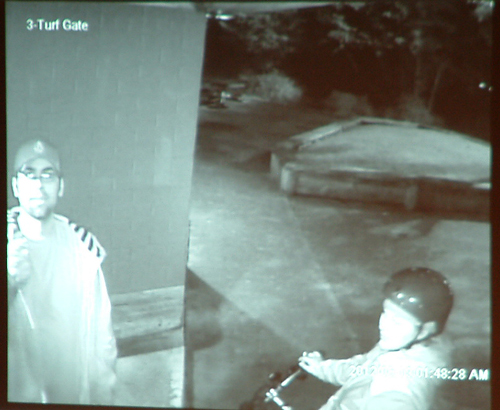 Martin was one of three people caught on tape disabling a surveillance camera at Adair-Kennedy Memorial Park in June 2012. They were also accused of vandalizing the turf replacement equipment and materials, and setting fire to the supplies. The vandalism caused over $26,000 in damages and briefly set back efforts to replace the turf.
Martin pleaded guilty to a felony charge of criminal mischief and was initially ordered to spend six months in prison and three years on probation on a suspended imposition of sentence. In other words, if Martin had stayed out of trouble until December 2017, then the conviction for the Adair-Kennedy incident would be set aside.  Other charges of felony arson, misdemeanor criminal trespass and furnishing alcohol to a minor were dismissed as part of a plea agreement with prosecutors.
But probation officers called for Martin's probation to be revoked on several occasions last summer. The alleged violations included driving while drinking, failing urinalysis tests for opiates and alcohol, leaving a treatment center in Washington state, and skipping out on a meeting with his probation officer because he knew he would fail the drug test. Before his sentencing in the Adair-Kennedy case, he was also charged in December 2014 as a felon in possession of a firearm.
During a Jan. 7 court hearing, prosecutor Amy Paige asked Pallenberg to revoke Martin's SIS and impose a sentence of another two years in prison for the ballfield fire.
"What would that accomplish?" asked public defender Eric Hedland.
Paige said Martin did not take probation seriously. She also believed that he felt entitled and his behavior was enabled by his friends and family.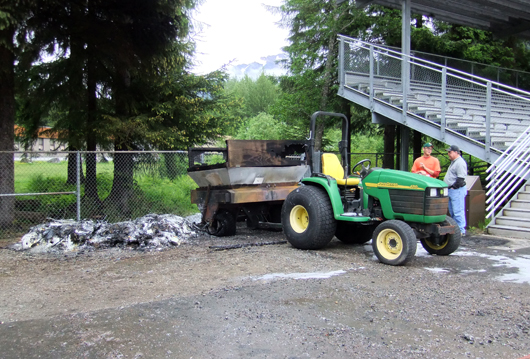 When asked if he had anything to say, Martin stood up and said that it has been a period of adjustment, and he wanted another crack at probation.
Martin was never called last summer to appear in court to answer for any of the petitions to revoke his probation.
"This is the first time Mr. Martin has appeared before the court on the probation violations," said Pallenberg. If Martin "bombs out on probation" again, as  Pallenberg put it, then he said he will revoke Martin's SIS and sentence him to an additional two years.
In the end, Martin was sentenced to serve three months for the probation violations and another three months for the weapon charge. He'll also be on probation for another three years after he gets out.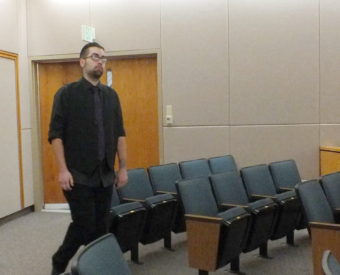 There is also some dispute about the amount of restitution that Martin still has to pay. Prosecutors said it's close to the full initial amount of $26,615 for the replacement of supplies and turf laying equipment, while his defense attorneys said he has already paid about $5,000.
Martin's co-defendant in the vandalism case, Dillon West, pleaded guilty to a misdemeanor charge of criminal mischief and was ordered to serve 90 days in jail with 80 days suspended. He was ordered to pay restitution and write a letter of apology, and was allowed to do 80 hours of community service in lieu of jail time.
Another co-defendant, Ashley Johnston, went to trial and was convicted on felony criminal mischief and misdemeanor criminal trespass charges.