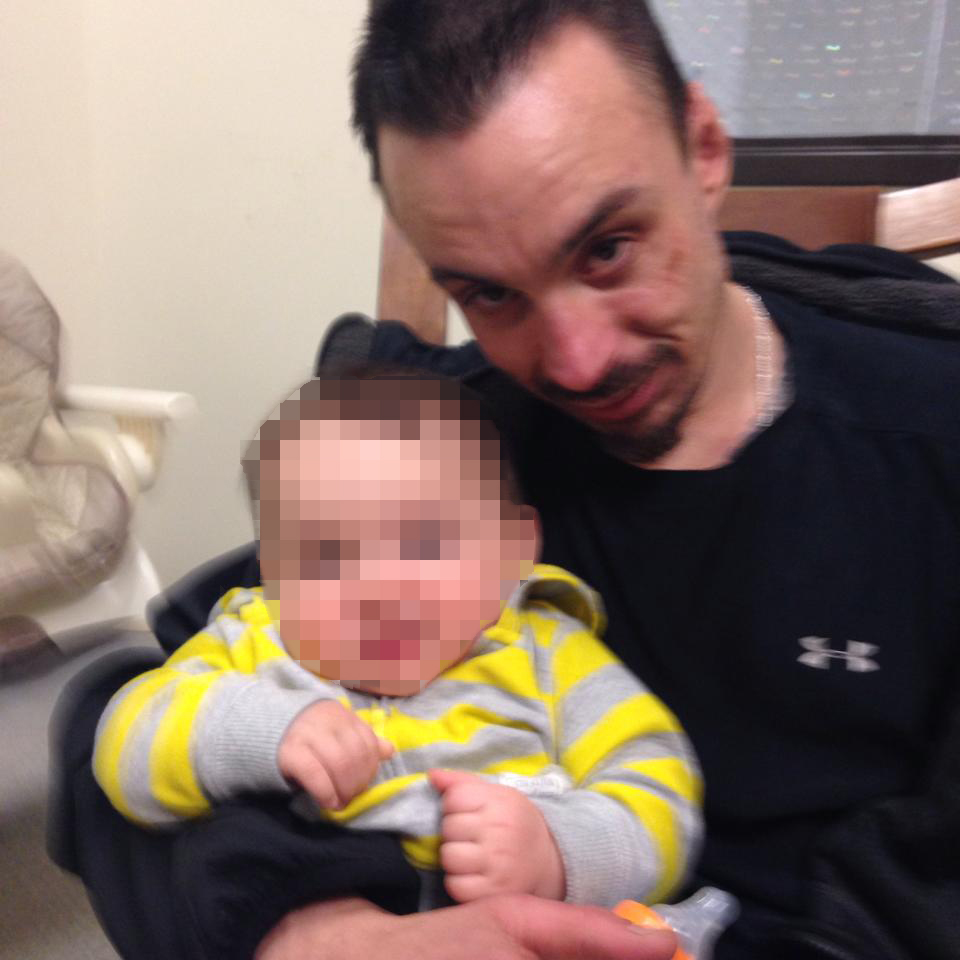 Robert Meireis had a tough life that included a history of violence, years in prison, even tattoos tying him to white supremacist groups.
He lived a violent life on the edge of society. That he met a violent end in a double murder discovered last month in West Juneau wasn't necessarily a surprise to some people who knew him.
And yet, he also had people that cared about him and were stunned when the news broke.
One day before Robert Meireis — Robbie to his friends — was found dead, he exchanged texts with an ex-girlfriend. She said they had an on-and-off relationship for months and eventually a falling-out that involved some property being destroyed. But in the days leading up to his death, she said their texts were about making amends and moving on.
The ex, who we aren't naming because she fears reprisal for talking, also had advice for him.
"I was like, 'You need to talk to your attorney, get out of town for a minute, come see me,'" she said, because of "rumors and (there was) talk about people taking him out for a couple of months. Because he's made a lot of enemies."
She chose her words carefully and wouldn't get specific. She doesn't think Meireis's death was drug-related. She alluded to an altercation Meireis had, but wouldn't elaborate.
"Not without having a mark on myself," she said.
She said the Juneau Police Department has contacted her, but she's got a bad relationship with the department. She's got baggage from how the department handled domestic violence issues involving her several years ago. Charges were filed against her, but she says she was the victim.
Another perspective
Kristi Willis, a stay-at-home mom, was a friend of Robbie Meireis for about six years.
"He'd always call and check on me, seeing how I was doing and making sure that I was OK, you know?" she said. "He cared about me enough to just check up on me. He just always made sure that I was OK, and that I wasn't out, or you know, leaving my kids and out partying. That's pretty much what it was."
She said he sort of felt like family. But, not the kind of family she wanted around her children.
"I couldn't put myself in the situation, you know like, his living his life and I have my two kids, you know?"
She felt protective of her children, but wouldn't say why.
"I don't really want to answer that," she said. "I don't want to be saying anything about a friend, because he was a good guy overall, you know?  … I did care for him. He is going to be missed. It's just kind of sad that his life had to get taken."
A friend called Willis with news of Meireis' death, and she learned more about it on Facebook. A few days after finding out, she said it was still hard to believe. She had just run into him the weekend before at Bullwinkle's Pizza at the Mendenhall Mall.
"I was kind of heartbroken about it. … I didn't want to believe it because I … didn't think this kind of stuff would go on in Juneau. I really don't know why it happened," she said. "He cared a lot about people. There's a good portion of people who talked a lot of crap about him and, you know, they really didn't don't really know him."
For example, the ex said Meireis had an infectious laugh, that he was a sentimental father, and that playing with jewelry brought him a child-like glee.
She said before she met Meireis this year, he'd been severely beaten in prison and had to have his jaw wired shut. An emergency room doctor that treated him for the June 2012 beating at Lemon Creek Correctional Center is quoted in a court document saying his jaw was broken in a way that his "teeth flailed open." Another doctor, an oral surgeon, said it would be months before he could eat normally again.
The ex thinks that beating led Meireis to change, at least outwardly.
"His persona toward people was badass. 'I'll beat your ass. Don't f— with me,'" the ex said.
A history of violence
Court records suggest Meireis was already a hard man. Meireis's two prison assailants wanted to claim self-defense, arguing they thought they were in imminent danger after Meireis threatened them for either refusing or failing to distribute white supremacist propaganda. They argued he had a history of violence to back up the threats and the tattoos to prove his ties to white supremacist groups.
Meireis' past convictions include multiple assaults, criminal mischief, burglary, theft, drug possession and repeat violations of protective orders.
The judge blocked the white supremacist evidence and the case never got to trial; both assailants ultimately pleaded guilty to the prison assault.
The ex thinks Meireis only had the tattoos and associations for self-preservation in prison, where violence often breaks along racial lines. She said he collected Nazi memorabilia, but didn't think he was genuinely racist. She said he had dated a person of color.
The prison beating wasn't the first time Meireis was caught up in the justice system as a victim of violence he was accused of provoking. In 2000, when he was 21 years old, he and his 19-year-old brother Justin Meireis and two other men were shot by a Nikiski man outside his home. Justin Meireis died, and it led to a a high-profile, three-week murder trial of the homeowner. The homeowner claimed self-defense and was acquitted of all charges.
"There were a lot of people that were scared, because of the persona, which I understand after going through something like that and what he was doing for a living," the ex said.
Like Kristi Willis, the ex didn't want to say what that was.
Robbie Meireis spoke about his employment in court in July, after a state trooper found methamphetamines on him after a traffic stop. At his initial court hearing, Meireis asked for a public defender. The judge asked him eligibility questions. Answering under oath, he said he had a part-time job and earned "a couple of hundred" dollars a year. He said he didn't have any other income or savings.
Meireis sounded calm and matter of fact during the four-minute hearing. The arresting trooper wrote in his charging affidavit that he'd encountered Meireis in a very different state of mind just 15 hours earlier. Even handcuffed, the trooper wrote, Meireis had kicked and bitten at him.
Drug connections
"He did what was right for him, what he had to live with," the ex said. "If you got to know him, he had a good heart — very thoughtful and considerate."
The ex said she met Meireis through a mutual friend after Jenna Miller, who also went by Jenny, died in May. Miller was only 31. According to her obituary, she struggled with addiction.
The ex said she'd seen Meireis occasionally use meth. She admits she has addiction issues, too, with heroin. She said Meireis was helping her.
"He was helping me, you know, ween myself off, get off," she said. "He didn't mess around with heroin. But he would get it for me, you know, try to get me off. Little by little, you know?"
When I talked to the ex, she'd been out of state for about a week and a half, trying to quit cold turkey.
"It was my time to get out. I — I needed to change. It was — things were just spinning out of control and I couldn't do anything about it. So I had to leave," she said.
She's not sure how Juneau figures into her future.
"It was just getting out of control in Juneau. You can just feel it."
She thinks one thing that would help Juneau kick its heroin habit is making opioid addiction treatments more readily available. She said Suboxone, a prescription drug in the form of a strip put under the tongue, has helped with her cravings.
"I think they need to open up groups — like (Alcoholics Anonymous) meetings or (Narcotics Anonymous) meetings. You show up and you can get a strip instead of having these two-month waiting lists, need insurance and all that. That would get people off heroin, if they had an alternative. Or just keep killing people."
She also said it's been misreported that Meireis and Elizabeth Tonsmeire, the other victim, lived together in the West Juneau condo where they were found. Police confirmed it was Tonsmeire's place. The ex said Meireis lived with a friend elsewhere.
Between pretrial facilities, prisons and a halfway house, the Alaska Department of Corrections had Robbie Meireis in custody for more than eight years of the last decade. He lived on the margin, and was shot to death, out of sight, at the age of 36.
The Juneau Police Department said the double murder is still under investigation and they aren't releasing new information. Police have largely declined to comment, though they did say there's nothing to indicate the involvement of white supremacy groups. The Juneau Crime Line is offering up to $1,000 in reward money for information that contributes to an arrest.
Correction: An earlier version of this story had misspelled one victim's last name. It's Elizabeth Tonsmeire, not Elizabeth Tonsmiere.