Chilkat weaver Darlene See spoke in Haines recently as part of the cultural exchange hosted by the Haines Borough Public Library. The exchange brought Native artists, singers and storytellers to Haines to share knowledge and traditions.
For See, this trip to Haines is significant in many ways. On Tuesday evening, she unveiled the healing robe she's weaving. It's a work in progress and tells part of the story of Kaach.adi, or Land Otter, history. See told that story, a sad and harrowing account of a clan that was forced to renounce its history, at a talk this week, but asked not to have it recorded for this story. I sat down with See at the home of local carver Wayne Price, and his wife Cherri, to hear more about the path to reclaiming her heritage.
"My name is Darlene See. I'm a half Aleut and half Tlingit."
The healing robe will tell the story of the land otter clan. The group had to deny their name, their language and many other facets of their cultural identity.
"These are stories of our clan that have not been told in a long, long time," she says. "My grandmother would tell her children that it's not going to happen in her lifetime, but it will in theirs, that in their lifetime, they will be able to be land otter again."
This week's cultural exchange featured talks, demonstrations and traditional food potlucks with guests from across Southeast and the Yukon.
She says her aunt Harlena Warford was a culture bearer, song leader and rallied her clan and together and they came out as Kaach.adi (Land Otter) at a potlatch in Hoonah about 15 years ago. The robe will, in-part, illustrate the rising up of the clan. It is set to be unveiled next fall at a potlatch, or Ku eex', for See's mother, aunt and cousin.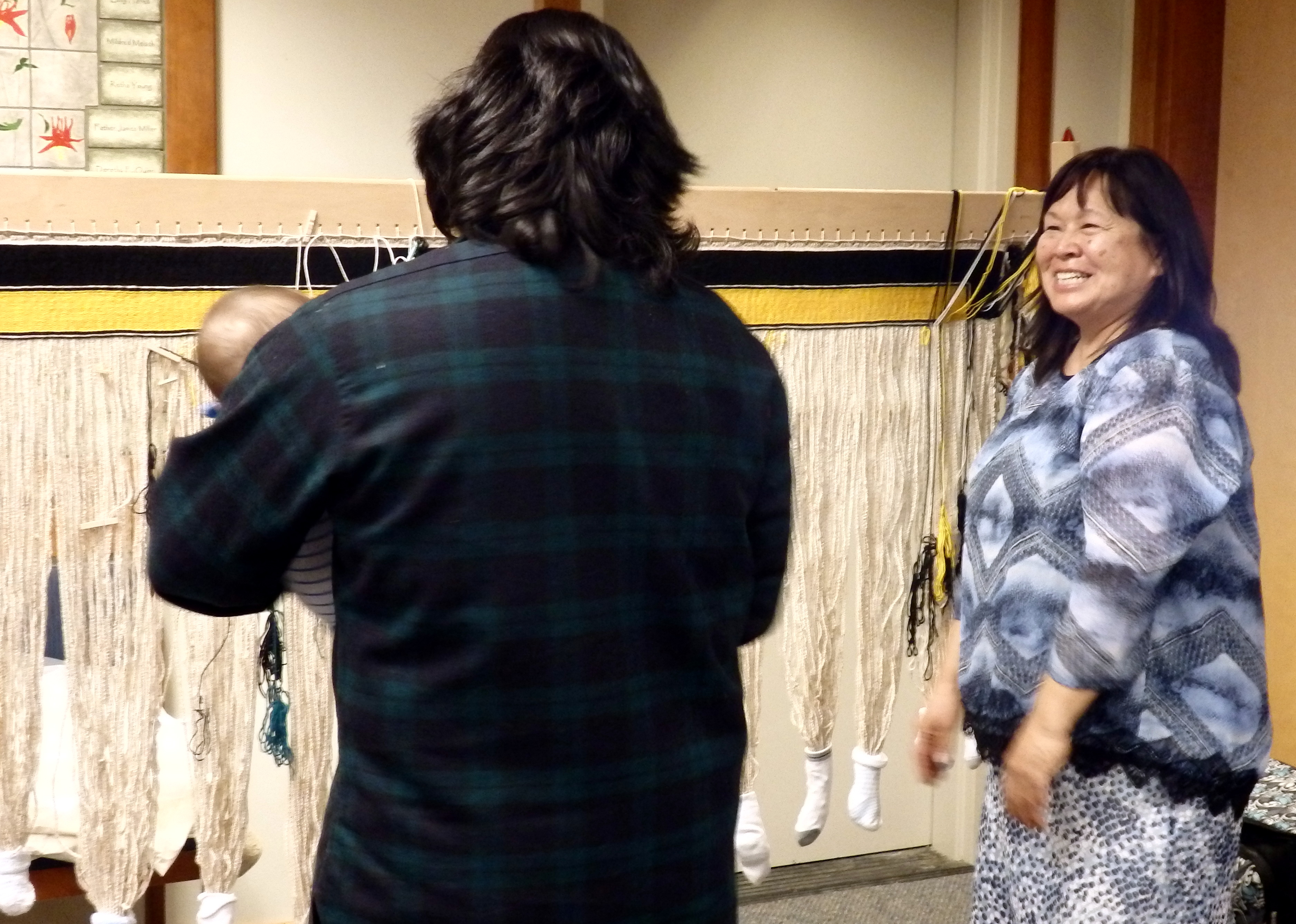 The robe will, in-part, illustrate the rising up of the clan. It is set to be unveiled next fall at a potlatch, or Ku Eex', for See's mother, aunt and cousin.
"It's very important time to bring out this robe. It'll belong to our clan. And it's not traditional to be weaving your own Chilkat robe. Traditionally we hired the opposite clan to do that, but that is very expensive and we're not, as a clan, able to do that. I was fortunate enough to learn from Clarissa Hudson, this wonderful art form and I have an opportunity to put our history down on this robe, or part of our history."
See says that the responsibility of this undertaking is overwhelming at times.
"This has been a work in progress for years and it's been on hold because in my family there have been many deaths. It's very important when you're weaving Chilkat to be in the right frame of mind, you know, all positive thoughts because any negative thoughts can go through your hands into your weaving."
She says that the robe is another step in the process of moving forward.
Jessie Morgan is the education and cultural coordinator at the library. She says that you won't find See's historical accounts in books anywhere.
"I think her story is powerful and important," Morgan says. "Any part of our history is really important to share and preserve and make sure it isn't lost. Too much of it has already been lost."
For See, Haines has always been a special place. See says she is proud of her relative Wayne who has been commissioned by the Hoonah Indian Association to carve two dugout canoes to lead the Huna Kwan back  home to Glacier Bay for the dedication of the Xunaa Shuka Hit (Huna Tribal House) which will be late August 2016. The historical event has been 20-year collaboration between the National Park Service and the Hoonah Indian Association.
The timeline is tight, Price says, but the 40-foot and 33-foot boats will be done.
"That's a tall commitment but not an impossible one. And the whole foundation of all the success of this mission is with my crew. And that I have a real good crew."
Price and his crew will spend the winter in Hoonah carving away to make sure the canoes are finished. He says he is honored to help with the Hoonah clans' pursuit to recover.
"I want to honor the people of Hoonah and their constant quest to return to their homeland and they want to paddle a dugout back to their home," Price says. "And I want to do everything that I possibly can to make that a success and a win-win situation for everyone. It's been a long time since dugouts have been in Glacier Bay and this is an opportunity to complete a circle that's been broken for a long time and make the impossible, possible."
As for See and the healing robe:
"Everything that I've been doing in my life has led up to this point. And it's time. I must finish it."
Both See and Price have a busy winter ahead, but they say they up for their respective challenges.