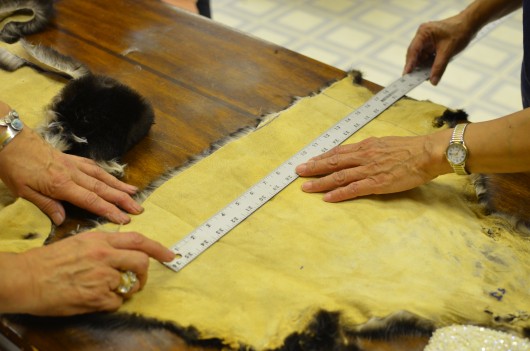 On a recent rainy evening in Hydaburg, local Alaska Natives gathered for a sea otter sewing class with the hope of expanding their marketing potential.
Spread on a table are a few dark brown sea otter pelts — 10,000 hairs per square inch. The plush furs are worth around $250 each, but each pelt can be made into several small pillows, which sell for around $300 each.
Student Anna Frisby stands over a pelt with a metal ruler and an utility knife while others look on.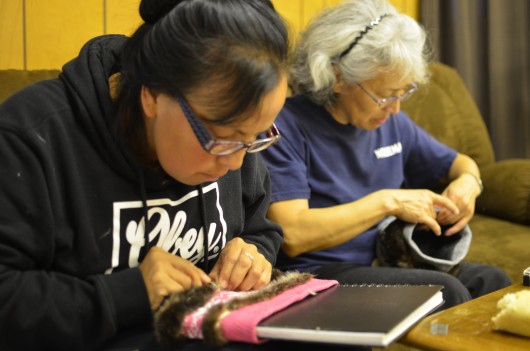 For most of the dozen students, it was their first time handling sea otter fur.
"I was a nervous wreck coming the first time to this class," says student Stacey Skan, who hasn't sewn in some time.
On the second day of a three-day class, Skan was relaxed on a couch in the Tribal Community Center smiling and stitching.
Sea otters have the thickest fur of any mammal, which makes it a valuable commodity. But there are strict regulations surrounding how the fur can be sold. Coastal Alaska Natives may legally sell the pelts, but only to other Natives. Non-Natives cannot legally buy pelts, but they can purchase sea otter handicraft.
Cutting and sewing the pelt transforms it into authentic Native handicraft, which can be legally sold to non-Natives. According to the U.S. Fish and Wildlife Service, authentic Native handicraft products must be significantly altered from their original form and not easily converted back to their natural state.
The class is a collaboration between several nonprofits. Southeast Alaska Regional Health Consortium's Traditional Foods program donated the pelts. The Hydaburg Cooperative Association donated space, and Lisa Lang from Xaadas Kil Kuyaas put all the pieces together to organize the event.
Lang says the class is about creating cottage industry opportunities. She said almost everyone in Hydaburg is an artist and she wants to create an artists' economy. For her, that means more than money.
"There are over 200 Native villages in Alaska and there's no economy and so people are leaving and they're losing their culture, their language," she said. "They're losing everything and they want to be at home."
Learning a few Haida words is also part of the class.
Lang says with each sea otter fur bag, Hydaburg is a step closer to realizing its goal of a cultural cottage industry.