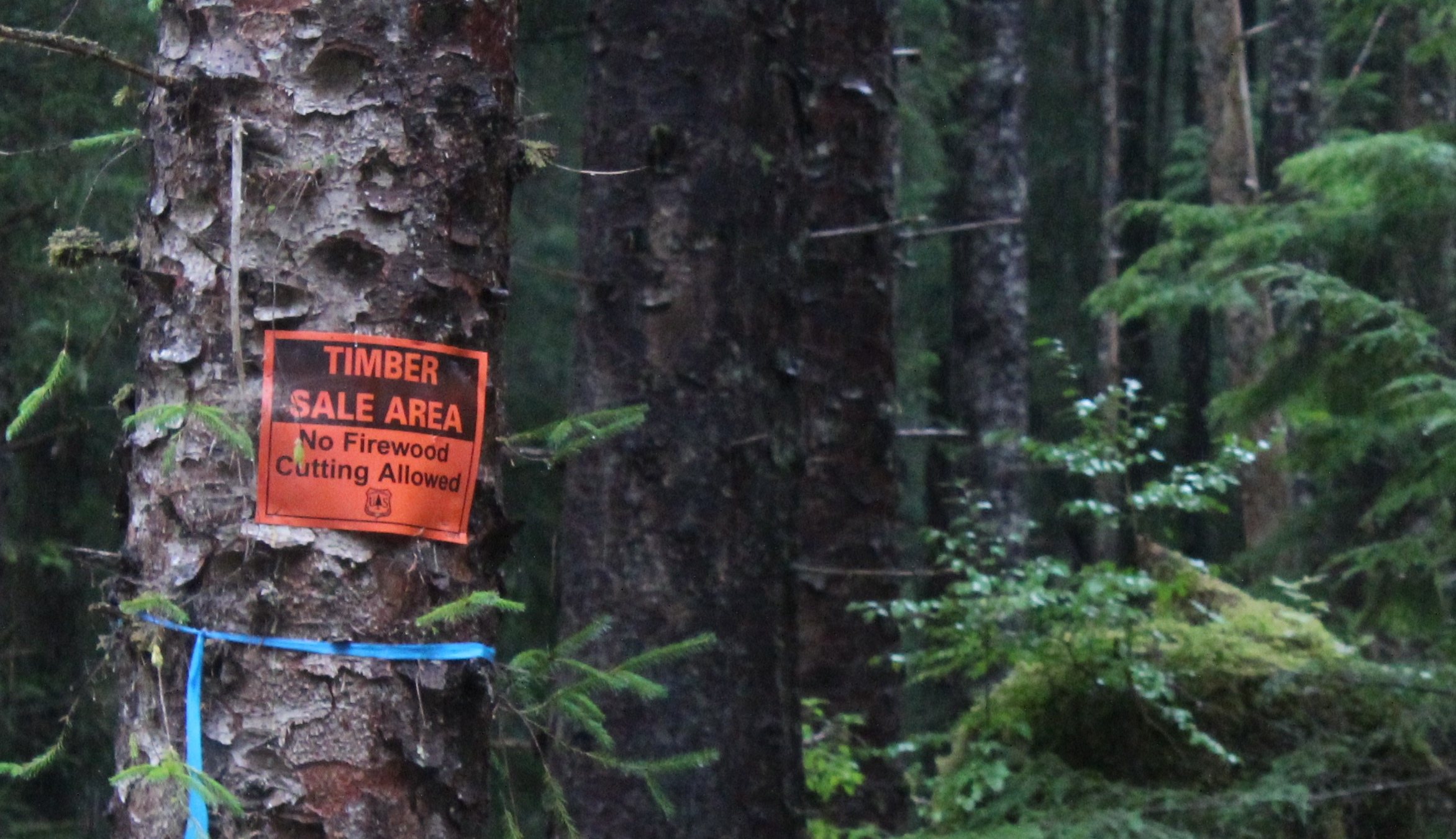 Timber sales on the Tongass National Forest have long been the center of controversy. Some question whether timber sales are too costly when managed by the Forest Service using tax dollars. Another area of contention is the act of cutting down trees that can be centuries-old.
The U.S. Forest Service on Prince of Wales Island and U.S. Department of Agriculture officials are working on a plan to help ease tensions by changing rules and selling younger timber.
The timber business is a juggling act of trying to make money, keep jobs and be environmentally friendly. Lean too much one way, and the other two collapse. The Forest Service on Prince of Wales Island is seeing this first hand as timber sales struggle to make a profit and face larger opposition from environmental groups.
In an effort to make money and uphold environmental interests, Thorne Bay District Ranger Rachelle Huddleston-Lorton says the Forest Service is transitioning to selling younger timber at the request of the Secretary of Agriculture Tom Vilsack.
"We understand and the secretary understands that the social acceptance for clear-cutting old growth trees," Huddleston-Lorton said. "It's just not there."
This transition preserves some old-growth trees by harvesting a rotating crop of trees as young as 55 years old — just big enough to use as lumber at about 9 inches in diameter.
Prince of Wales is managing it's first exclusively young-growth timber sale, called the Dargon Point sale. The first 9-acre slice of it, called Little Buck, already sold to a small local buyer named Good Faith Lumber. The larger chunk, or Big Buck, is still relatively small at about 50 acres, but Huddleston-Lorton says Secretary Vilsack and the USDA are very interested in the outcome. Huddleston-Lorton says the USDA has been strongly encouraging a fast transition to young growth timber.
The secretary issued a memorandum in July of 2013 calling for a transition into young-growth management in the Tongass over the next 10-15 years.
To help with a transition to young trees, new stipulations allow timber to be cut at a younger age. Another change is proposed for the Tongass Forest Plan, and would allow the Forest Service to sell timber that's closer to beach fronts.
Southeast Alaska Conservation Council Community Organizer Seth Ballhorn says his group opposes a cutting near beaches.
"We would prefer to not open up areas that are in the beach fringe, in the riparian area," Ballhorn said. "We feel like there is an adequate base of timber that can be developed."
Ballhorn says they support overall young-growth transition because it means that the older Tongass trees will be preserved or at least sold in smaller amounts, allowing local companies to buy them and keep them on this side of the world.
"We just don't want to see old growth being clearcut for export. If we're going to be logging, clearcutting old growth, we would like that to be small and micro timber sales that support small businesses in Southeast Alaska," he said.
However, using young growth isn't a perfect solution. Young lumber is less valuable because it isn't as hard and compact as old lumber. There's also added costs for lumber mills that need new equipment to process smaller trees. Tongass forestry worker Garry Brand says another added procedure is "pre-commercial cutting."
"We're lucky here," Brand says. "When we do harvest, we don't really necessarily have to plant trees because there's so much seed and it comes up so thick, we actually have the opposite where it really is actually beneficial to come in in 15 to 20 years and thin it out."
Before any timber sale can happen, it must prove that it can come out with a profit and get a thumbs-up from biologists to make sure it won't hurt animals, stream flows, or future habitat.