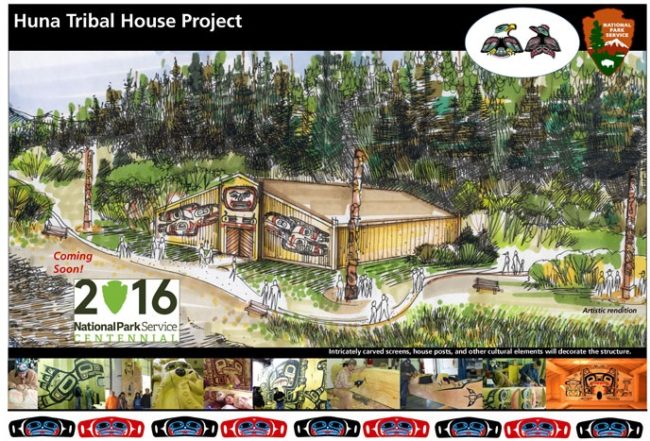 A $3 million Tlingit tribal house is being constructed on the shore of Bartlett Cove in Glacier Bay–likely the first time the National Park Service has funded a tribal house.
Three carvers are chipping away on an Eagle moiety pole that will go outside the red cedar tribal house with a Raven. The crest of a Wolf, Porpoise, Brown Bear and Thunderbird are starting to form, representing the clans in the area.
Gordon Greenwald, the lead carver, says it's taken over a month to get this far on the totem and it'll likely be six more before it's finished.
"Now we could complete it faster than that if we used some machines. Chainsaws and so forth to do some of the major cutting but we've chosen not to do it that way. We're trying to do it all by hand."
His team has been carving the pieces to go in the 2,500-square-foot Huna Tribal House for about five years. There's a constant flood of cruise ship tourists in and out of the shed, asking questions and marveling at the handiwork. But Greenwald says he doesn't mind.
"For people that are new to this area, it gives them a chance to learn about our people. Going away knowing  Tlingit people, knowing what our life was like. And for local people, they can stop and see something is being made in our homeland," he says.
An interior and exterior screen is already complete. So are the house posts of the four clans that identify Glacier Bay as home: Wooshkeetaan, Chookaneidí, Kaagwaantaan and T'akdeintaan.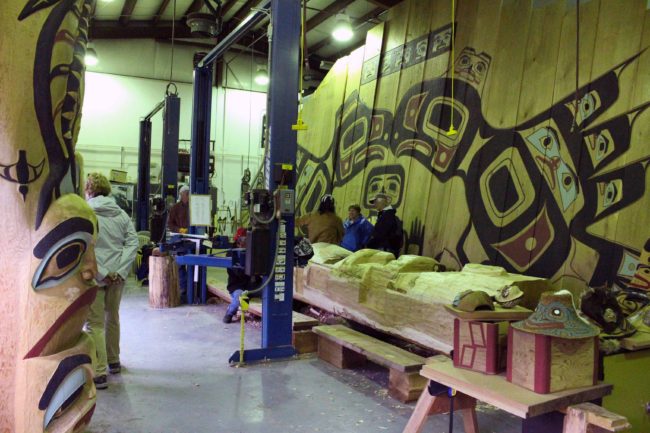 Tom VandenBerg, the chief of interpretation at Glacier Bay National Park says the clans are an inextricable part of the story of Glacier Bay.
"But there's no physical sign of their history here unfortunately," he says.
Bartlett Cove is the site of the new tribal house. It's where the clans originally resided until an encroaching glacier forced them to relocate hundreds of years ago to what's now called Hoonah. In 1925, Glacier Bay became a national monument and federal laws limited what the Huna Tlingit could do in their homeland.
"It's difficult, you know. The parks service represents the stories of our nation. And it seems like some of the Native stories have been missing from some parks."
VandenBerg says there are places like Sitka National Historic Park with Southeast Native totems, but "there's not much in the way of Alaska Native stories being told in parks."
The National Park Service received a request from the Hoonah Indian Association back in 1992 to build the tribal house. VandenBerg is unaware of anything else like it: a ceremonial house paid for by concessioners fees from businesses that operate within Glacier Bay.
Tlingit elder and park management assistant Ken Grant says it's going to be an emotional day when the tribal house is finished.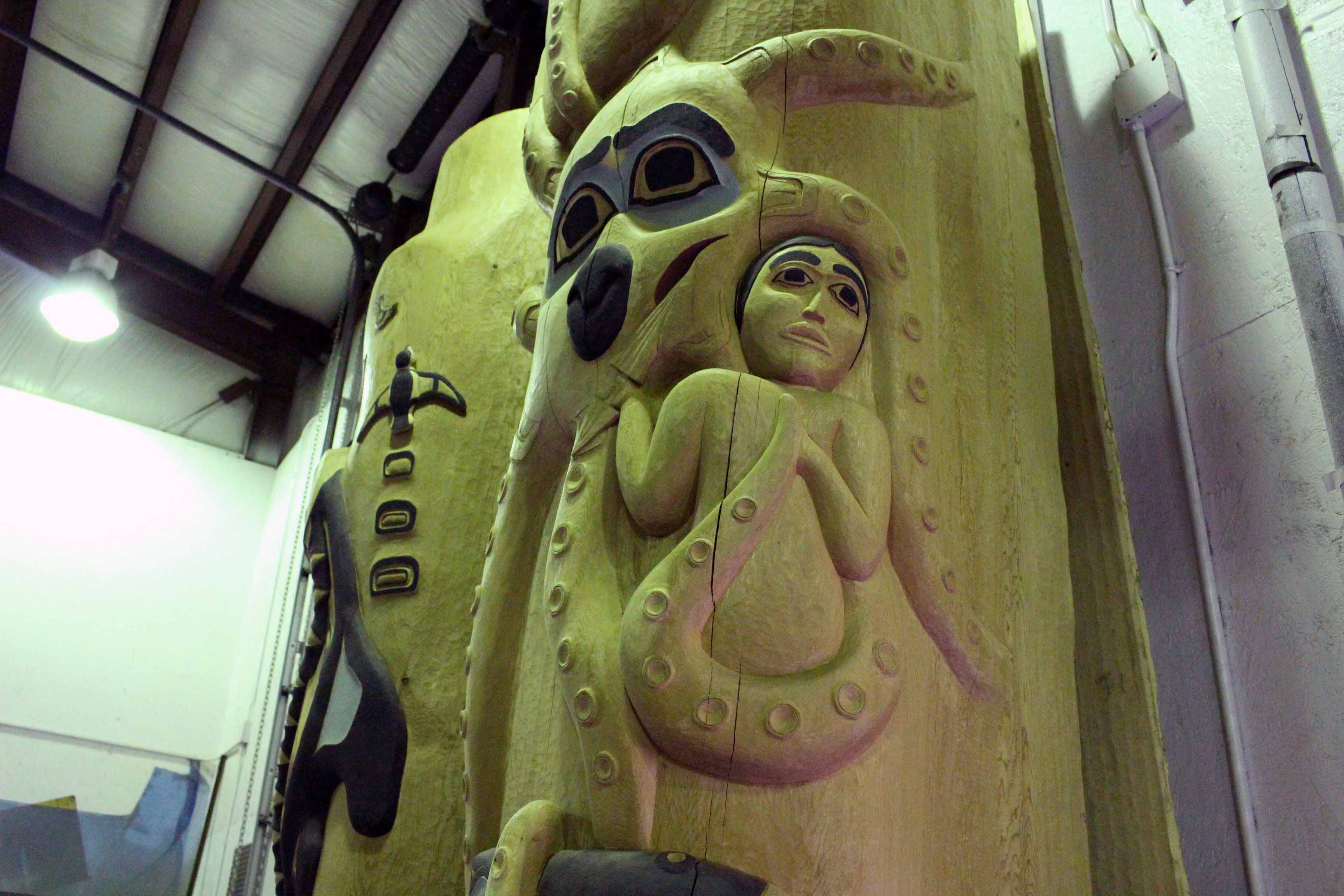 "Our people really have a strong tie to the homeland. The feeling of being left out has been with our elders for a long time. Like they say in our language: they were buried with a sorrow in their hearts," Grant says.
He hopes that it'll provide a space for young Huna Tlingits to learn about their roots and enhance language and cultural preservation.
Gordon Greenwald says it's been a long time for the project to come fruition.
"But now I'm looking back on it, I'm wondering why this hadn't happened in all the other parks long ago," he says.
Back at the shed, carvers Owen James and Herb Sheakley are singing a song about one of the Huna clans.
When Sheakley started this project five years ago, he says he didn't know all of the stories and he didn't know how to carve. He's been practicing at home, making ceremonial hats out of spruce and working on the Eagle pole.
"It's stuff like this that keeps me going. I can actually create this now," he says. "Before I could look at this and say, 'Hmm, I couldn't do that.' Making the knives, listening to my boss teaching me the formlines, this is the kind of thing I'm making now."
Greenwald says he owes teaching to his mentors; passing on the knowledge so it doesn't stop with him.
"On all of this work, none of us will sign it because none of this work is about us as individuals; it's about our people," Greenwald says.
The Huna Tribal House is expected to be dedicated next August.