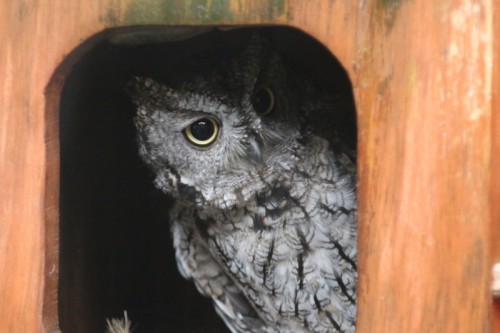 There's a new bird at the Alaska Raptor Center in Sitka, and she's a little shy. After a long career in education, she doesn't have a lot of patience for the classroom. She's now settling into a comfortable retirement.
On a cold and rainy day, the yellow-eyed, grey Western screech owl peers out of her small owl house in a cage at the raptor center. Her name is Peanut, and her right wing sticks out just a little further than her left. She's injured and unable to fly. She used to live in California and at some point moved to Alaska.
"We know she's about 13 years old, which is really old for a screech owl. They usually live to be about 8 or 9," says says says Jen Cedarleaf, an avian rehabilitation coordinator at the center.
Peanut arrived at the center in July, after the bird educational facility she lived at in Ketchikan shut down. Before that she belonged to a California falconer. Cedarleaf says the raptor center tried using Peanut as an education bird at first but it didn't work out, so the center decided to let her rest.
"She's really enjoying, I think, not being an education bird," Cedarleaf says. "She really seems to like her little habitat. She gets around in there and doesn't have to deal with people all day long."
Peanut has already laid 4 or 5 eggs, more than she probably ever has, says Cedarleaf. The little owl is now living a somewhat quiet life.
"Peanut is a little beast," Cedarleaf says. "A lot of times she'll try to run away from you, but sometimes she'll come after you. It's kind of funny because she's so tiny; she can't really hurt us that much, but she thinks she can."
Peanut is one of three screech owls currently at the Alaska Raptor Center, and one of about 20 permanent residents that include bald eagles, red tailed hawks, great horned owls and ravens. There are also more than 20 birds being rehabilitated, mostly bald eagles.
The center took in a bird nearly every day in June, making it a particularly busy month.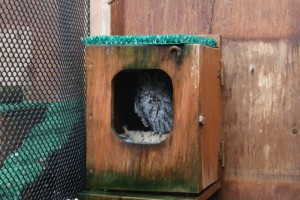 They don't know how Peanut injured her wing, but Cedarleaf says common human-related owl injuries are caused by cars.
"It's very possible she was hit by a car. Owls get hit by cars more often than you would think, because they use the headlights to help find their prey, and they'll swoop in front of a car without realizing it, and then they get it," she says.
Despite Peanut's reclusive nature, Cedarleaf says visitors stand to learn a lot from her.
"She's a very good bird for teaching us about longevity and just about the different kinds of birds that are out there in the environment that you don't always see all the time."
It's not every day you see a Western screech owl. However, if you're lucky, Peanut may look your way the next time if you're ever at the Alaska Raptor Center.