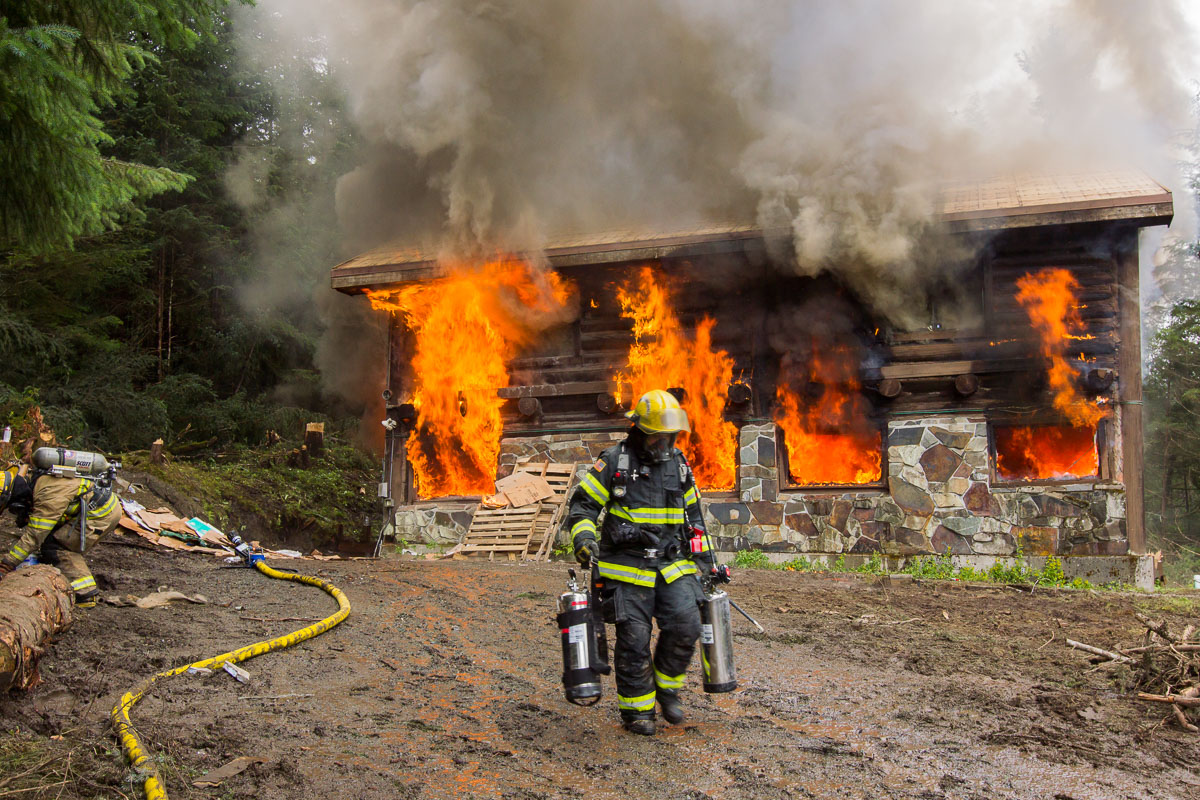 Firefighters move training equipment away from the fire. (Photo by David Purdy/KTOO)
Capital City Fire/Rescue held a drill Saturday with a live fire at an old log cabin on Mendenhall Loop Road. The cabin was considered beyond repair. Its foundation timbers were partially rotted and the entire structure was leaning over.
For career and volunteer firefighters, it was a unique opportunity to hone their skills and train outside the Hagevig Fire Training Center. Firefighters practiced entering the structure, attacking the fire, searches and rescues.
The structure, owned by University of Alaska Southeast, was demolished with one final burn at the end of the day.
Firefighters Sean Rhea and Noah Jenkins, who acted as instructors during Saturday's exercise, wore KTOO's helmet-mounted video camera that provided some of these stills.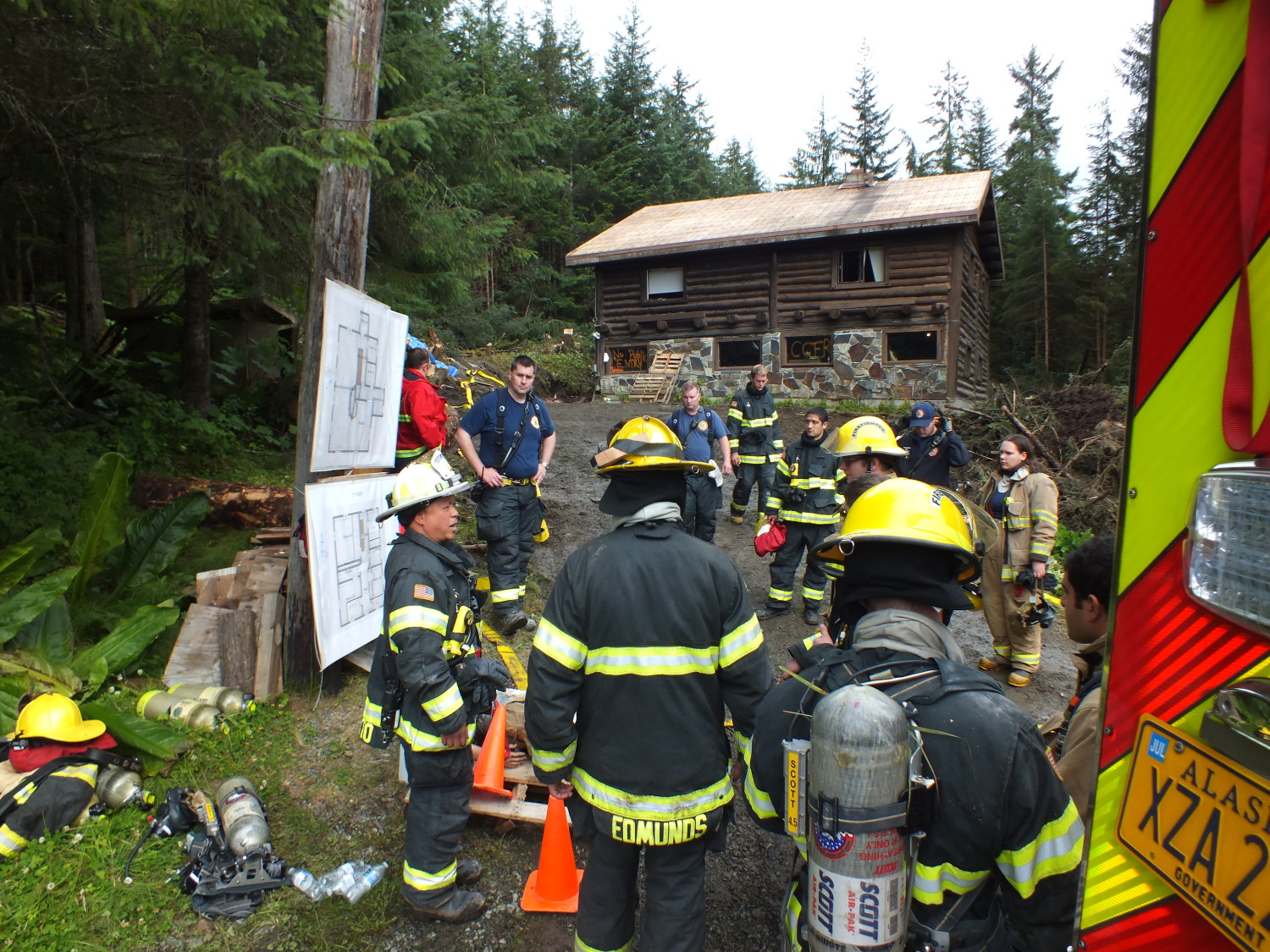 Floor plan and scenario briefing. (Photo by Matt Miller/KTOO)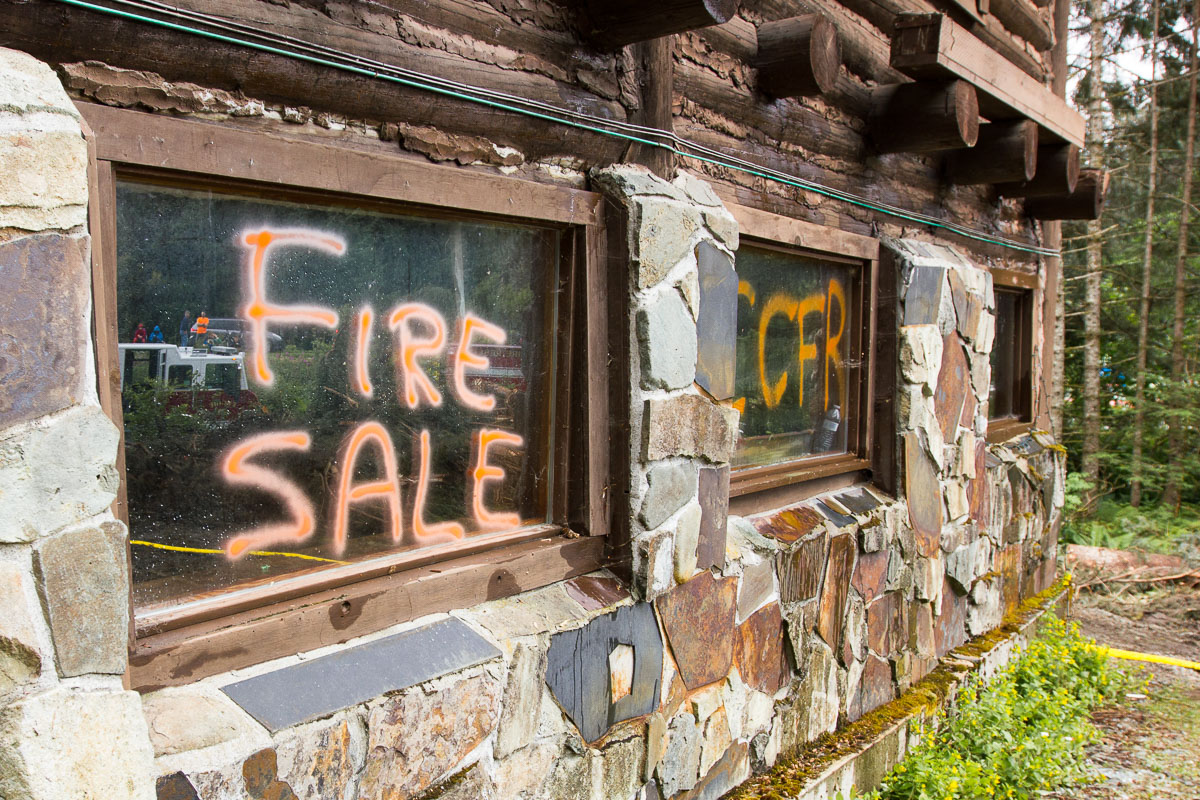 (Photo by David Purdy/KTOO)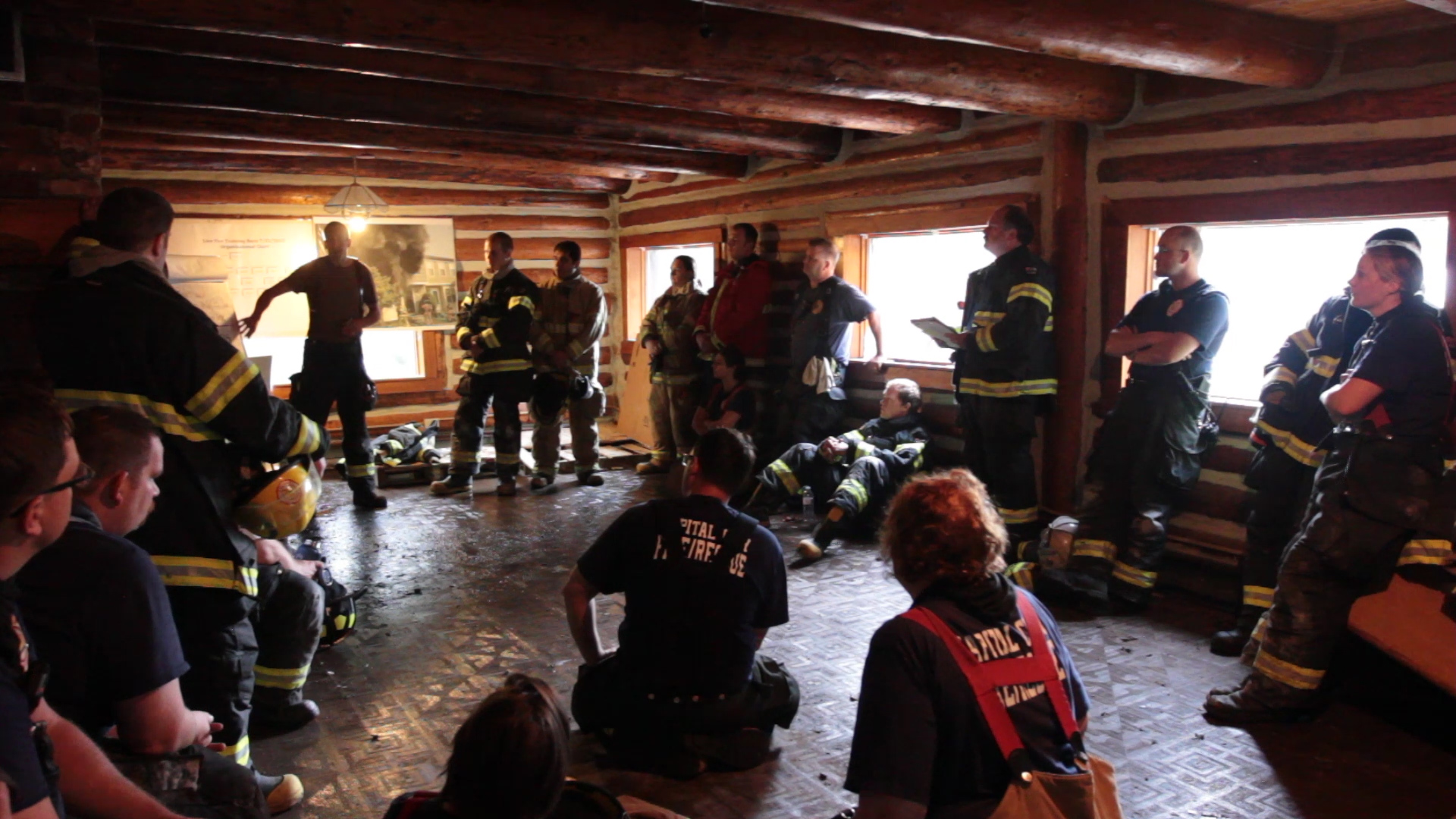 Firefighters are briefed on the plan for the day. (Photo by David Purdy/KTOO)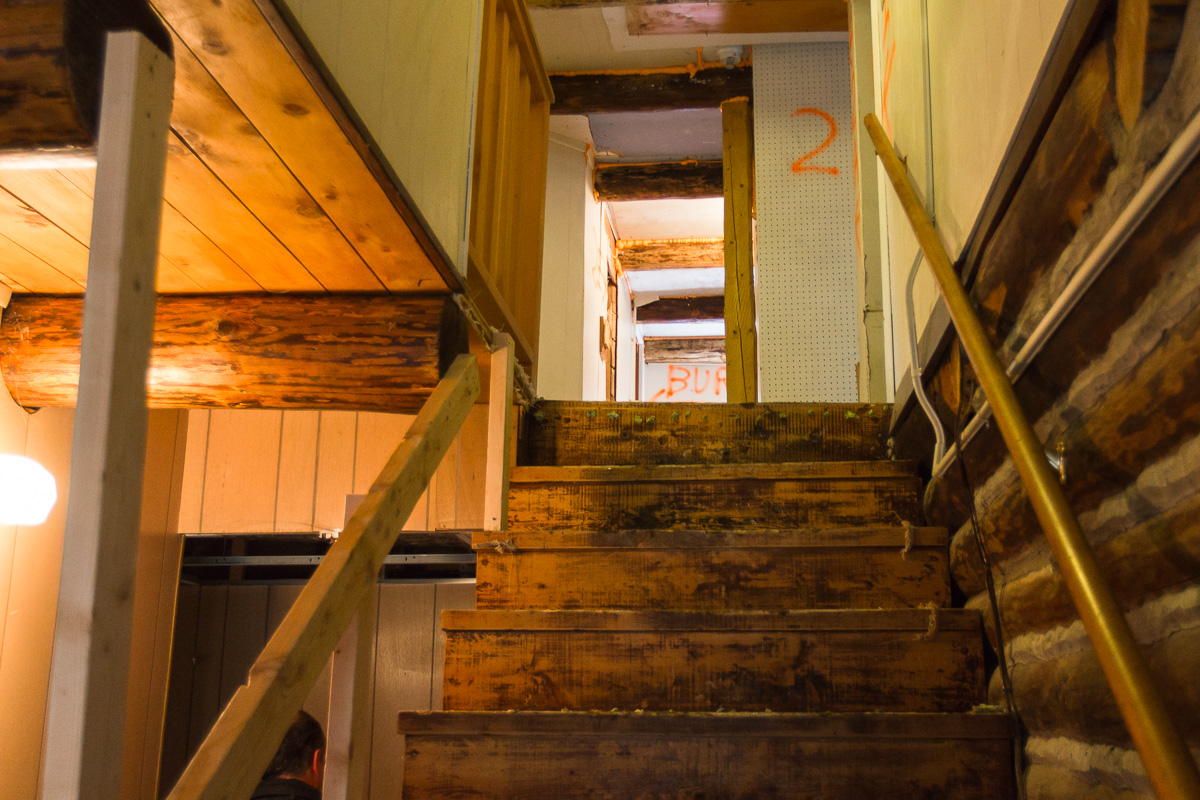 In the weeks before the training day, firefighters cleaned out the cabin and installed additional drywall to control the fire during training. (Photo by David Purdy/KTOO)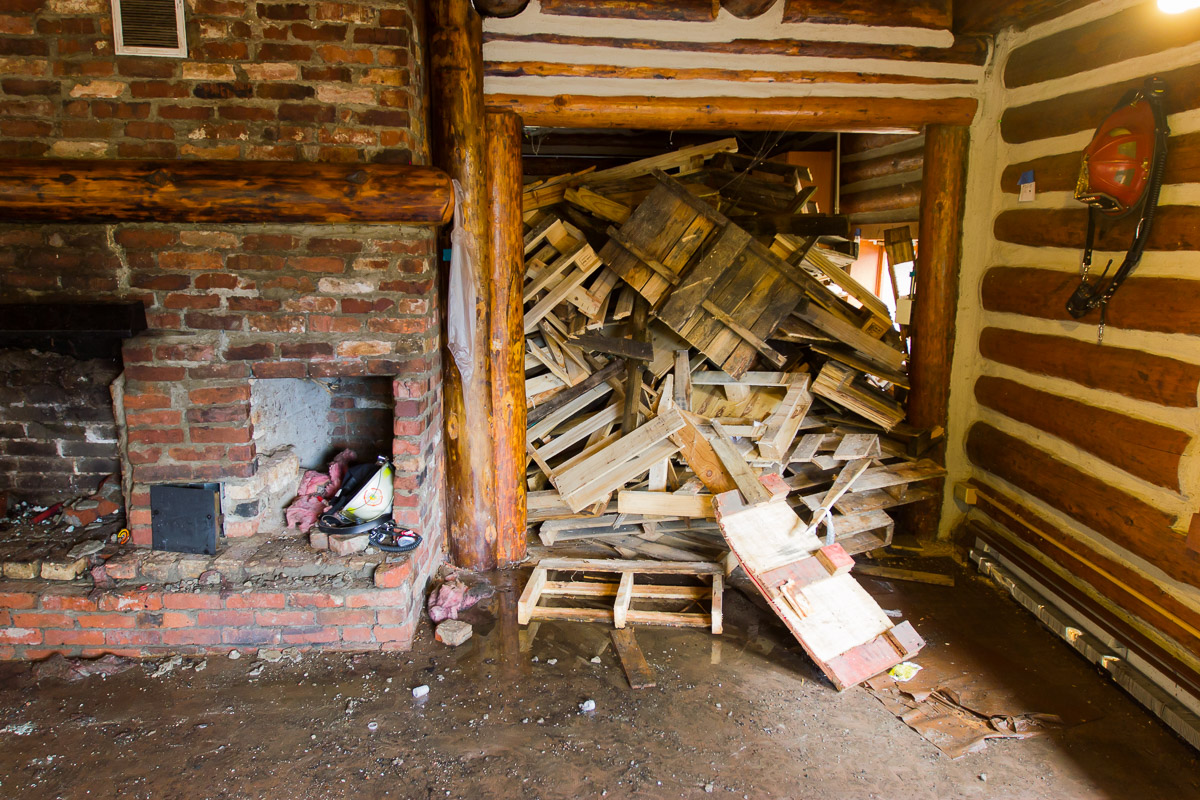 Pallets were used for kindling for the training fires. (Photo by David Purdy/KTOO)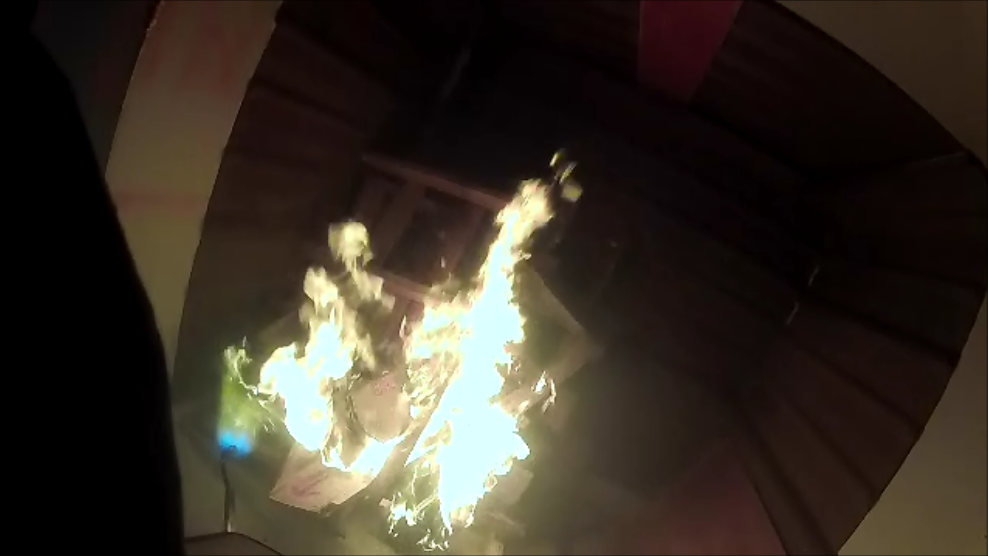 An instructor uses a propane torch to light straw and cardboard for one of the scenarios. The room has been modified with added drywall and metal siding.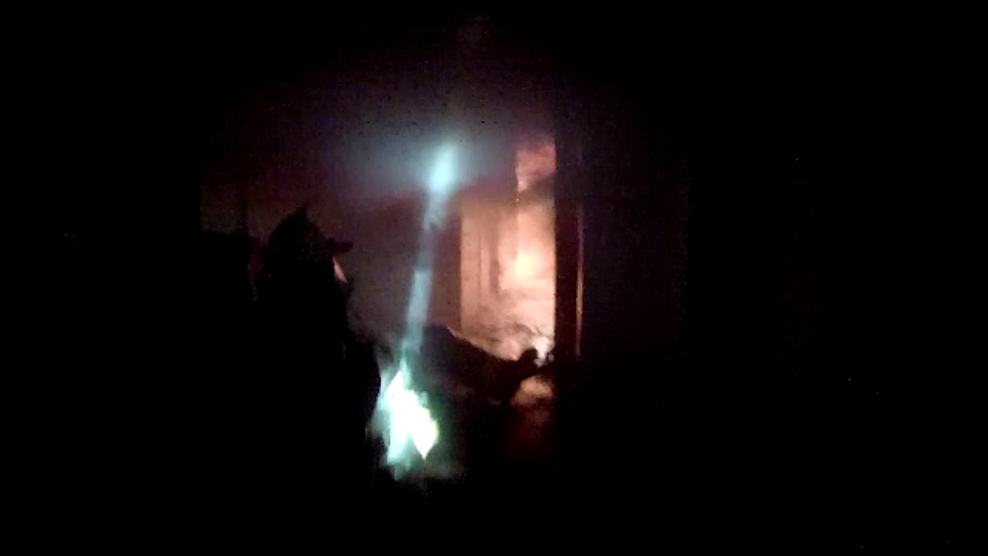 A firefighter investigates a fire in an upper bedroom.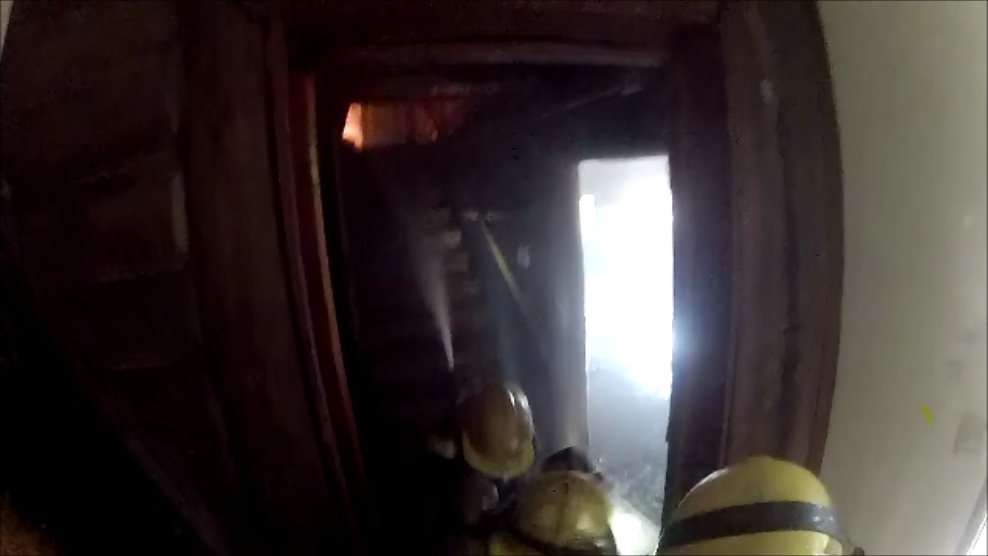 A hose team attacks a fire on the second floor.
Fire lashes out at a firefighter before a hose team enters a room.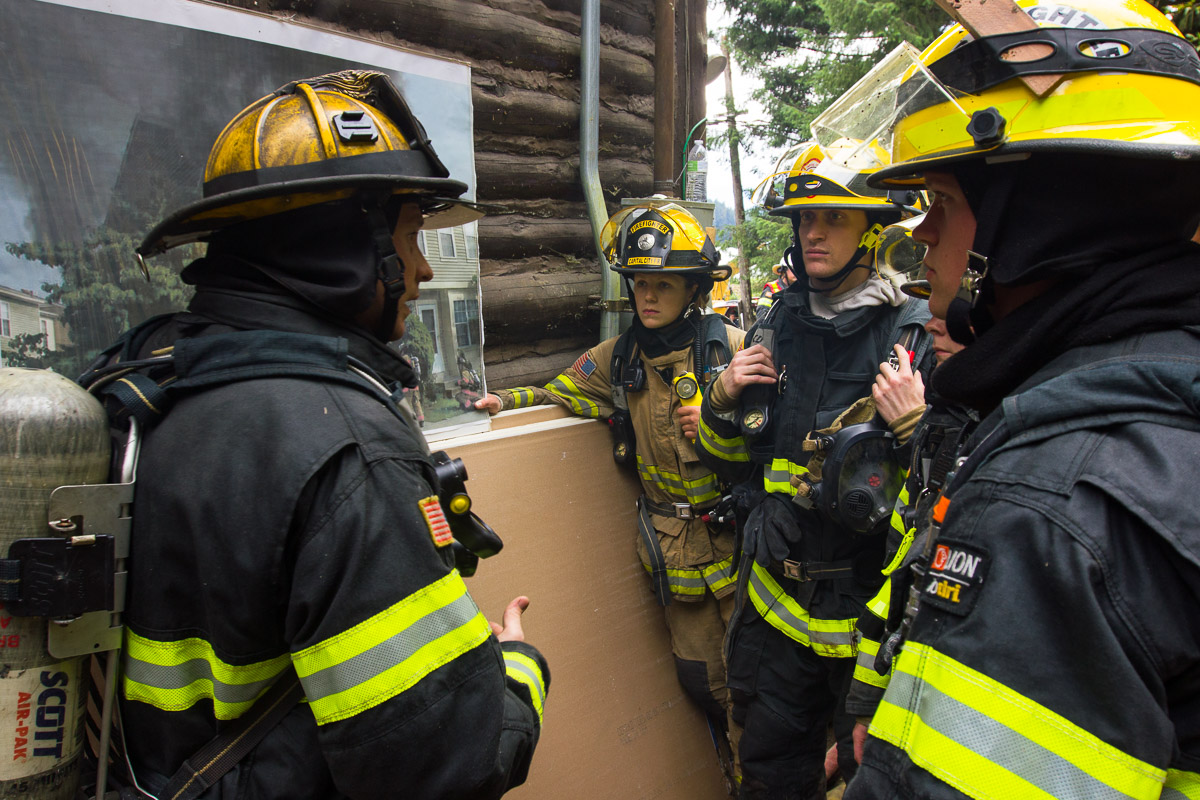 Briefing just before beginning a training exercise in the cabin. (Photo by David Purdy/KTOO)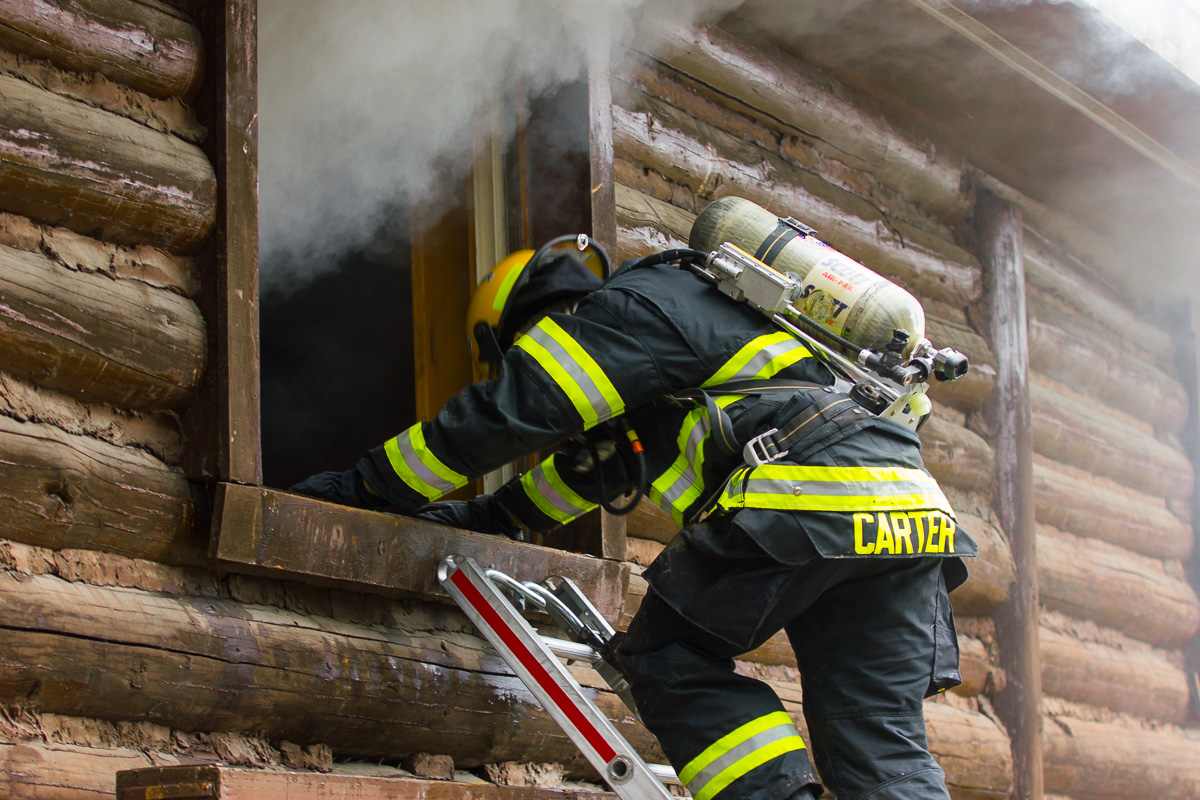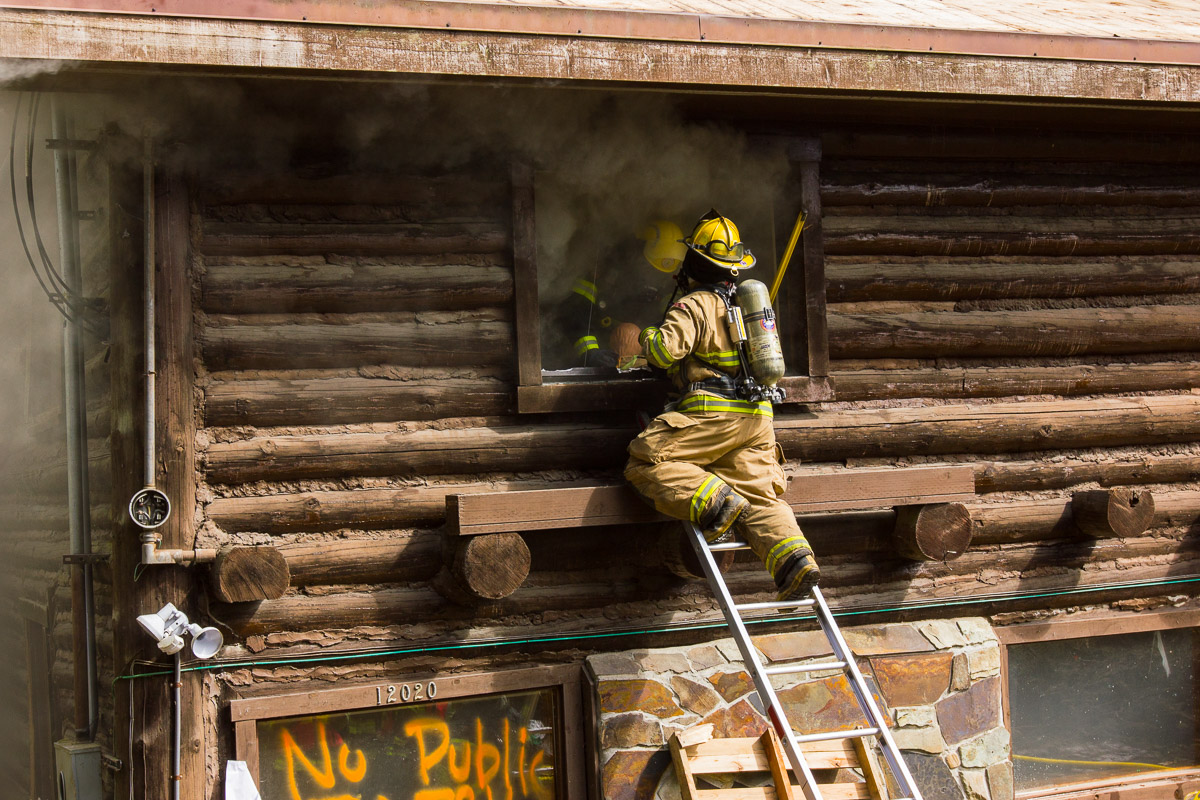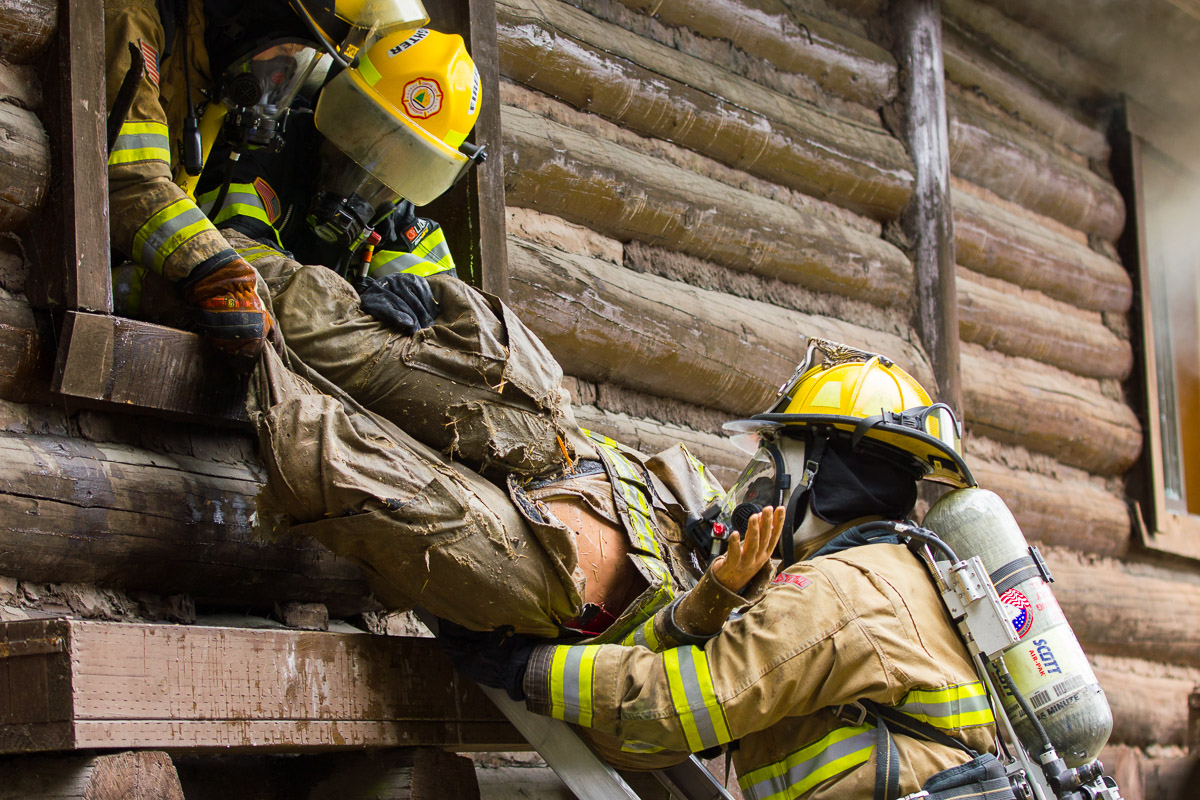 Firefighters practice a second-floor rescue with a dummy. (Photos by David Purdy/KTOO)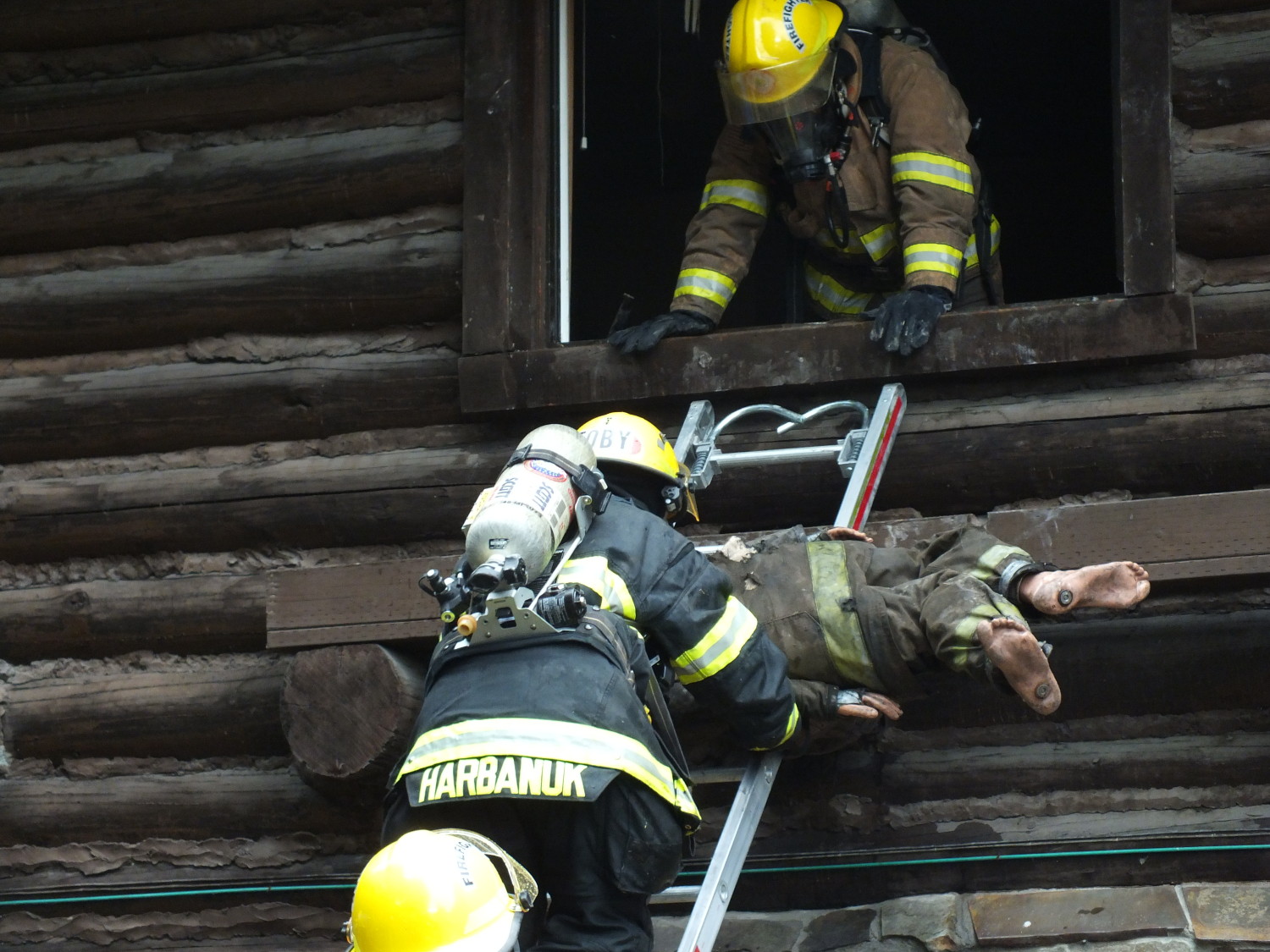 The dummy weighs 180 pounds. (Photo by Matt Miller/KTOO)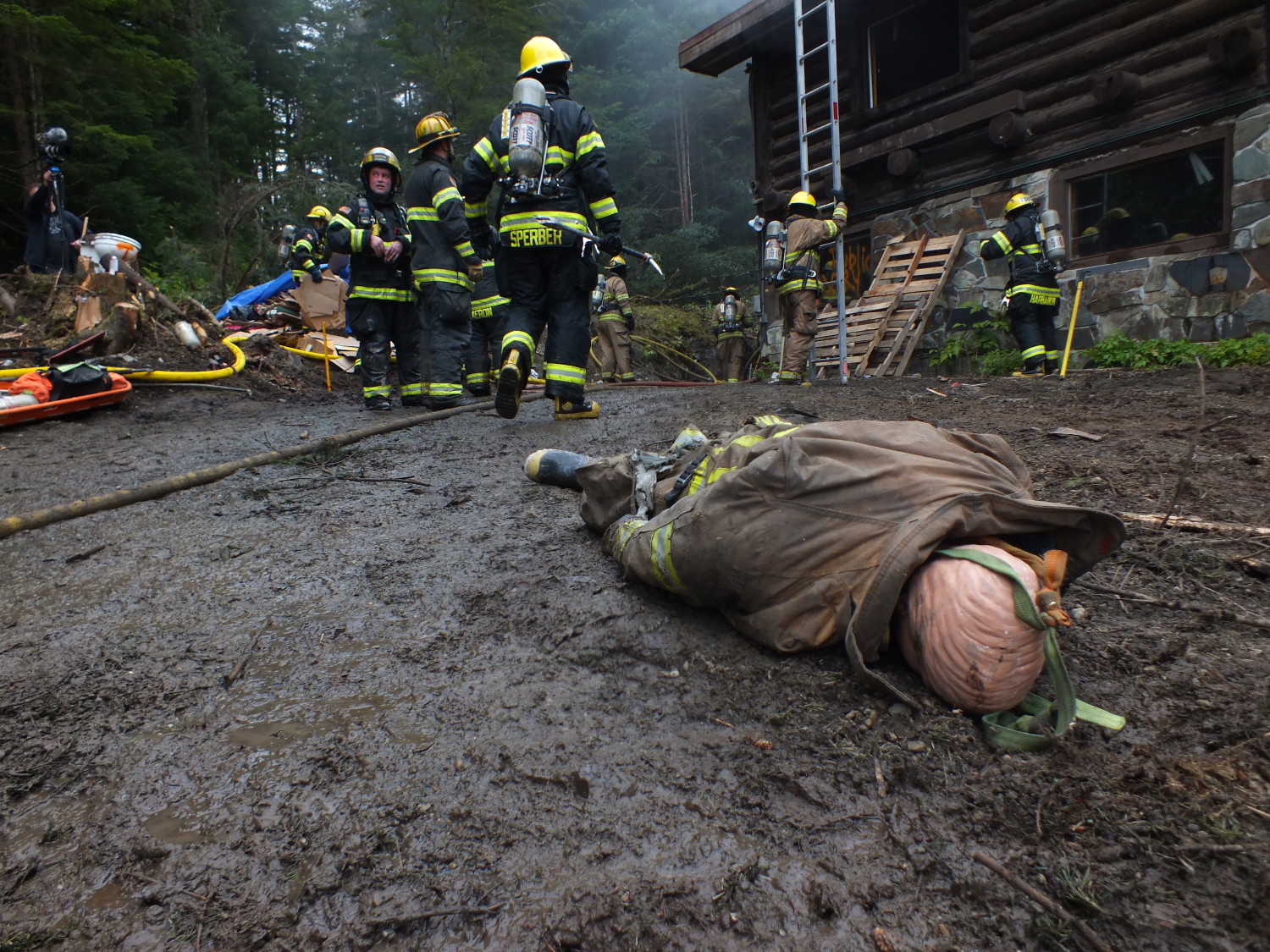 The victim awaits treatment by EMTs. (Photo by Matt Miller/KTOO)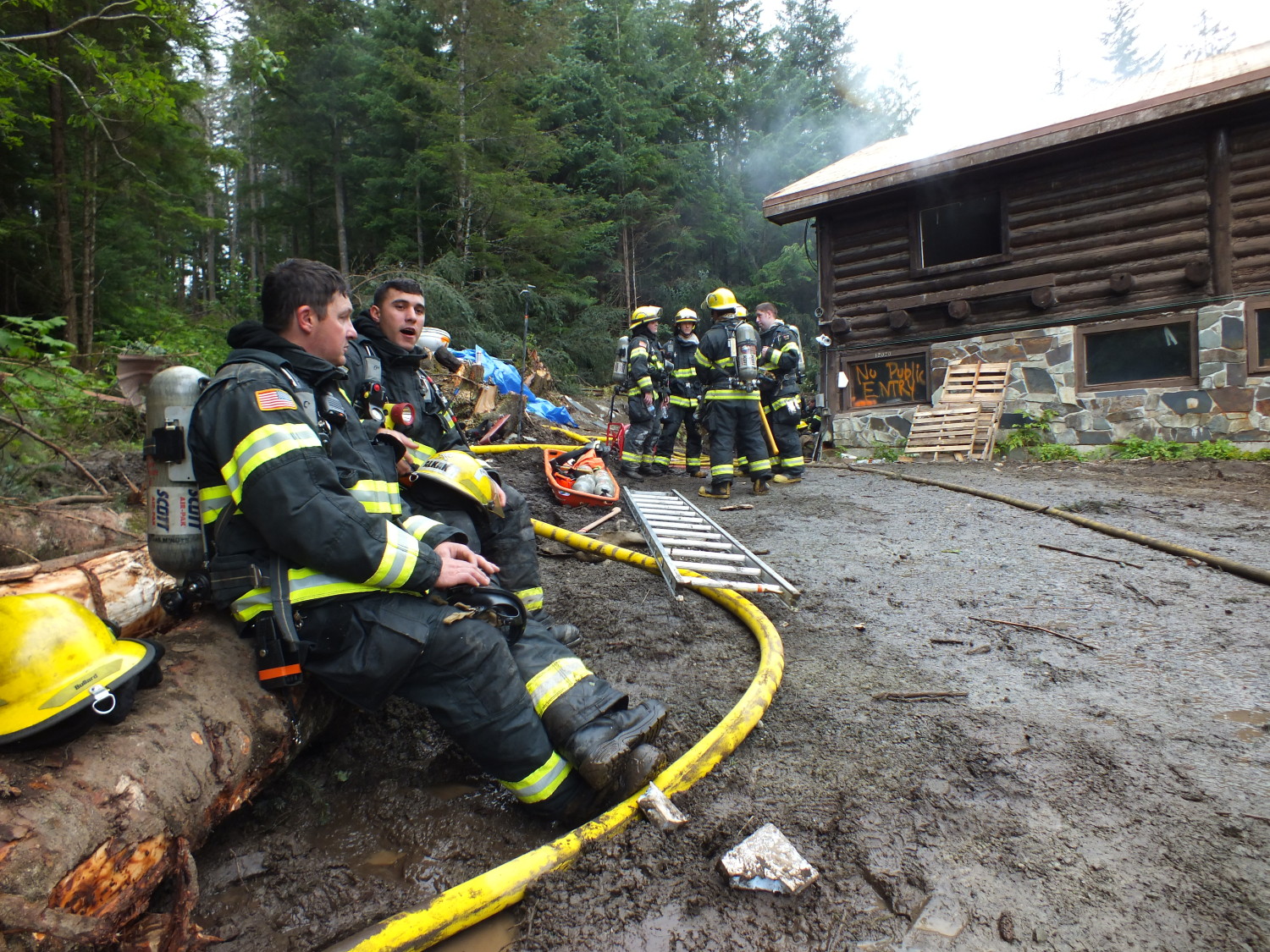 Rest before the next entry. (Photo by Matt Miller/KTOO)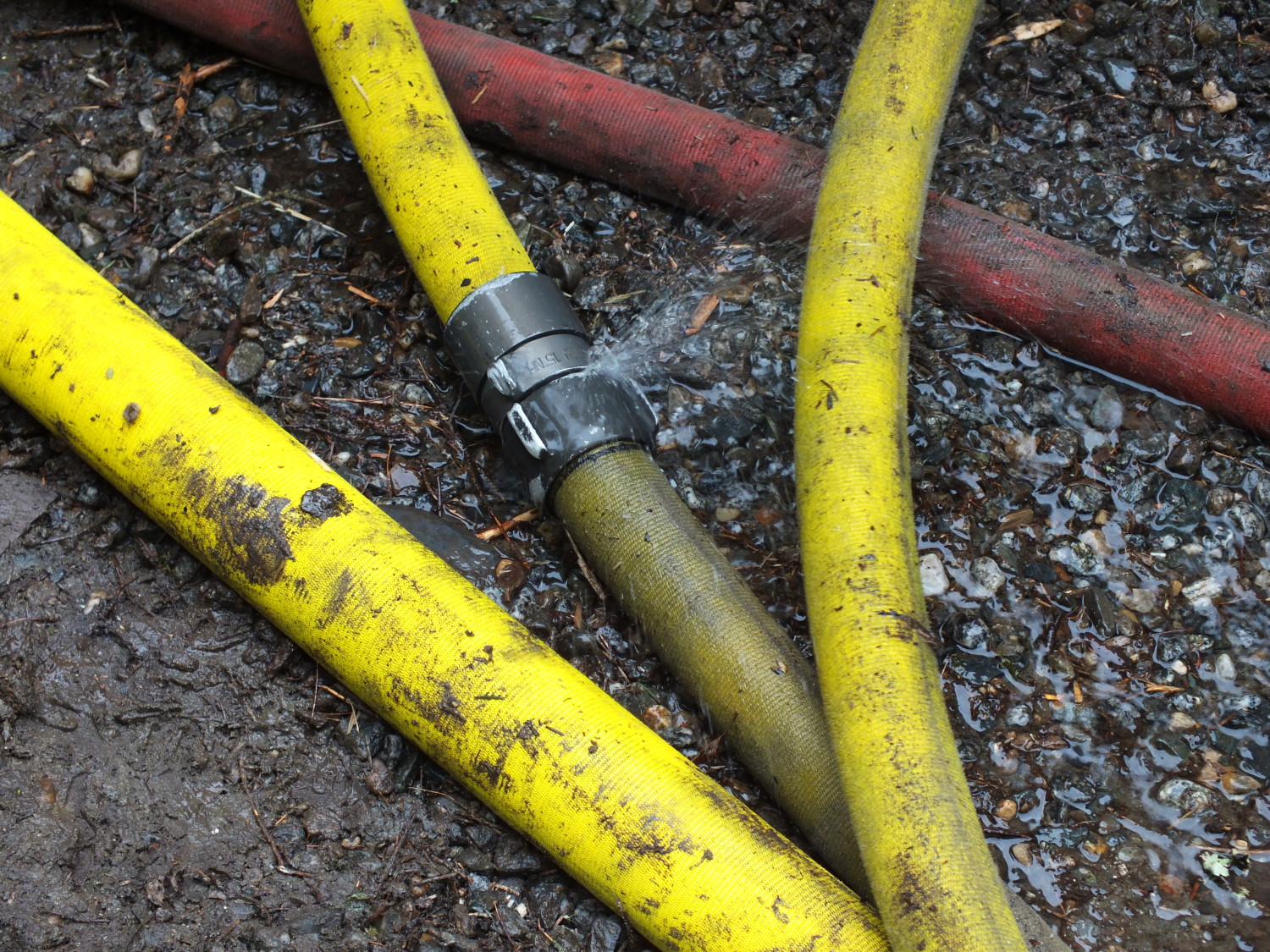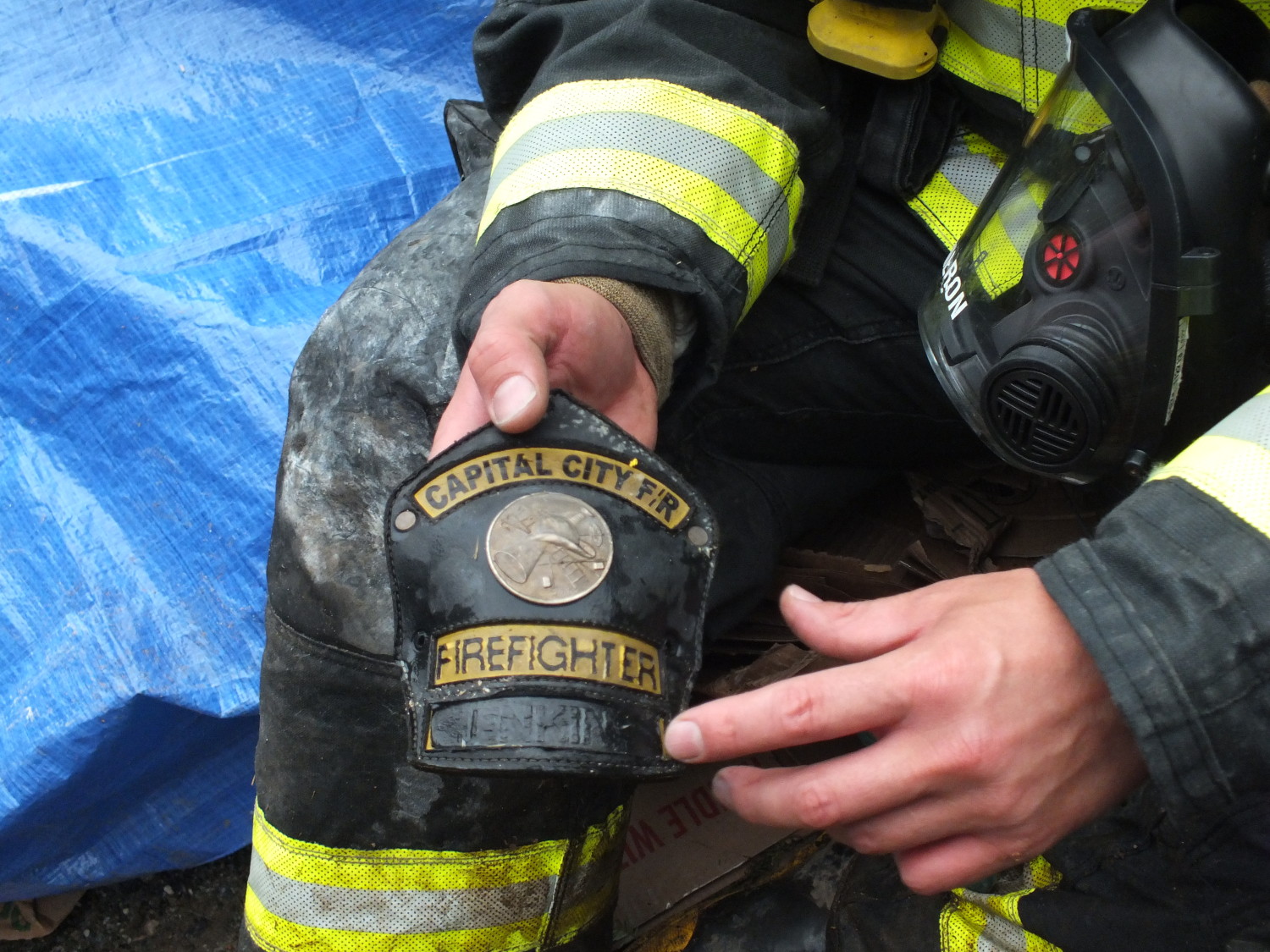 One firefighter has lost his leather nameplate for his helmet. (Photos by Matt Miller/KTOO)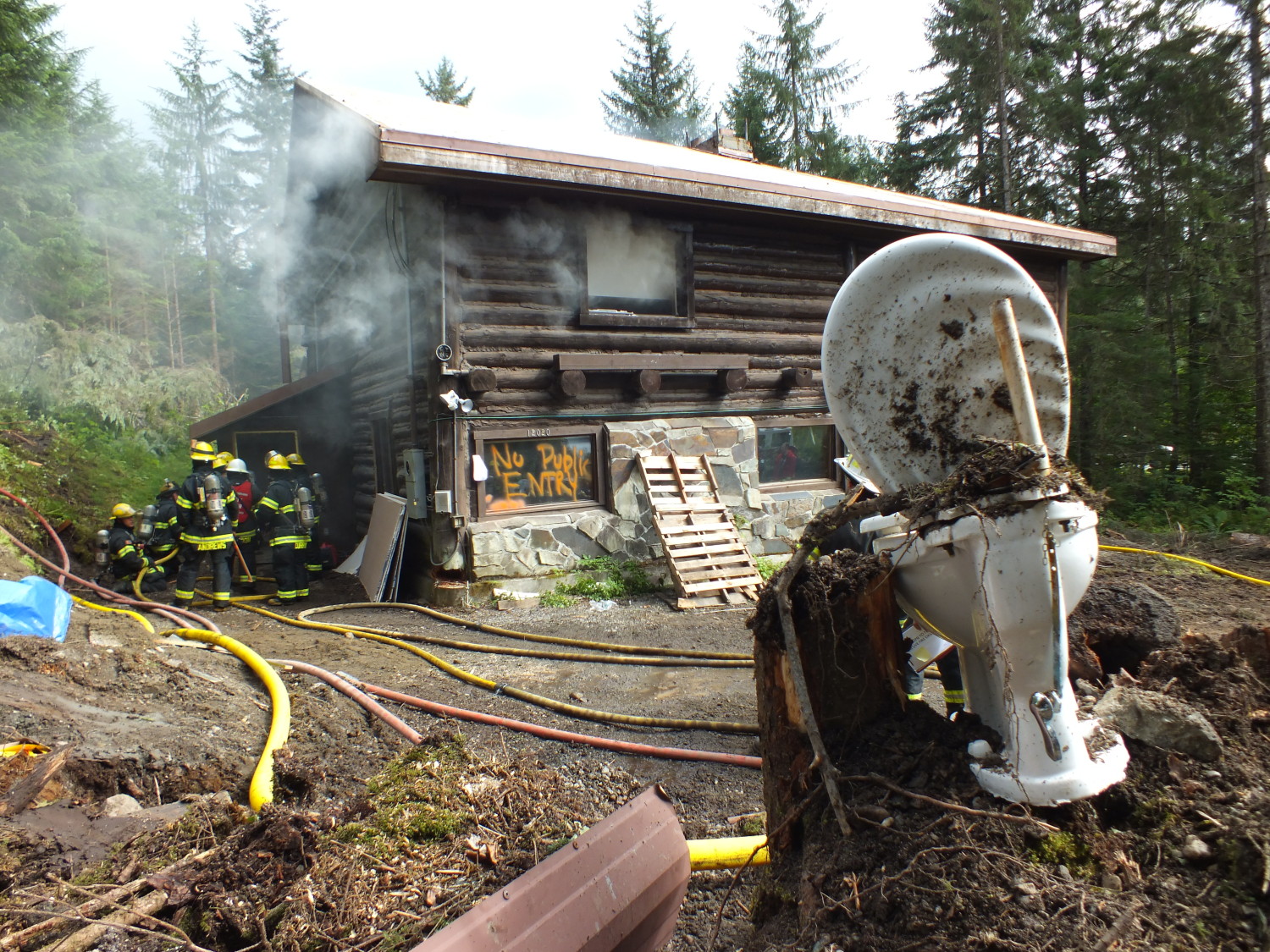 Who left the lid up? (Photo by Matt Miller/KTOO)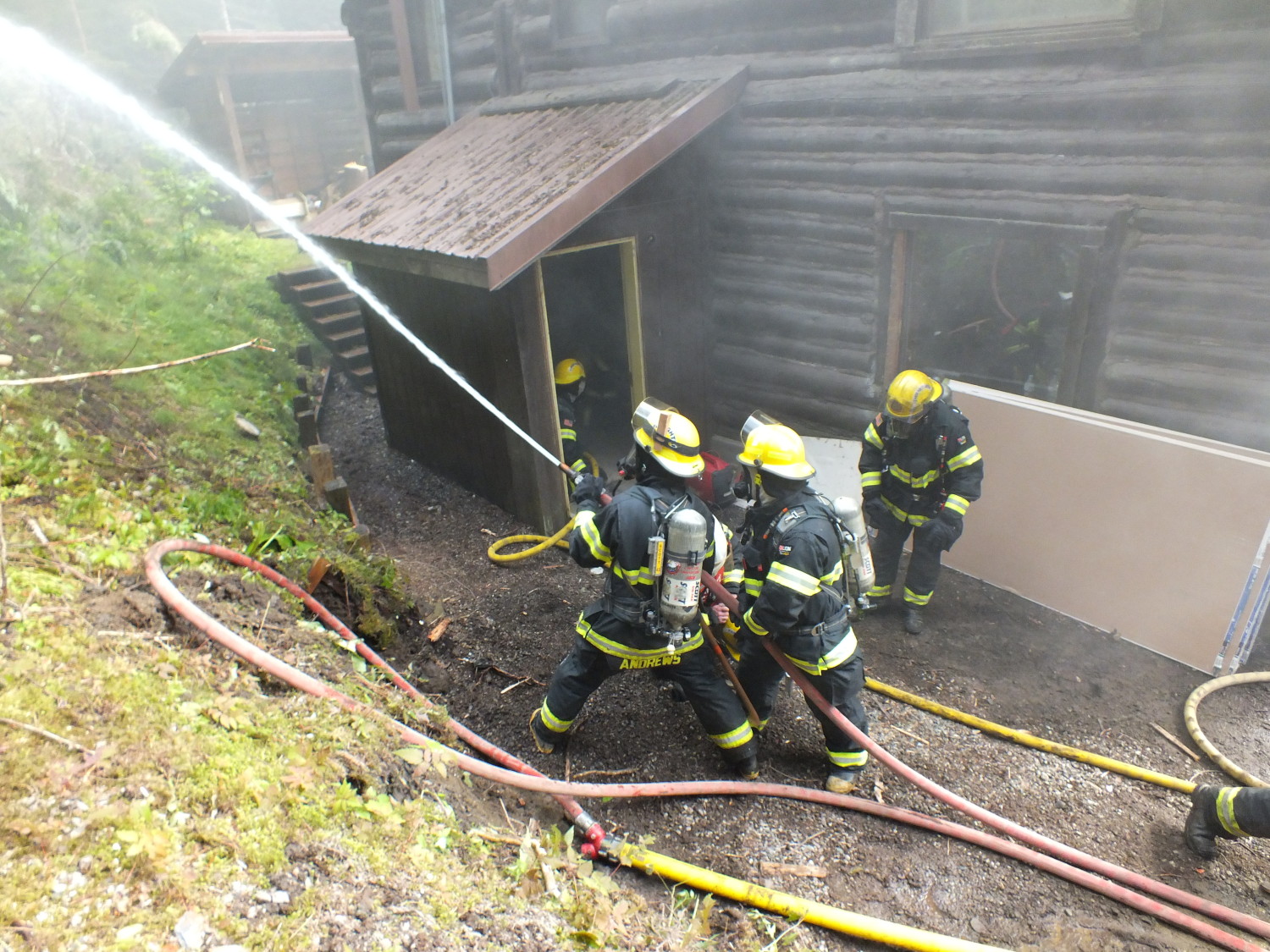 Nozzle test by hose team. (Photo by Matt Miller/KTOO)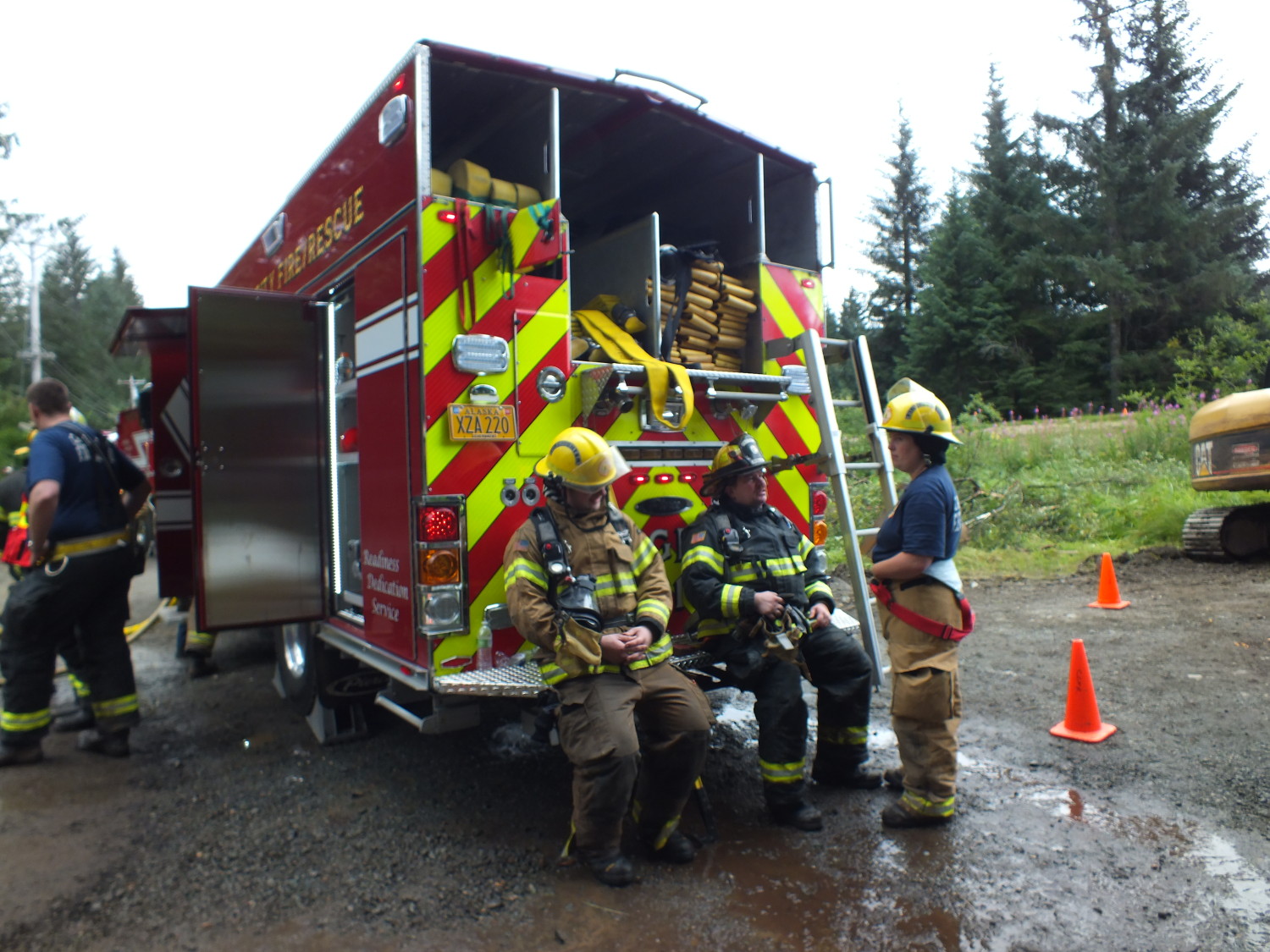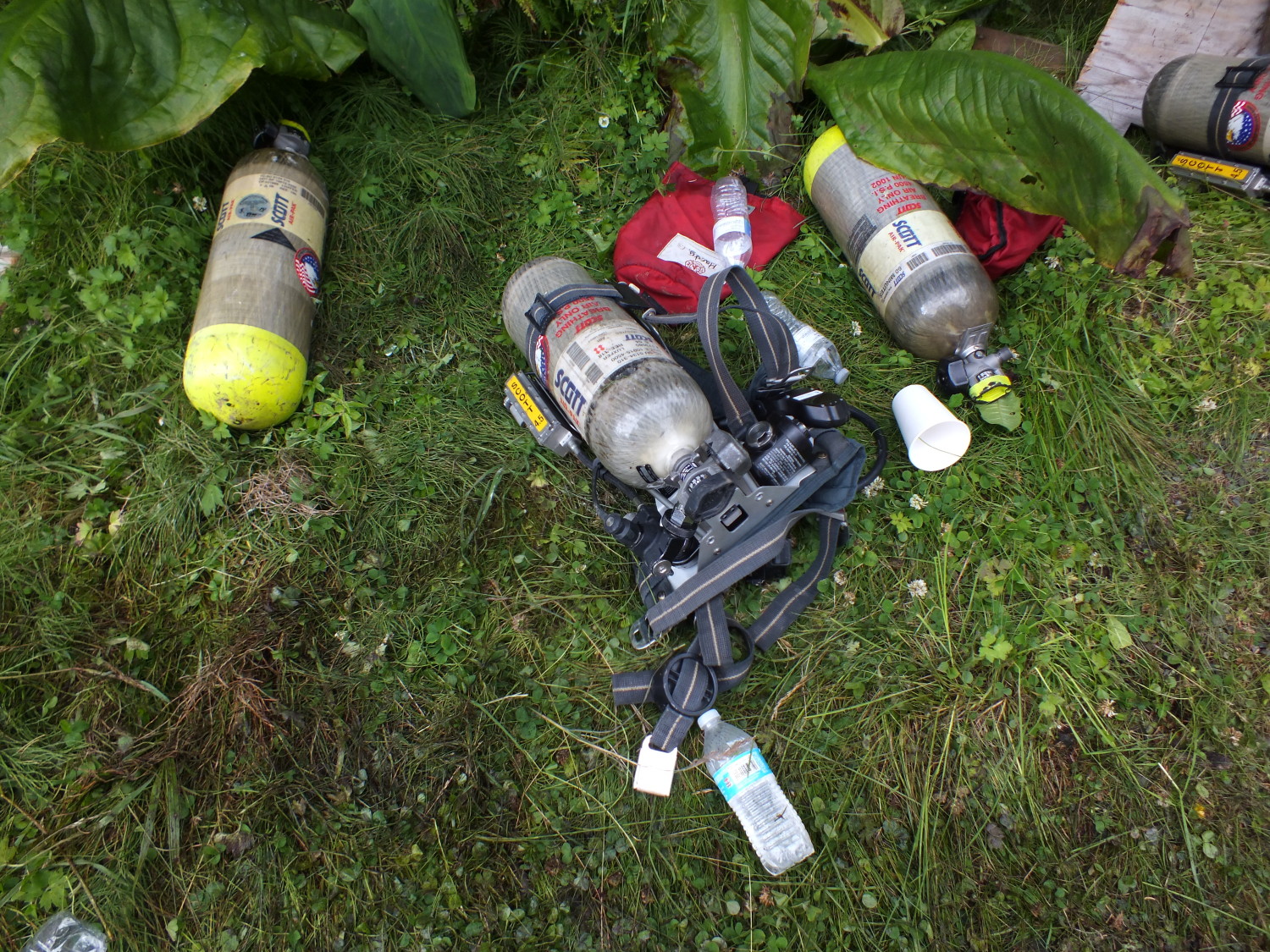 Water and air are important components for a firefighter's stamina. (Photos by Matt Miller/KTOO)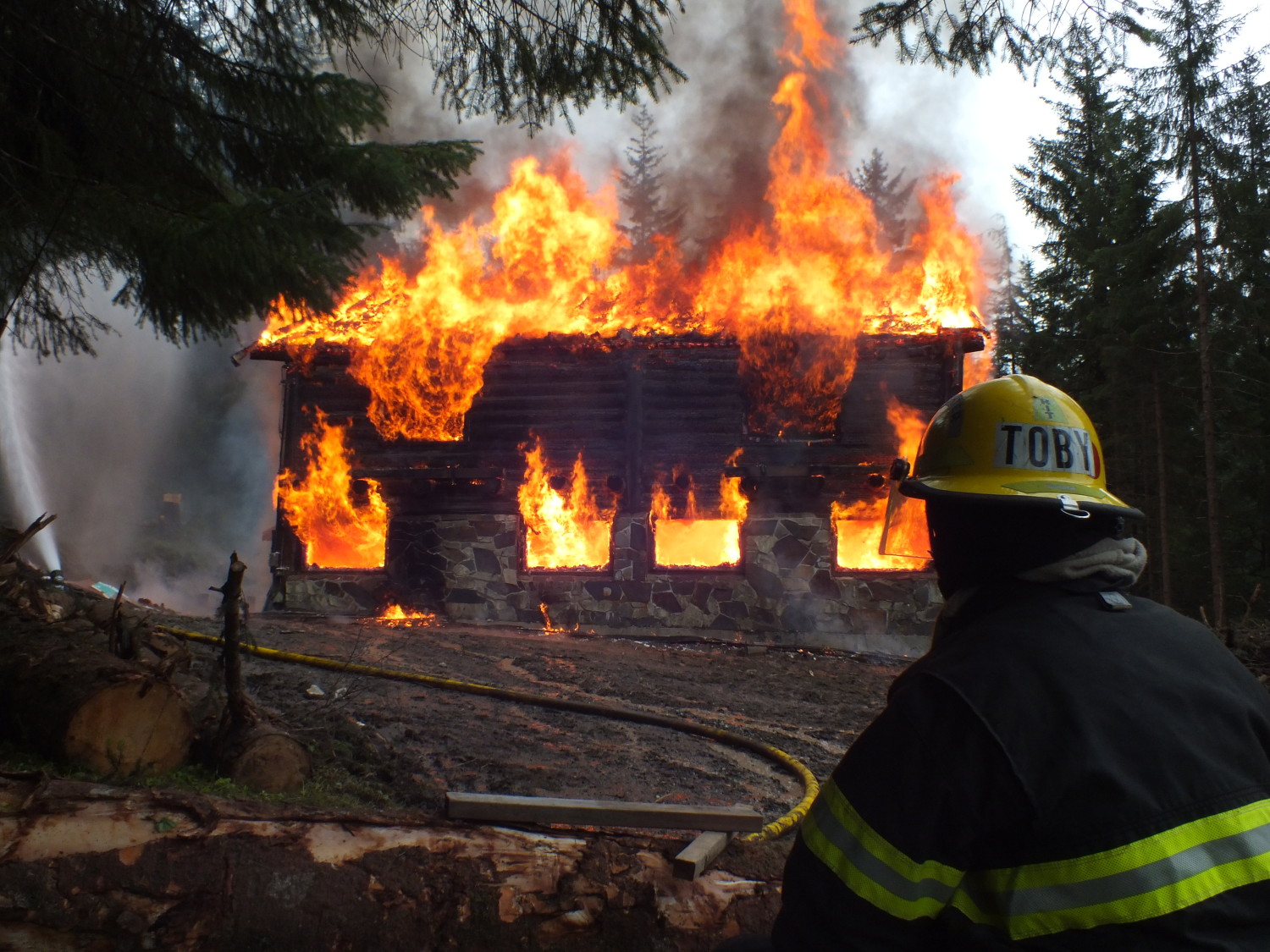 Firefighter Toby Harbanuk stands by during the final burn of the cabin. (Photo by Matt Miller/KTOO)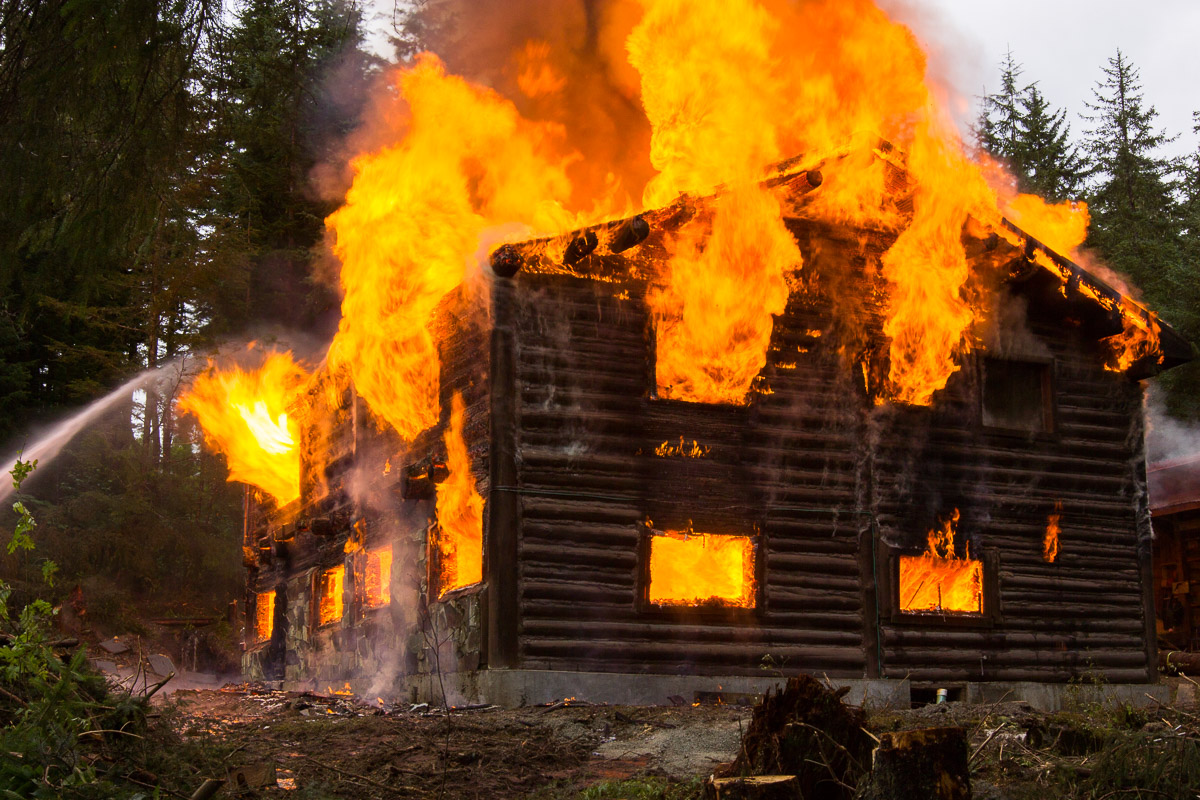 Fire engulfs the cabin while firefighters spray the vegetation behind it to keep the fire from spreading. (Photo by David Purdy/KTOO)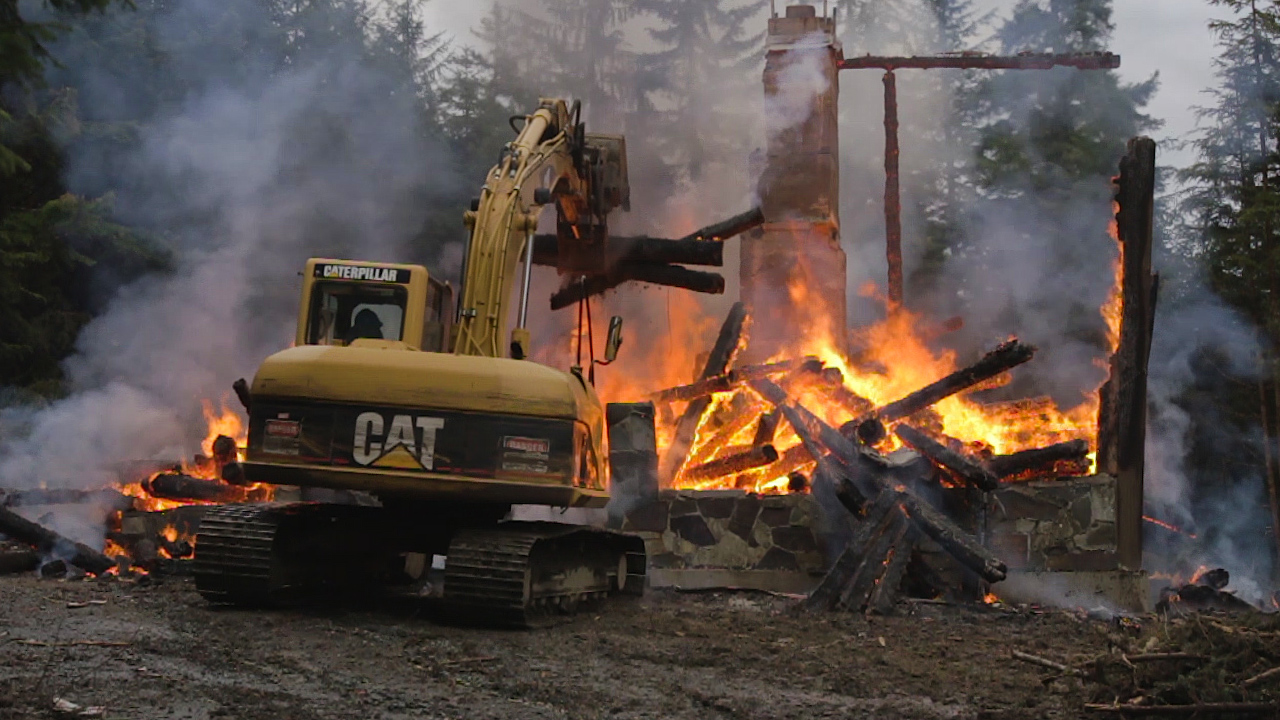 Debris is added back on to the main fire to keep it contained. (Photo by David Purdy/KTOO)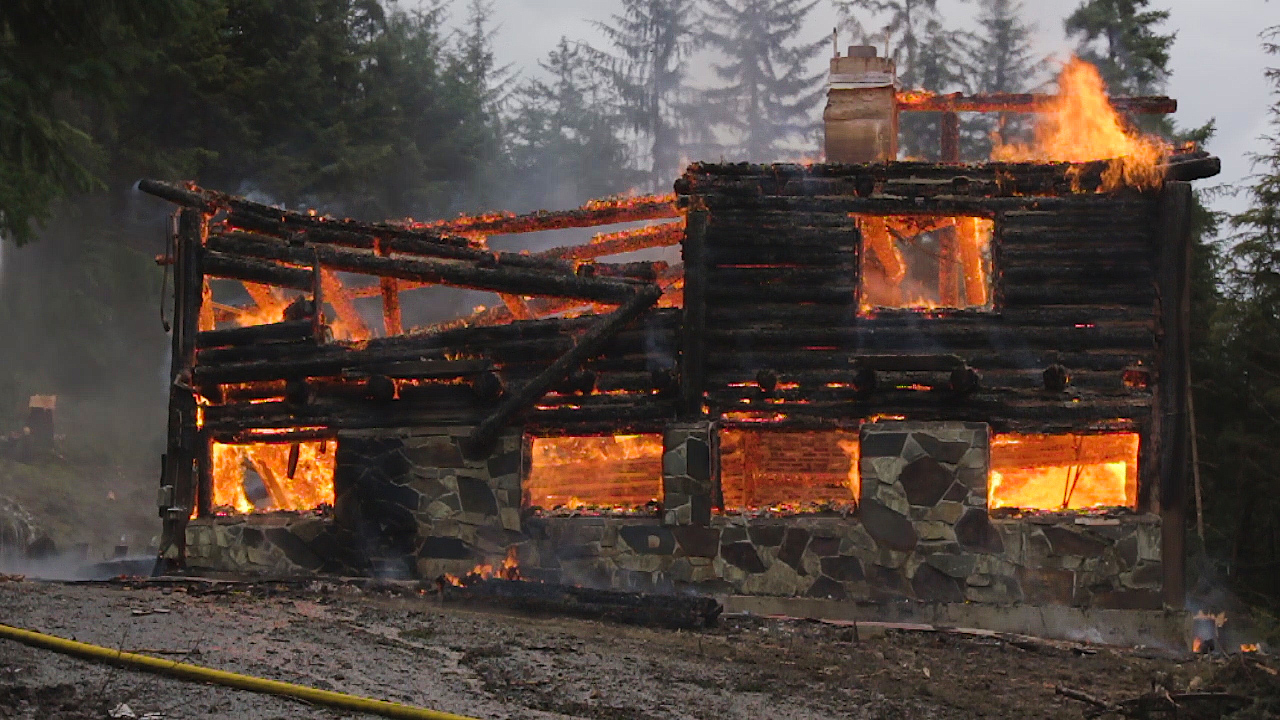 The cabin collapses as the fire burns. (Photo by David Purdy/KTOO)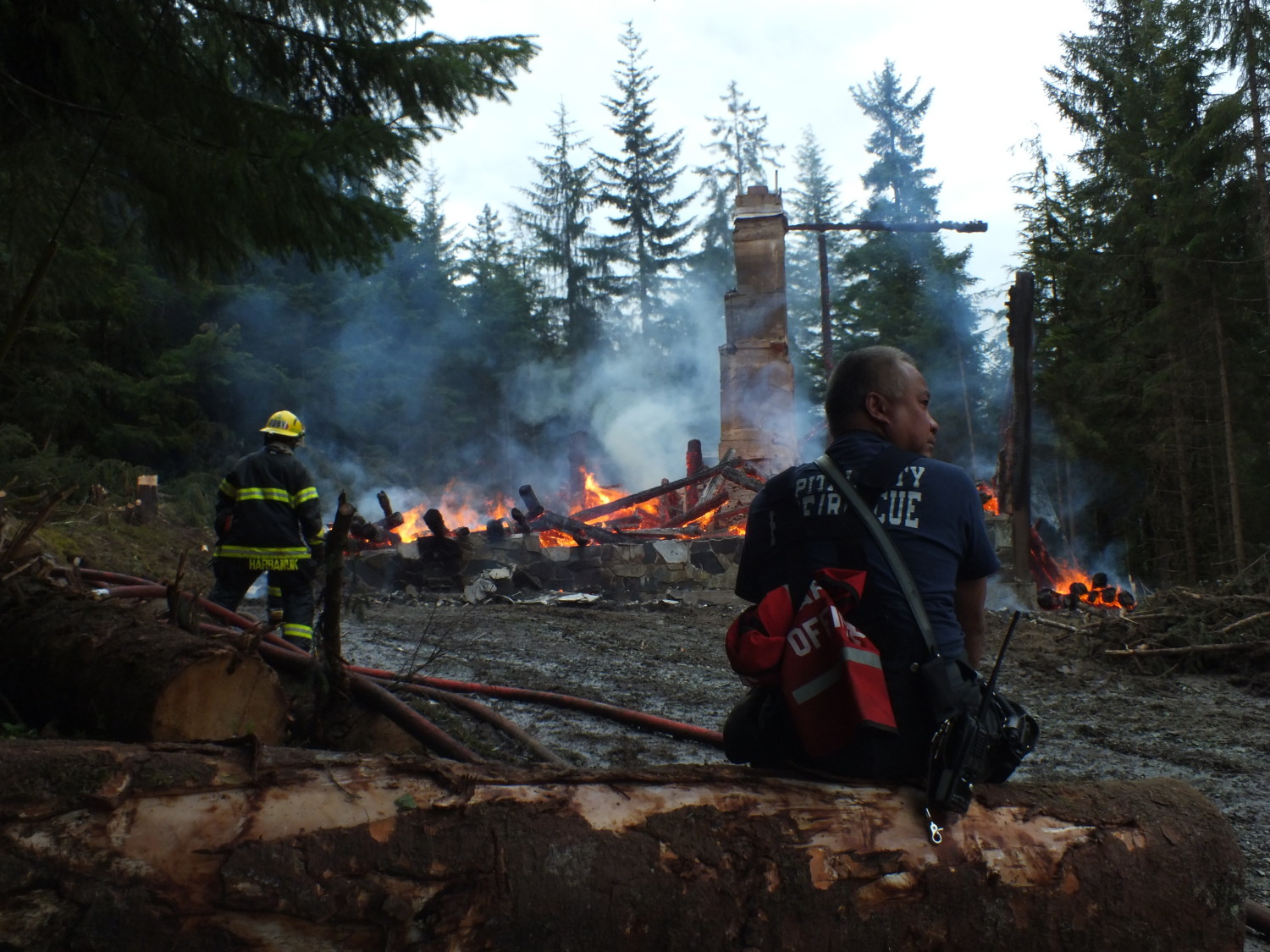 End of the day for Assistant Chief Ed Quinto and other firefighters. (Photo by Matt Miller/KTOO)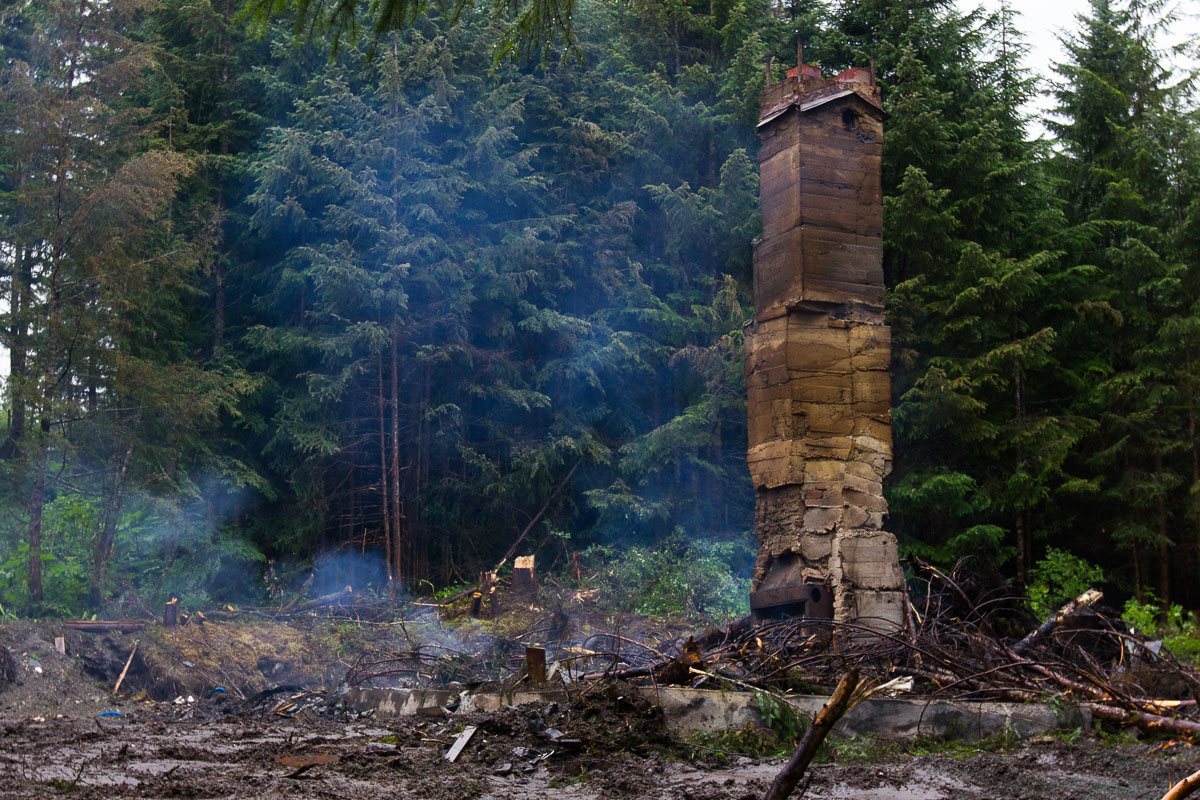 The ruins still smolder the day after the fire (Photo by David Purdy/KTOO)