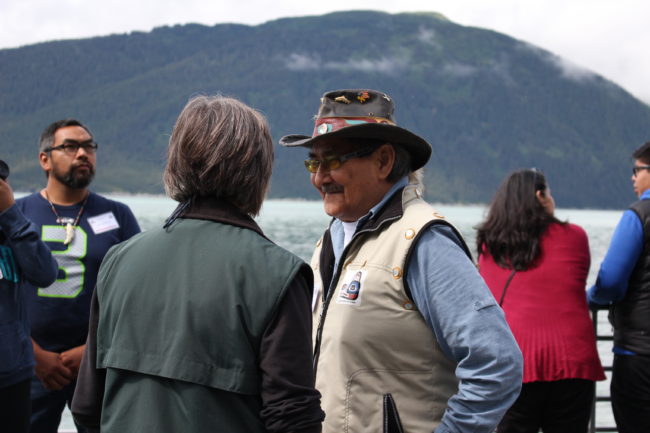 On Sunday, the Douglas Indian Association invited tribal elders, elected officials and members of the press on a trip up to the Taku Glacier.
DIA members are Tlingit and originate from the T'aaḵu Kwáan and A'akw Kwáan clan — the original inhabitants of Douglas and Juneau.
The organization chartered an Allen Marine vessel to discuss transboundary mine issues and the culture of the T'aaku Kwáan. For some, the cruise was an opportunity to see their ancestors' waters for the first time. Tillie Day is Tlingit of the T'aaku Kwáan
"We originate from Taku River and this is my first time seeing gillnetters and I worked in a cannery for how many years. I've never actually seen them do the gillnetting thing and this is pretty cool. There's like 35 boats out here," she said.
The cruise stopped at noon to observe the gillnet fleet put nets in the water to fish for sockeye.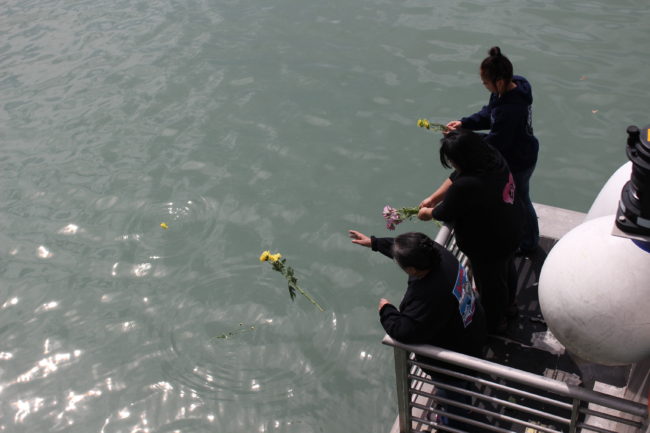 Later, John Morris, a Douglas Indian Association Tribal Council member, spread his brother's ashes at Taku Inlet near Davidson Point.  His brother died in the spring.
"And since then I've been in possession of his ashes. I went to council a couple of months ago and told them I thought this would be a good time to lay them on the river," he said.
Other family members threw flowers in the water to honor the deceased.