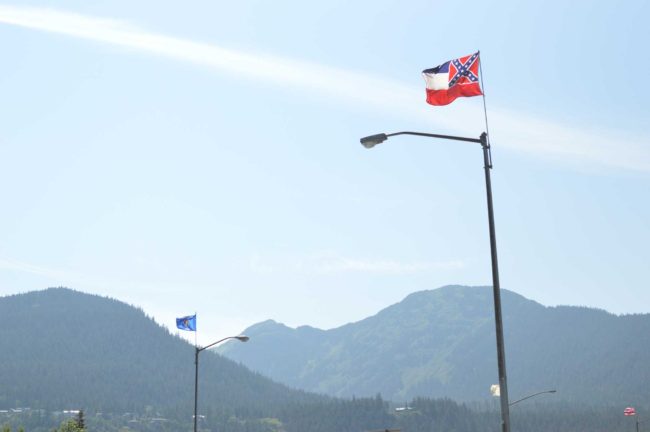 Some locals are calling for the removal of the Mississippi state flag flying on the main street into downtown Juneau because it prominently features the Confederate stars and bars.
On Monday evening business owner Marc Wheeler and community member Matt McGuan spoke to the Assembly about removing the flag.
For Wheeler, who's originally from Louisiana, his connection to the Confederate flag goes back generations.
"On a personal level, my ancestors were slave owners, and I feel like that flag symbolizes our country's original sin," he said, "and we have to atone for that."
Mississippi is a part of an all-states flag display organized every year by a group of volunteers who call themselves Friends of the Flags.
In light of recent events, McGuan decided to do something about it.
"That's not a welcoming symbol. That's a symbol of intimidation and hatred. It's a relic of a terrible time in our country's history," McGuan said.
Jim Carroll, has been a Friends of the Flags volunteer since the display's inception.
"Well, it's a state representation of the flags, that's what we have up, no matter what's on the flag," Carroll said.
Although he understands the controversy surrounding the flag, he said immediately removing it is impractical. The flags are replaced yearly using a donated piece of heavy equipment.
Mississippi adopted its current flag in 1894. In a controversial statewide referendum in 2001, voters doubled down on keeping the flag.
But the flag doesn't belong in Alaska, according to McGuan.
"If the people of Mississippi want it on their flag that's their deal, but we don't have to give it a place of honor in our community," McGuan said.
Chair of the Juneau Human Rights Commission Alavini Lata, says the board hasn't received any complaints from the community. Lata says Friends of the Flags has the final say and the most the commission could do is to talk to them. The issue might be addressed at an upcoming meeting, but he doesn't think taking down one flag would be effective.
"Generally we don't take action unless something is brought up by the community and we internally haven't talked about it as a group," Lata said.
Georgia removed the Confederate stars and bars from its flag in 2003. South Carolina had flown an actual Confederate flag on its statehouse grounds until late June. South Carolina Gov. Nikki Haley called for its removal and five days later, an activist climbed the flagpole and took it down herself.
Mississippi is now the only state with Confederate imagery in its flag.
Criticism of the Confederate flag has grown after the racially charged mass murder of church parishioners at a historic black church in Charleston, South Carolina, last month.
Since the Charleston attack, stores and major companies like Wal-Mart and Amazon have stopped selling the flag. A supermajority of South Carolina legislators now officially supports removing the Confederate flag from the statehouse.
McGuan says about 10 other community members have met to discuss removing the flag in Juneau. One possible alternative, according to McGuan, is to use the Mississippi Magnolia Flag, which was the state's first official flag.