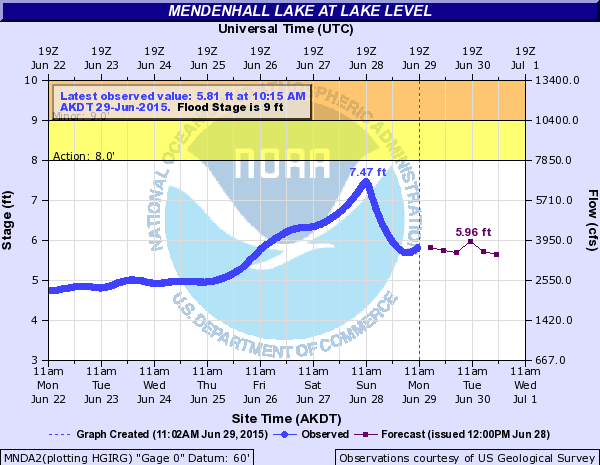 There was another jökulhlaup or glacial release at Mendenhall Glacier over the weekend. But this one pretty much came and went without any big floods.
Forecaster Bob Shontz at the National Weather Service's Juneau office says Mendenhall Lake water levels peaked Sunday morning at just under 7.5 feet. That's about a foot and a half below flooding.
This glacial release may not have come from Suicide Basin above the Mendenhall Glacier, such as another jökulhlaup earlier this month. Instead, this weekend's release was likely from another lake that is not monitored with measuring equipment.
With the glacier receding and getting thinner, Shontz says, "Water that had been trapped behind it for awhile can suddenly get out. It can lift under the glacier and run out."
No damage or injuries were reported from Sunday's event.
Shontz says they're also monitoring the Taku River and the Salmon River near Hyder for potential glacial releases this summer.