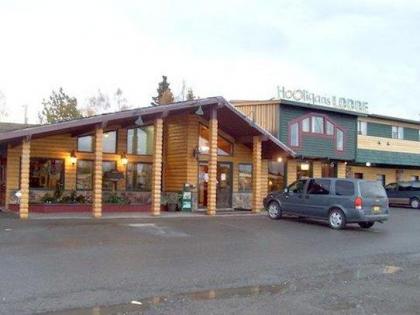 The Card Street fire near Sterling is diminishing and many evacuees are returning to their homes this week. Across the Central Peninsula, hotels and restaurants that helped with relief efforts are getting back to business as usual. But for one hotel in Soldotna, this isn't the first time they've stepped up and the community now knows where to turn for help, year after year.
Hooligan's Lodging and Saloon is an unassuming, vaguely frontier-themed hotel off the Sterling Highway in Soldotna.
Frances DeLisle is sitting in the middle of a puffy couch in the lobby. She's tall and thin and is being leaned on by an enormous, panting, scruffy black dog.
"This guy here is my service dog. His name is Maximoose. He's a labradoodle with a bad hair day," says DeLisle.
Normally, you'd find DeLisle and Maximoose in their converted school bus house in Sterling.
But for the time being, she's calling Hooligan's home. She's one of more than a dozen people who found shelter here after the Card Street fire evacuations began.
She says she got the notice at 2 am. She grabbed all of Moose's toys and food and her own medications.
"It was funny because I was packing stuff up and throwing it out the backdoor of the bus and I couldn't believe it, I was going 'I gotta get my mom's ashes' and I just stopped for a minute and thought, 'that's ridiculous,'" says DeLisle. "Why do you get ashes to leave something that's going to turn to ashes. But I just couldn't leave her behind."
She spent the first night at the emergency shelter at the Sterling Community Center. It was there that they heard about free rooms at Hooligan's for evacuees.
"It was nice to know because I'm alone and that's a scary feeling when something like this happens," says DeLisle.
April Strand is the hotel manager. She's been working here for almost 10 years and credits owner Molly Poland with the idea to open it up as an emergency shelter.
"She's got a really big heart. I mean, I couldn't ask for a better boss. She's just got a really big heart," says Strand. "She tries really hard to help everybody not just here but in our community. She's awesome for the fact that if you look at all this woman does. She's a home and hotel owner, raising a family, has a bar, has a restaurant, she supports motocross, her kids in their band. She does a lot of amazing things that I don't think she gets enough credit for."
Poland says she was raised to think of others.
"It's such a blessing to me that I can help people when they need help," says Poland.
Last year, she took in more than a hundred evacuees and put them up, free of charge, for days. She gave them meal vouchers for her restaurant and set up a collection point in her lobby for shampoo, deodorant, toothbrushes, books, kids' toys, and pet food.
She makes it a point to welcome pets.
"And I get it, they're your family. So, you can't leave your family behind. You have to bring your family with you when you go," says Poland.
That led to some unexpected situations last year, including a pregnant dog who birthed a litter the day after she arrived and a litter of kittens.
"Someone had a goat and I was like no, that's where I draw the line. The goat can hang out outside your room but the goat's not going inside your room," says Poland.
And it wasn't easy. She says there were some damages that came along with the animals. She had to replace some carpets, shampoo many others, and fix scratches on the walls.
This year, she lost quite a bit of potential income. Guests like DeLisle know what she's giving up.
"This is peak season. She's right here by the river. I mean, she could be making a lot of money off of our rooms and she's letting us have them for free. And I think that's just an amazing blessing for us. She's got a heart of gold and I know God is going to watch over her and really help her for her helping us."
Poland says she lets the little things go, because helping her community in times of trial is the most important thing and she says, maybe, it's meant to be.
She's been trying to sell Hooligan's for years and hasn't been able to. So, she says, maybe this is just what she's supposed to do.
And she'll do it again if there's a need, though she and all of her guests hope she won't have to.