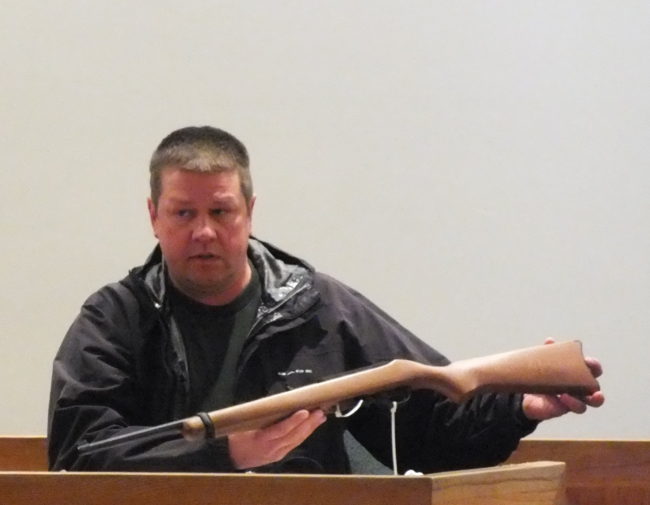 Between three possible eyewitnesses and two video surveillance systems, the jury in an ongoing wrongful death lawsuit has heard no definitive testimony and seen no video record of a convicted murderer actually leaving defendant Ray Coxe's store with the murder weapon.
Wednesday was day seven in the Rayco Sales wrongful death trial in Juneau Superior Court.
Only Coxe, Stan Bickham, and then-sales clerk William "Bill" Driver were identified as being in the Rayco Sales store when soon-to-be murderer Jason Coday arrived in August 2006.
Stan Bickham eventually was employed by Coxe, but was a customer at Rayco Sales when Coday came in to chat about possibly buying a rifle.
In a video deposition that was recorded five years ago, Bickham said he didn't see Coday leave Rayco Sales or take the rifle that was used to kill Simone Kim on Aug. 4, 2006.
"(Ray Coxe has) kind of got a monopoly. He's the only gun store in town," Bickham said. "The people in Rayco know guns, know what they're talking about. The people in like Fred Meyer's or one of the other stores – most of them – could've been selling ladies underwear the day before."
Bickham could not testify in person because he recently became ill.
Bill Driver testified that he didn't see Coday leave $200 and take a rifle even though the nearby counter is visible from the cash register. He also took the blame for a malfunctioning video surveillance system on that day.
"First, I failed to reset the alarm that indicates when to change the tape and then, as a result, I failed to change the tape," Driver said.
Coxe on Wednesday also wrapped up his second extended stint on the witness stand with prolonged questioning about the operation manual for a VCR used in a backup video surveillance system.
Coxe got frustrated with lawyer Jonathan Lowy of the Brady Center to Prevent Gun Violence who kept pressing him about the operation of a pre-recorded cassette, the so-called Bugs Bunny videotape, which was apparently left in the machine.
"Sir, I challenge you to do that same thing, right now, in front of this jury, and put that tape in and see what happens." Coxe snapped. "You apparently don't know anymore about it than I do."
In another wrinkle, jurors composed their own questions for Coxe about the operation of the VCR. The questions were vetted by the attorneys, then Judge Pallenberg asked them. It's not a common practice in Alaska courts, but other jurisdictions have already experimented with the technique as a way for jurors to stay engaged and well-informed in trials.
The jury must determine if Coxe negligently entrusted the weapon with Coday and if Coxe failed to do a background check before selling or transferring the weapon to him. Those are just a few of the exceptions under the Protection of Lawful Commerce in Arms Act that would allow a gun dealer to be found liable for a crime committed with a weapon obtained from their shop.
Juneau police Officer Jeffrey Brink was also called as a witness. He testified about how many people were in the store when the murder weapon was taken, a disputed issue. Brink responded to the shooting scene and talked with Coxe at his store.
"My recollection is that he described it as busy, or at least not unbusy," Brink testified. "There were other people there that needed his attention."
The Kim family says Simone would've provided nearly $1.4 million in lifetime income and support. That figure may be relevant if the jury awards damages to the Kim family.
Witnesses have been called to testify out of sequence, with defense witnesses on the stand before the plaintiffs have rested their case. The odd sequencing may prolong the trial. Closing arguments in the case are now planned for Thursday, but that could change.