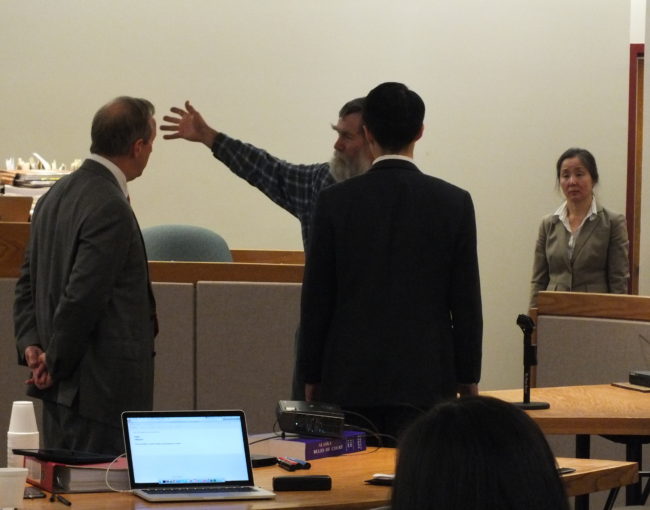 Simone Kim's family and the man who confronted his murderer provided heart-wrenching testimony Monday in the wrongful death case against Rayco Sales owner Ray Coxe.
Former gun shop employee Sean Swift testified that Coxe retold over and over the story of how Jason Coday purchased the murder weapon.
"He related that he probably couldn't pass a background check," Swift said. Coxe testified earlier that he wouldn't have known if Coday could pass a background check.
Swift testified that Coxe had set the rifle on the counter and turned away to answer the phone, which contradicts Coxe's earlier testimony that he placed the rifle in the gun rack behind the counter.
Coday then crossed Egan Drive to buy rounds and rifle magazines at Fred Meyer.
The next day, Aug. 3, 2006, Fred Meyer employee Jacob Peterson tried to shoo off a man loitering around the store's construction site.
"(He was) distant in a way that didn't make eye contact," Peterson said. "He wasn't posturing in any aggressive way. He looked almost completely blank. He looked like perhaps he was stoned, maybe a little drunk. Maybe just not quite all there."
The following day, Coday returned to Fred Meyer and killed Kim. Landscaper Ed Buyarski repeated his testimony that he made during Coday's criminal trial eight years ago. Buyarski and an assistant were pruning trees on the backside of the store when Kim approached them to talk about painting the building. Coday walked up to the group, pulled out a sawed-off 10-22 Ruger rifle, and shot Kim at point-blank range. Kim fell to the ground and Coday shot him again and again. Buyarski wrestled the rifle away from Coday and Coday ran off.
Buyarski and his assistant called 911 and comforted Kim until EMTs and police arrived.
"(I was) feeling fairly helpless that I couldn't really do anything for him and wished I could've stopped Mr. Coday from shooting him," Buyarski said. In response to questions by Kim family attorney Mark Choate, Buyarski said Simone Kim appeared to be in pain and suffering.
Kim's older sister Serena Alexander and mother Chu-Cha Kim were sitting near the back of the courtroom during the retelling of the shooting.
Alexander, Simone's younger sister Anna Kim and Chu-Cha Kim took the stand to describe how the family arrived in the United States. The family members' testimony is intended to help jurors come up with damages should they find Coxe liable for Kim's death. An economist testified on Friday that Simone Kim would have likely provided $1.39 million in income and other support for the family over his lifetime.
Father Ambrosus Kim faced prejudice as the son of a Korean woman and an American serviceman who did not return after the Korean War. Ambrosus, wife Chu-Cha and their children left Korea in 1984 with the help of an American sponsor and arrived in Anchorage with the hope of a better life. They worked at Carrs-Safeway and did housekeeping and janitorial work around town.
Serena Alexander said the whole family sometimes participated in the nightly work routine and Simone was the one who held the family together.
"Simone pretty much ran the whole house while my parents worked. He cooked, cleaned," Alexander said.
Older brother Pedro joined the Marines, later the Army, and served in Iraq. But he returned home with physical and mental health issues.
Anna Kim, who is studying to become a nurse in Anchorage, testified by videoconference about how Simone stepped into the Korean role of the eldest son. He began supporting his parents and other family members with financial assistance or projects around the house. He would eventually be groomed to take on the assets and responsibilities of his parents.
"Meaning, taking care of them financially, ensuring their health until they died pretty much," Kim said. "Parents turn over whatever assets they have accumulated and turn it over to the eldest son so that he, in return, can take care of them before they go."
Chu-Cha Kim described not being allowed to see her son after traveling to Juneau following his murder. She was only able to see him later at an Anchorage funeral home.
"Where is my son?" Kim remembered asking. "Show me. I want to see my baby son. Nobody answer to me."
Chu-Cha said she still misses her son and dreams to see him again.
Simone Kim was described as athletic as he played basketball, ran cross country in high school, hiked and did rock and ice climbing with Pedro, and participated in pick-up football games with neighborhood children. He was also described as kindhearted and sweet; he had a contagious laugh and wrote poetry for family members.
Testimony in the case may wrap up as early as Wednesday with the case going to the jury for deliberations on Thursday.
(Edited to fix punctuation in Chu-Cha Kim's name and correct quote.)