Last year's Mount Polley Mine disaster in east-central British Columbia raised a lot of questions about mine safety, environmental impacts and government inspections.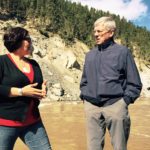 In August, a dam holding back rock, silt and wastewater breached, polluting nearby lakes and waterways upstream of the Fraser River, which drains into the ocean near Washington state.
It's been used as an example of what could happen at mines planned for B.C. watersheds that drain into Southeast Alaska's salmon-producing rivers.
The people who live closest to Mount Polley have learned what such an incident could mean.
We spoke with Jacinda Mack, mining response coordinator from the Northern Secwepemc First Nation, the area's tribal council. In this edited interview, Mack begins by discussing how residents responded to the dam breach.
Read or hear earlier reports:
Hear the full interview with Jacinda Mack: