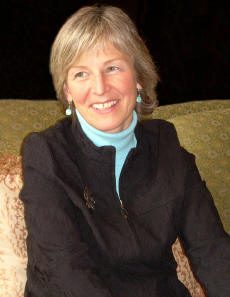 Homer resident Dr. Linda Chamberlain has been selected to participate in the Fulbright Arctic Initiative. The initiative seeks to create a network of scholars on the Arctic. Sixteen researchers from the United States, Canada, Finland, Denmark, Iceland, Norway, Russia and Sweden will meet over the next year to collaborate on multidisciplinary research on Arctic energy, water, health and infrastructure issues. Individuals will also make international trips for their specific areas of study.
"We work in cross disciplines to find the common ground of different issues. For example, our climate up here is warming at twice the rate as the rest of the world. How does that affect communities relative to family, wellness, health and sustainability," Chamberlain says.
Chamberlain will contribute to the initiative by sharing her more than 20 years of experience studying ACEs, or Adverse Childhood Experiences. Simply put, she says ACEs are examples of childhood trauma.
"The original research on ACEs looked at all forms of child maltreatment: sexual, physical, and emotional. It also looked at neglect," Chamberlain says.
She says ACEs also stem from household dysfunction caused by substance abuse, domestic violence, divorce and a number of other issues. The other side of her work is building community resiliency.
"What can we do to keep those tough times during childhood from affecting brain development, a child's school performance, and the long term health effects that we know can happen with this," says Chamberlain.
Chamberlain says problems in households that negatively impact children can be triggered or worsened by outside stressors, such as climate change.
"That is affecting subsistence living. It affects the fish. It affects the fishing lifestyles [and] families' economic welfare. Then you have another layer of pressure on a family or community that may already be struggling with these issues," Chamberlain says.
Chamberlain will work to understand what effect ACEs can have on the issues her fellow researchers are studying. She expects the opportunity to learn from her Fulbright colleagues will be priceless.
"Communities like Homer are working to become 'trauma informed'. I think we've learned a lot from communities elsewhere [that] are doing a lot of work around that and now we have an opportunity to learn from communities who live like we do in the circumpolar world," Chamberlain says.
The researchers met for the first time this week for a program orientation in Iqaluit — the largest city in the Canadian territory Nunavut. Over the next year they will conduct research at home as well as travel to institutions located in the home countries of the initiative's participants.
Chamberlain will visit Finland in June to give a presentation on ACEs and from there she'll travel to a research center in Nova Scotia that studies community resilience.
"Then I'll be back home laying out what my research plan will be," Chamberlain says.
Once all the teams' research is complete and the results are analyzed, the initiative will culminate in a final meeting next year in Washington D.C. Chamberlain plans to share the end result of her research online.