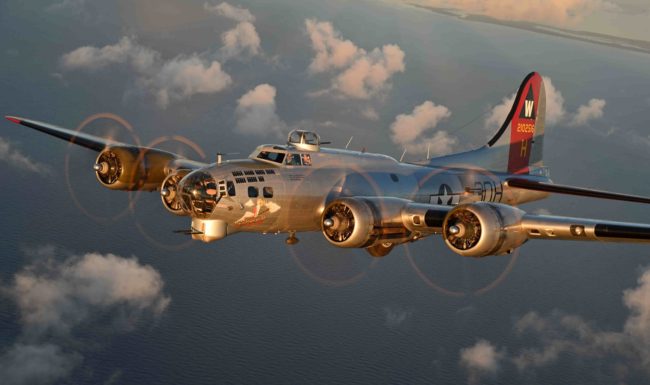 Friday marked Victory in Europe Day, the 70thanniversary of World War II ending in Europe. In Washington, D.C. more than 50 vintage military aircraft flew over the national mall to the capitol.
In 15 formations, one every minute or so, came B-25 Mitchell bombers, P-47 Thunderbolts, even a B-29 Superfortress, believed to be the last of its breed still flying.  On the capitol grounds, tourists mixed with Congressional staffers and school groups.
Donna Crum from Chicago said she was waiting for the B-17, to honor her father-in-law's service.
"And so I'm shooting pictures to my husband to be able to show him on his phone," she said. "And here they come!"
A deep rumble drew the crowd to its feet, every cell phone pointed skyward.
Overhead, in the second B-17, was Alaskan bush pilot Urban Rahoi, a homesteader, lodge owner and Fairbanks businessman. Rahoi answered his cell phone shortly after landing.
"Yeah, riding up in the front there, where the bombsight and all that is, so I could see better," he said.
Rahoi flew the B-17, the Flying Fortress, in the war, and he flew one again a year ago. Flies just like a Supercub, he claims. He wanted to be at the controls for the Washington flyover, but he wasn't allowed. Somebody imposed an age limit of 80. Rahoi is 96.
"I got a big kick out of it because I flew yesterday with them and the guy that flew it made a hell of a bad landing. Bounced pretty bad three times," he said. "And the guy that flew it today he bounced and slammed it down pretty hard. They won't let me fly it. I come in smooth."
He laughed, but he wasn't really joking. Rahoi says it was still a beautiful day.
"When we flew over the Capitol there by Reagan Airport up there, through all that towers and everything, you could see good," he said. "There was lots of people on the ground. It was packed pretty heavy."
Rahoi is planning to visit family while he's in the Lower 48 but he can't stay long. He's planning a lot of dirt work this summer at his lodge near Tok and he has to start flying in his diesel.